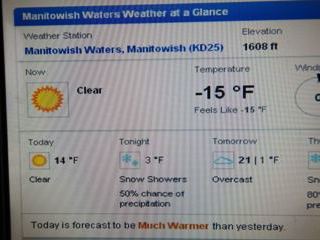 She was a frigid one up in Northern Wisconsin this weekend.  Yes, indeed the entire US has been cold this winter but trust me, Northern Wisconsin is colder than most places.  Our high temperature over three days was 0° and we only averaged -10° during our fishing time.  Doesn't sound too bad?  Then toss in a 15 MPH wind.  It was brutal standing outside waiting for flags on tip-ups to pop.  When it's this cold the inside of your nose freezes and the frame of your sunglasses gets so cold they give you a headache.  But when the fish are biting, somehow, you simply don't notice.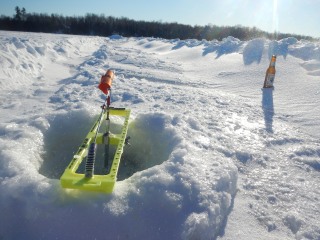 Great friend George Hillenbrand treated me and Rick Schreiber to our annual Northern Wisconsin trip.  The last few years this has been a fall muskie fly fishing trip but prior to that we went ice fishing.  Just to mix it up, we're back to ice fishing.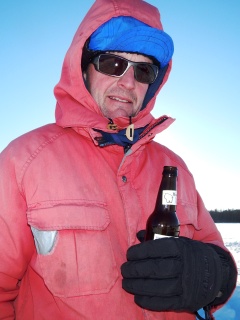 While you might prefer the open water fly fishing trip for muskie, I love either.  In fact, after a grueling January under the fluorescent lights speaking and talking it up at the Fly Fishing Shows, being off the grid on the ice in Northern Wisconsin was perfect.  No cell phone and no email, just fishing, eating, and a few beers while hanging with friends.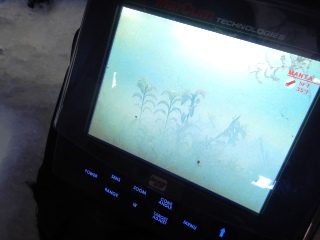 Fishing was good for the conditions.  Just like fly fishing open water, cold whether and bright sunny days aren't always the best.  You may wonder how this affects fish under the ice but it does.  First of all, bright sun penetrates right through the ice.  Even with the three feet of snow, under the ice is a lit up world of weeds and warmwater fish looking for an easy meal.  So not only was the bright sun a factor but we dealt with high pressure and yes, the extreme cold thickens the ice as you fish and the fish notice.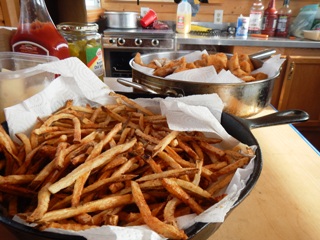 George's party included six of us and three local fishing guides, Joe and James Peska and Brett Jolly.  The trio have become much more friends than guides over the years.  The leader of the guides is Joe who knows these waters better than most.  Not only does Joe organize our ice holes where the fish are, but he cooks up a few of our fish as we go.  I can honestly say there is no better meal in the world than fresh fish through the ice along with Joe's homemade fries.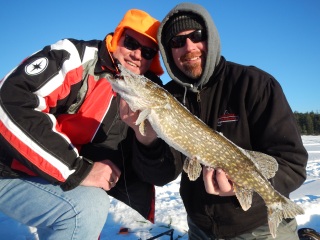 Friday was our coldest day.  Most of us hung out in Joe's ice shack drinking beer and smoking cigars.  But when a flag went up we raced each other to catch the fish.  Although Friday was a slow day, we managed about ten small northern pike.  Everyone froze their hands landing at least a couple.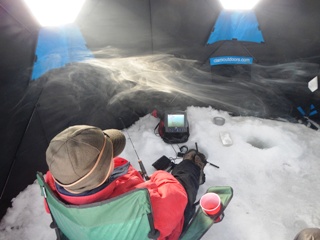 Saturday warmed up a couple degrees.  I began by chasing down a few northern's on tip-ups before grabbing the jig rod.  I slipped into the ice tent with Rick and Larry.  Inside was a sight to behold and required a few deep breaths before entering as there was a stream of cigar smoke only seen in movies.  Luckily the jigging was excellent and we nailed a couple dozen bluegill.  I lucked into a nice pumpkinseed, my favorite of all sunfish.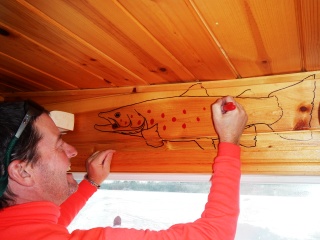 As always, I brought along the sharpies I use to decorate Cliff Fly Boxes with.  Naturally while warming up in the ice shack with Joe I broke them out.  I drew him up a replica of a monster brown I caught out of Lake Superior all the way back in 1984.  That memorable Wisconsin brown seemed like an appropriate choice.  And if I do say so myself, the magic marker brown trout enhances the wood paneling of his shack nicely.
Sunday isn't an official fishing day for us, however, if anyone wants to go George hires the guides.  Naturally I'm game to go out and Rick joined me.  Sunday was a gray windy morning and we only lasted out there for about three hours.  We pulled in two small walleyes and a yellow perch.  That in fact reminds me, the strangest catch of the weekend was a perch I caught Saturday.  The yellow perch was unique because he was missing his stripes!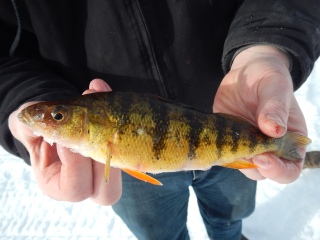 Normal Yellow Perch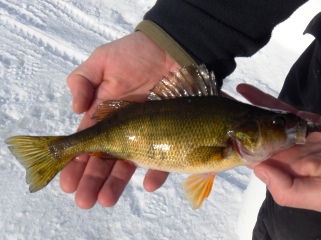 Saturdays Yellow Perch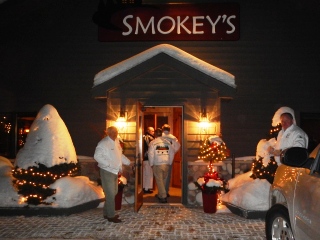 In addition to three fun days of fishing George took us out every night to the finest restaurants in Northern Wisconsin.  The first worth mentioning is Smokey's where we've made a name for ourselves because of all the food we order.  In particular, we order a heap of lobsters – just for an appetizer!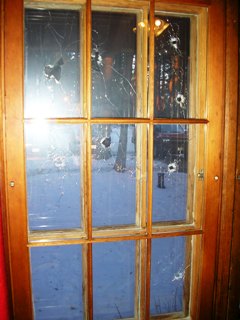 Also worth mentioning is my favorite restaurant of all, the Little Bohemia Lodge.  Not only is the food and service tremendous here, but there's some fun history as well.  Famous gangster John Dillinger escaped the FBI from here while having dinner in 1934.  The bullet holes in the windows are still there!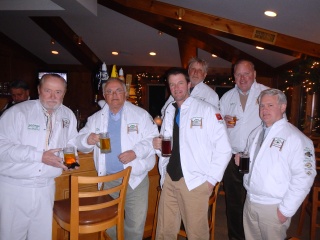 That's it.  I'm flying home for a few days before heading back on the road Thursday.  My first stop will be the Lynnwood Fly Fishing Show in Washington.  I hope to see some of you there!