Work Before Fishing – Did I just Write That?
Categories: Uncategorized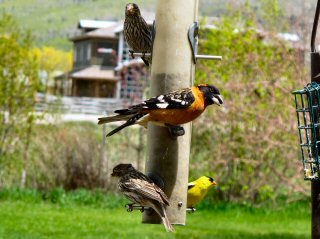 I expected to deliver a fishing report from two days up at Last Chance on the Henry's Fork today but I'm afraid that work, errands and just plain responsibility got in the way (In cast you haven't noticed, I've been avoiding the latter for about 18 months now). Granny and I just didn't make it.

The good news is however that not only got a few things done, but it was nice to be home and I painted up this rainbow that I am donating to the Henry's Fork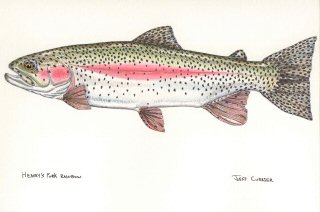 Foundation silent auction. The HF Foundation is putting on its annual "Henrys' Fork Day" on Saturday June 18, 2011. If you're in the area I highly recommend swinging by to enjoy the event and wet a line for at least a few hours. Fishing should be fantastic by this time and I can guarantee you I'll be around.
Speaking of art, I have been meaning to post this 4-fish piece watercolor painting I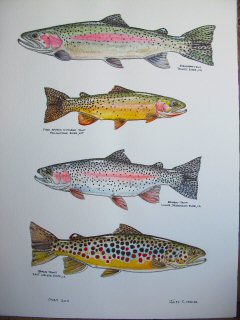 completed before leaving for Mexico. I did this painting for Jonathan Rutchik of California. This is the first time I put more than one fish on a single sheet and the end result is something I'll be doing more of in the future. As you can imagine, such a painting was very time consuming and when I was on the last fish I was a little nervous. A mistake here and hours of work would be lost. Luckily, I have these fish down pretty good these days and I'm very pleased with the final product.
By the way, if you have ever wanted a "Currier Original" art piece, you can save yourself some money by not waiting any longer. I will be emailing my webmaster a list of price increases on all of my art. This will include my watercolors, pastels and Cliff Fly Box art. My webmaster is a busy man so I doubt the new prices will appear before the end of the month so that gives you a few weeks.
There are a lot of reasons for the increase, (Not just to support my fishing and traveling habit). I'm in three galleries now instead of one. I have several consigned pieces booked at the moment. I am hoping to finally get prints going. I'm ready to make my fish swim and I want to have time to explore some new mediums in the near future. I've never played with acrylics or oils and I'd like to.
That's it. I will be lake fishing tomorrow. Stay tuned. . . . .