I Thought I'd Seen It All – Inukshuk Lodge
Categories: Uncategorized
Today's blog tells it like it is and my blog always will.  If you don't like the sight of a dead animal don't read or look any further.  Skip today and tune in tomorrow.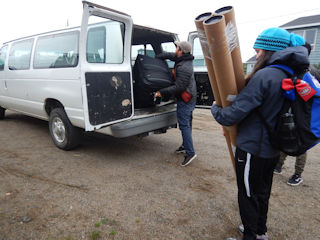 Kuujjuaq is a nice little village up the top of Quebec in Nunavik however one night there and I'd seen what I needed to see.  If we were stranded again today instead of catching our Twin Otter flight to Inukshuk Lodge it would've been a bummer.  At 8 AM sharp we were back at the tiny Kuujjuaq Airport with high hopes of flying out before 9.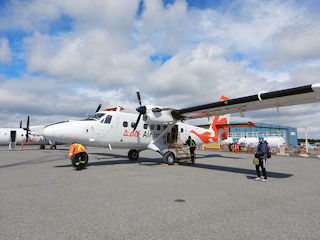 The airport manager met us with a smile.  We carried our gear to the plane and loaded then he sent us inside and said we'd be on our way at 9.  Then departure changed to 9:30. Then 10.  Then 11.  Soon me and my new French Canadian friends became worried.  The delay came from reports of high winds, thick fog and drizzle at the location of Inukshuk Lodge.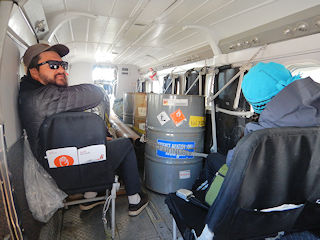 It was hard to believe the report.  Kuujjuaq was sunny and Inukshuk Lodge is only 100 miles away.  But that's the weather on the northern ocean and we're are on Ungava Bay – further north than Hudson Bay.  Luckily, as fast as things can turn bad, they can turn good.  At 12:25 PM the airport manager fetched us for an immediate departure from Kuujjuaq to the boon dogs of Inukshuk Lodge.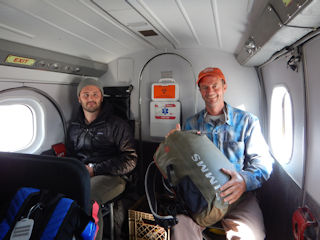 Our flight left in style.  Our Havilland Twin Otter pilot and copilot were informative, professional and polite.  They jokingly asked us if we knew how to use a seatbelt and then pointed to a cooler full of cokes.  The plane was full of supplies for the lodge including one new 40 HP motor and barrels of fuel for the boats.  We couldn't believe we were finally taking off.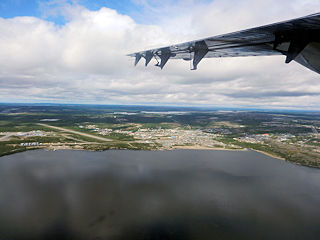 Kuujjuaq is the last town in Quebec before you leave the tree line for the tundra.  It's also on a river only a few miles from the ocean and more specifically, Ungava Bay.  Only minutes in the air we waved goodbye to Kuujjuaq and began to take in the incredible moonscape of the north.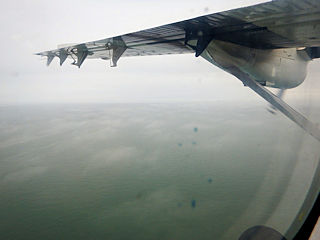 The flight was smooth to start but I couldn't help but notice the increasing clouds along with turbulence.  Mother nature can toss as much turbulence as she wants at a Havilland plane and I feel secure but when my pilots can't see where they're headed that's another story.  It was a 35-minute flight from Kuujjuaq to Inukshuk but 20 minutes in things got a little hairy.  Visibility disintegrated so much that our pilot lowered our flying altitude to a mere 50 feet.  As we swerved from rocky islands I swear our wingtips touched the water like often do the wingtips of cruising seabirds!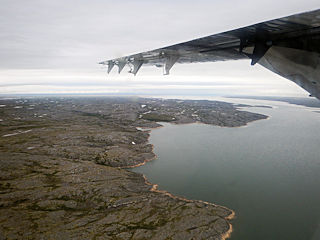 At last the ocean gave way to a desolate landscape.  In this landscape was a pitiful dirt and rock airstrip and on the far end a group of twenty or so people anxiously awaiting our arrival.  These were my friends Paul Ostiguy (owner of Inukshuk) and his guides and staff along with an Inuit family that spends summer on Black Rock Peninsula near the lodge.
An Otter doesn't need much space to land and it's a good thing.  The wheels hit the dirt hard and we skidded to a stop.  It's business as usual to a bush pilot and me too these days.  Seems I'm on crazy flights all the time with my fishing.  Seconds after we stopped the door opened with a gush of ice cold damp air.  I didn't wait for the ladder and jumped down to the ground to a firm handshake and howdy for Paul and his guides Simon Sylvestre and Burt Gillis who are also friends.  Along with them were Burt's dad Fred and camps all round man, Ludovic Vrac.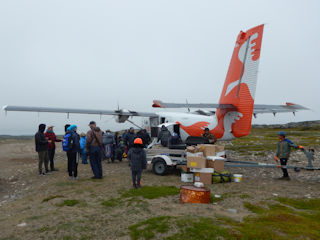 There were a crew of Inuit folks also including famous Beaver pilot Johnny May (Johnny has more hours flying the Havilland Beaver than any other human).  Johnny and his family have a summer set up near Inukshuk Lodge and in fact Johnny was part owner of the lodge before Paul bought it last year.  The ten or so Inuit folks were his kids and grandkids.  What's cool about this is Johnny and his family live the true Inuit life of collecting their food through fishing and hunting for a month every summer.  They were friendly as can be and were quick to introduce themselves.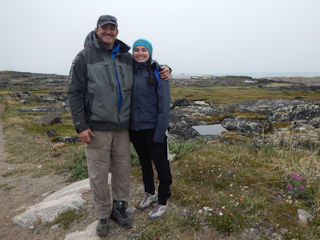 Our gear was unloaded to a trailer on the back of a tractor.  Paul and his daughter Marisa and I walked the short ¼ mile to the lodge.  Paul made a point to mention two days ago they woke up to polar bear tracks in front of the lodge.  Walking now without a gun was ok because it was midday and there was lots of commotion with the plane and all but once we settle in – no one goes anywhere without a rifle.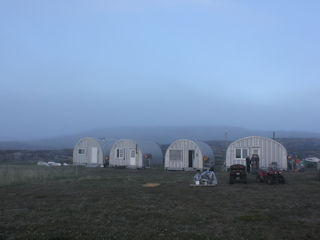 In case you don't know, humans are on the menu of polar bears.  Furthermore, polar bears in this area are usually starved because they have swum here unintentionally because the ice they floated around on further north melted.  And when I say swum, I mean they may have swam 100's of miles.  It's what they do.  And when they hit the ground they're grumpy and exhausted.  An already exhausted predator needs and easy meal – that's a human.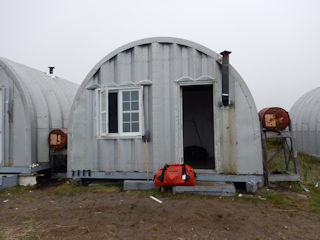 Inukshuk Lodge is more of a camp.  The remote place consists of four tin buildings and is worn down and needs care.  Paul knew this when he purchased it last year and he has a few of his best men here to help him restore it.  Most important however is that Inukshuk Lodge is located on one of the finest Arctic char fishing spots on the planet and a year from now Paul expects to have this place comfortable and the fishing figured out enough to offer it to clients.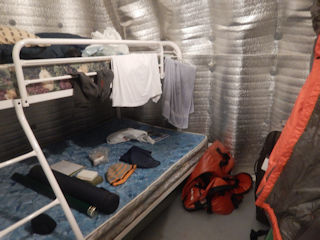 No doubt the weather was a bit shaky when we arrived.  The clouds were low and turned to a cold fog.  It's the coldest July day I can recall in my life.  We moved into our cabins and started the oil burning stove in our room.  I'm sharing with the Wildcats guys, Jerome and David.  I got this corner with a bunkbed.  I sleep on top in my mummy bag and lay all my gear on the mattress below.  It will do just fine.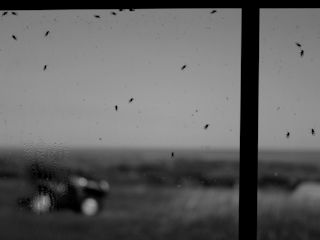 As always when you arrive at a lodge at midday you have a coffee and a lunch.  Ludo provided us with plenty of calories that were well needed.  After my coffee I headed to my cabin and me, Jerome and David excitedly put together our rods in hopes of a late afternoon fishing session.  That's about when I heard a four-wheeler roll into camp.  Its engine went silent and I heard Johnny May's voice.
Johnny was frantic and I heard the word polar bear several times.  It was enough for me to put down everything and open the cabin door.  Johnny looked at me and said, "If you want to see a polar bear come now.  But then we're going to shoot it.  My grandkids were collecting mussels and spotted the bear watching them.  He's huge.  He must have just swum to shore."
Honestly, I thought I was hearing things incorrectly.  I grew up like most people.  The only polar bear I've seen was on TV or in photos.  I never thought about seeing one in the wild.  And they're endangered, right?  Shoot one?  It was all too much to comprehend after three days of travel and my brain numbed from the cold.  "Yes – I'm coming", I responded.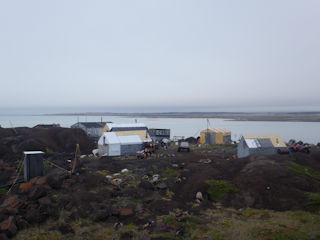 Jerome, David and myself climbed on another four-wheeler with Simon and we sped along for two minutes to Black Rock Peninsula where Johnny and his family live every summer.  All his family were standing and looking to a rocky point 500yds. away.  I saw the giant white bear immediately.  The color is more cream colored and he stood out like a neon sign on the wet rocks.  He was lying down but looking right at us.
Already here was Burt and his dad Fred.  Both grew up in Labrador hunting all their lives.  Johnny asked them to be there as backups.  Backups because only his daughter and her eleven and thirteen-year-old sons were going to kill the bear.  If you're wondering about Johnny, he's 72 and wasn't comfortable with this whole encounter either.  I was in my Simms waders half dressed for fishing and still couldn't believe this was going down.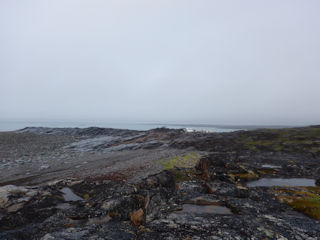 The hunters were well on their way navigating over the wet rocks for a vantage point to shoot.  Johnny knew damn well that I and Jerome, David and Simon were questioning this hunt.  He was quick to explain the bear was deadly.  Once they spot easy food such as his grandkids searching for mussels he's here to stay till he gets one.  According to Johnny there was no alternative.
Holy crap!  I was about to see a polar bear go down.  From what I've heard they don't go down easy and often charge the shooters and sometimes get them.  Jerome, David, Simon and I ran to catch up to be as close as possible to watch the rare event unfold.  For the tenth time I asked myself, "Is this really happening?"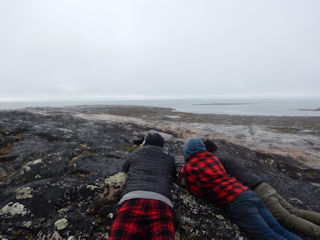 It was real.  We watched Johnny's daughter and her two boys take position behind a rock exactly 200yds from the bear.  Mom and one son had 308's but the 13-year-old was holding a 230 British.  Burt and Fred were there too but again, only as backup.  Only Inuit people can shoot a polar bear.  Its highly illegal for a Whiteman to shoot.  As we settled to watch with curiousness and awe the shots fired.  The Inuit's, despite being a mom and two young boys, were deadly shots.  This wasn't their first polar bear scare.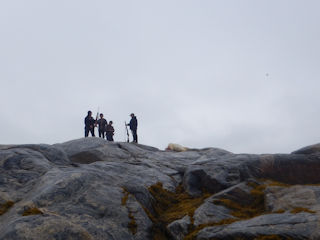 I won't lie.  What happened over the next 15 seconds after the first shot was gut wrenching for a wildlife lover, person that doesn't hunt game and just wasn't ready for this.  The Inuit's hit the bear hard on their first round.  The bear made a horrible sound that I'll never forget and he did lift to charge.  But my guess is a second later he was dead.  And they made sure with yet another round then approached the bear with unreal caution then sunk one more shot to the head from 20 feet away.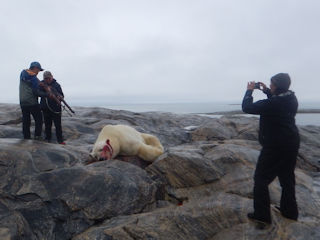 While I felt as though I needed to turn and leave, my body did the opposite.  Once I saw that the bear was dead me and my new friends walked slowly towards the scene.  I can't explain how strange it was.  Five minutes earlier I saw my first polar bear.  Now the incredible animal laid before me dead.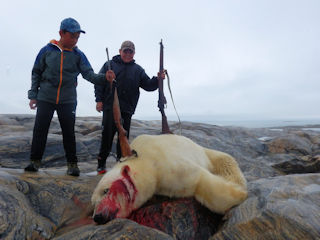 I had to touch him.  He was still warm from life.  This was a moment I'll take to the grave.  I was scared like he would wake up and eat us all.  I was shocked.  I was sad.  And a million other emotions pulled.  But most of all I was in wonder.  I just watched an Inuit family kill a polar bear because they were 100% sure eventually it would kill one of them.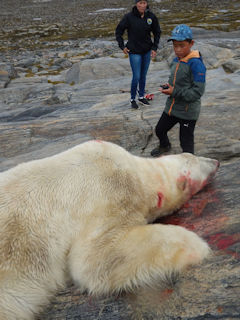 There's not much more to say about the polar bear.  I'm a long way from home but I do know that at home when bear comes in to Victor, he eventually gets removed or killed.  When any animal endangers human life, they're gone.  This was the same only much more swift action was taken.  Wow.
I didn't exactly feel like running out fishing after that.  Not only was my brain spinning but I was wondering when the next hungry polar bear was going to swim ashore.  Nonetheless, we finished rigging our gear and the tide was soon right for the first ever boat launch under the new ownership of Paul Ostiguy.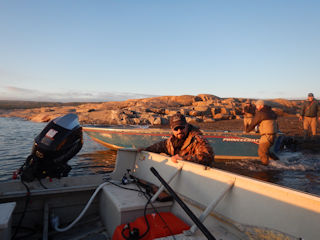 It stays light in the north very late this time of year.  We were all exhausted but here we have huge tide fluctuations – today was 42 feet (I'll explain more of these tides tomorrow).  So, despite being 9:30 PM we headed out for a couple hours fishing for Arctic char.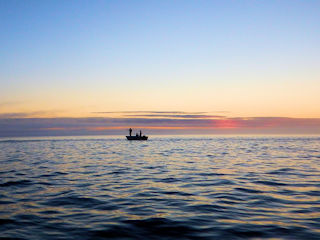 I'm exhausted for a lot of reasons now so I'll make this short.  We didn't find any fish even though we fished two hours' worth of what looked to be great places for Arctic char and perhaps the odd Atlantic salmon.  But the night was calm and the northern ocean of Ungava Bay was as peaceful as it probably gets.  The sun set at around 10 PM but its light continues to linger here at midnight.  I have an idea why, but I can't sleep tonight.  What a freaking day.  Hopefully tomorrow brings big Arctic char. . . . .
A special thanks to my friend Paul Ostiguy the proud owner of McKenzie River Lodge in Labrador and Inukshuk Lodge here in Nunavik for bringing me along on this incredible adventure.