Fly Fishing Labrador for Ouananiche Salmon
Categories: Uncategorized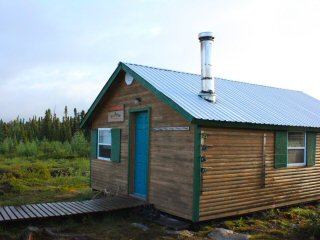 It was a gnarly storm through the night.  Heavy rain pummeled our cabin at McKenzie River Lodge and wind shook the walls.  Granny got up at 2 AM for something and I heard her mumble, "I'm not fishing in this crap".  I'm not sure anyone would've but to our good fortune at 4 AM the storm ended and when I stuck my head outside at 6 things were shiny and wet but a beam of sunshine lit it's way through the thick layers of clouds.  We experienced a "perfect storm".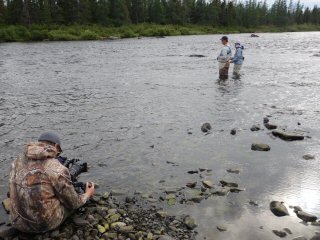 After breakfast Granny and I loaded the canoe to head further down the McKenzie River with our guide Andrew Murphy.  Along with us today was film maker Guillaume Lapierre alias Bill of Ninja Média'.  Bill is filming a segment for the Canadian version of the F3T and will generously let me use some of his photos throughout the week.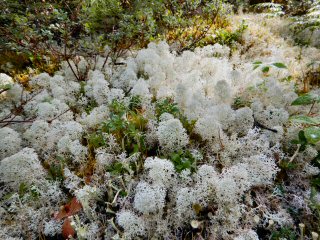 The clouds were threatening but in areas I could see blue patches.  We anchored our canoe where we did yesterday by Pool One then hiked for ten minutes through the taiga forest then came to a slow wide part of the McKenzie.  Here we launched a stashed canoe and proceeded across the lake-like section for a few minutes, parked and got out to hike some more.  You can't believe how beautiful the forest floor is with all the stunning lichens, mushrooms and plants.
To break up the trek we stopped and fished Mouse Hole.  Simply because of the name I took my new 6-weight Winston Boron III Plus and put on a mouse on a short leader and twitched it across the pool several times.  I'd love to get a brookie this way but instead the furry animal fly went untouched.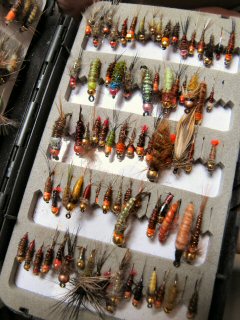 Andrew had Granny step in to nymph the run.  I don't think I've ever seen Granny toss a nymph other then sight fishing to a huge brown trout in New Zealand.  I laughed as she argued with Andrew about the idea.  She agreed to nymph in dry fly dropper fashion and would only use one of our good Polish friend Vladi Trzebunia's nymphs.  Andrew was perplexed at first but when he saw the Vladi flies in her box he could hardly decide which of the gorgeous flies to tie on.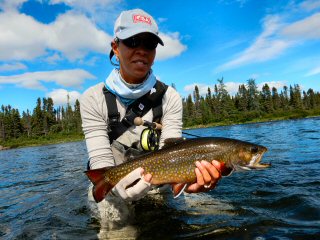 Whichever Vladi fly Andrew chose it was a success.  Granny mended and got her nymph deep into the Mouse Hole as if she nymphs all the time and instantly hooked up.  So far these brookies aren't making big runs but they're stubborn and the fight goes like this:  First they refuse to leave their spot.  Then they run upstream and back down to the deepest part of the pool and try to hold.  You must muscle them in order to get them to give in.  Granny had her another average McKenzie River Labrador piggy brook trout!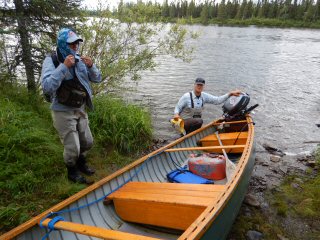 The skies cleared and the black flies came out as we walked another ten minutes down the trail to yet another stashed canoe.  Once again we launched and motored through a lake-like part of river and just before it returned back to river we beached and got out.  We were about to swing for salmon on the Funnel Pool.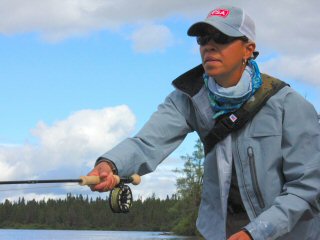 Once again, I stepped back and watched my girl work the pool.  She doesn't cast a mile but does a great job of methodically fishing the seams close to the bank.  Just like a pro she swung the run, took two steps and did it again.  She covered the pool impeccably.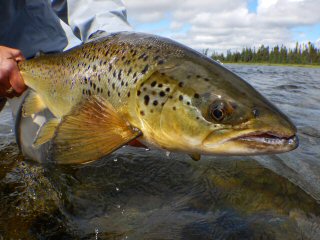 Her fly was an olive sculpin concoction Andrew tied up with lead eyes.  At the tail of the pool she hooked up and an ouananiche spiraled in the air then ripped upstream and leapt again.  Granny stayed on him and fought back with my green stick.  Moments later Andrew scooped up the salmon with his net and Granny had her second salmon in as many days.
After the success of Granny I stepped in and fished the middle of the pool to the far side swinging a purple bugger.  I should have paid better attention to Granny's technique at fighting ouananiche because I hooked three and landed none.  Two got off on the first jump and the last one was hooked well but must have been a lunker because despite my putting the heat on him he managed to saw me off on a sharp rock.  I had to completely redo my leader.
Fishing was slow for the next hour or so.  We walked downstream and fished a spectacular looking run, first swinging for salmon than prowling for brookies but came up empty handed.  All the time however we were resting the Funnel which proved to be home to several salmon earlier.  Resting it paid off because when I hit it on the way back I finally kept an ouananiche on and landed the largest landlocked I've ever caught.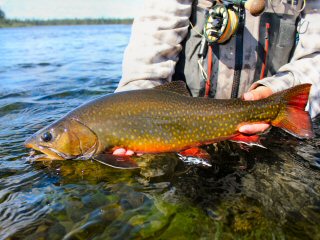 Day two was another magnificent one.  We each landed a salmon and on the journey back I popped three big brookies on dry flies.  Though there was no hatch these three fish teased up nicely and I plan to get more serious with the dry fly for the rest of the week.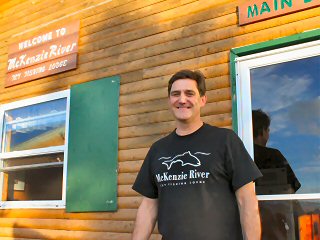 The evening was nice back at the lodge.  The sun came out strong and it appears we should have good weather tomorrow.  The only bad thing about the sunny warm night is it brought out the bugs in motley force.  Our best defense was smoking Paul's cigars outside the lodge.  Tomorrow we'll drive halfway up Andre Lake in the canoe and hike up a different river called the Quartzite.
A special thanks to Paul Ostiguy and McKenzie River Fly Fishing Lodge for bringing Granny and I to Labrador!