The Final Day in Kendjam with Untamed Angling
Categories: Uncategorized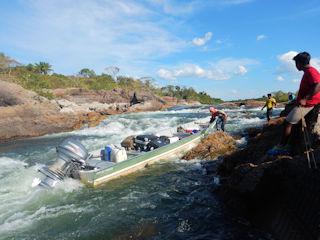 We switched up guides on the last day.  Ben and I went with Rafael Costa who is not only a fishing guide for Untamed Angling but also a fine photographer (click his name).  We went for a long run up river to a place that Rafael has never been to explore.  Untamed has set eyes on it and thought it looked like a good place to find payara.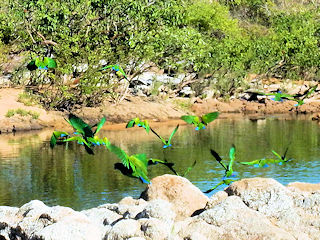 It was grueling because the water is low.  We were out of the boats ten times dragging the craft upstream over rocks.  The journey ended up being too long.  We never made a cast until 11:30 AM and had to leave at 3 PM.  Ben and I were chomping at the bit.  That being said, the drive was beautiful and we saw thousands of these incredibly gorgeous parrots we hadn't seen one of all week.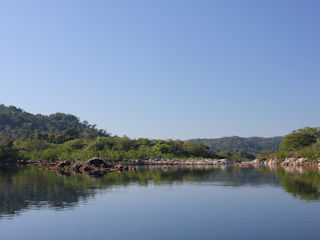 When we got to the place the Iriri River was deep and more like a lake.  There were more submerged trees that I've seen all week.  It turns out, about forty years ago a logging company made and attempt to build a bridge and cut the forest down.  Let's just say the Kayapo Indians were having none of that and the loggers abandoned the area and the logs sank to bottom.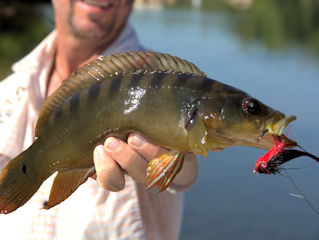 By the look of the place I had payara on my mind.  I grabbed my 9-weight with its 300 grain and cast and let the fly sink.  I landed this peculiar fish known around the Amazon as the jacundá.  We've caught a few of these throughout the week and this is a species unlike the jacundás I've caught before.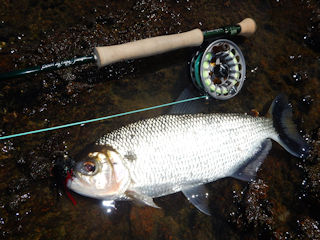 I'd soon land a matrinxã that would lead to chaos.  I was wading past my waste and as I reached to unhook the matrinxã a flash of payara teeth whizzed by attempting to take him off my hands.  I got the matrinxã off and made some short casts with my streamer to no avail.  But when I lengthened my cast and let it sink where I suspected the payara came from I hooked another three times the size.  Sadly, he shook the hook on his first tarpon-like jump.
I was relentless for an hour after jumping the payara.  Where's there's one there had to be more.  I caught a few more matrinxã and dangled them without a look.  And I caught a few more jacundá and numerous beautiful peacock bass.
The area was peacock bass heaven.  Ben and I caught at least a dozen each.  None were huge but we definitely got a few good ones.  Rafael played around with his underwater camera and got some cool shots that he generously shared with us.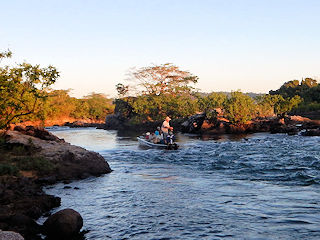 All good things must come to an end.  The trip back to camp was sad but at the same time I realize this has been a top trip.  Honestly, the fishing here in Kendjam is some of the best fly fishing I've ever experienced in my life.  It's been a blast!
I'll close the book on the Iriri River tomorrow with a few photos that didn't make the blog and some final thoughts.
A special thanks to my friends Rodrigo and Marcelo of Untamed Angling for making this incredible journey possible.  If you too would like to experience a similar trip to Kendjam feel free to contact me.