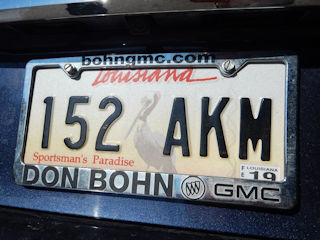 Funny, all the crazy fish I'm knowledgeable about from around the world, yet there's one of Americas greatest game fish I hardly know.  That's the red drum, better known as the redfish.  This week Granny and I are in Louisiana to do a little brush up on this sharp looking species of the grassy flats.
I've caught redfish.  In the late 80's when I fell in love with fly fishing the flats I spent time in the Florida Everglades and on the Texas flats.  I caught a lot of reds.  But since those days I've been running so internationally I've not chased reds in years (was in Florida February 2016 but cold front ended all redfish hopes).
Granny and had no cemented plans for November.  I hoped to get Granny to Farquhar in the Seychelles where I was lucky enough to host Yellow Dog trips in 2014 and 2016.  But our plans fell through only about two weeks ago.  Our heads were spinning on what to do.  One night over cocktail hour it hit me, lots go for redfish.  And not just ordinary redfish, let's go for the big dogs.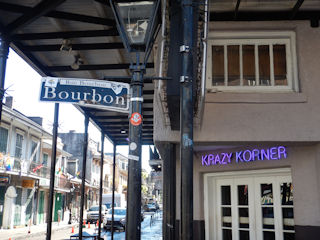 The biggest redfish thrive on the flats an hour out of New Orleans.  This is the nutrient filled water where the Mississippi River meets the Gulf of Mexico.  Although this area has always been redfish, black drum and sheepshead heaven, it's only been popularized for fly fishing in recent years.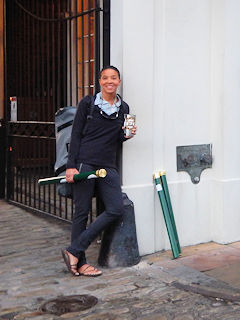 I showed Granny a few Louisiana fish pics on the internet and in our minds, it was a done deal.  We quickly learned however that November is the top time for the massive redfish on fly and that every guide was booked.
Things weren't looking good but by pure luck a company called Fly Water Expeditions got back with me with two available days.  We booked them then one of these guides hooked us up with another.  The end result was we found three available days – today with Capt. Matt Whitman.  Tomorrow with Capt. Paul Lappin and Friday with Capt. Cleve Evans.  We bought the plane tickets and arrived here Sunday night.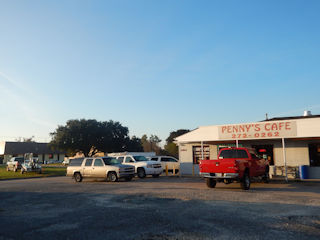 Matt Whitman picked us up at our hotel, Hotel Provincial, at 6 AM.  He was on time and welcomed us into his truck where he was quick to give the rundown for the day.  He's friendly and it was fun towing a flats skiff through the narrow streets of New Orleans.  A half hour in we made a stop at the well-known Penny's Cafe for breakfast and to pick up our lunches.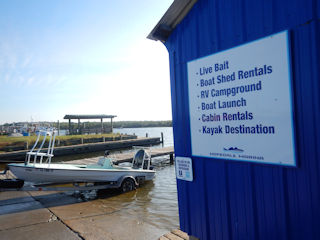 Another half hour and we were at the Hopedale Marina.  There's not much going on in Hopedale these days other than crabbing, shrimp boats and fishing.  Before the massive Hurricane Katrina there was hotel and some places to eat but years later none of these businesses have rebuilt.  While Matt paid launch fees Granny and I rigged up the Winston's.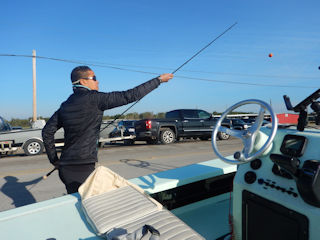 The ideal rig for redfishing is a 9-weight with a floating line.  Scientific Anglers actually makes a specific "Redfish" line.  I didn't have time to get one for this last-minute excursion but learned my Amplitude Grand Slam line was fine.  A 9-foot 20lb leader and a tarpon like streamer tops the rig off.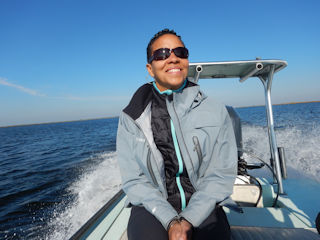 The boat ride from Hopedale to the flats took 30 minutes.  It's a cold one in November even though temps were to reach the 70°s.  Granny and I always have our rain jackets as they are essential wind blocks when doing 40mph in a flats boat.  They keep you dry from wave splashes too.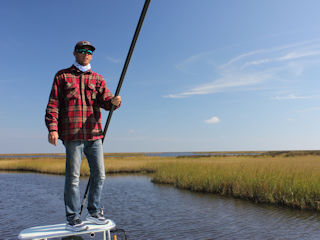 When Matt cut the motor and climbed up on his poling platform I hopped up in Matts elaborate casting cage and made a long cast.  Then I stripped my line into a nice neat pile inside the boat console.  I still get goose bumps.  I'll never get sick of getting poled on the flats no matter where I'm at.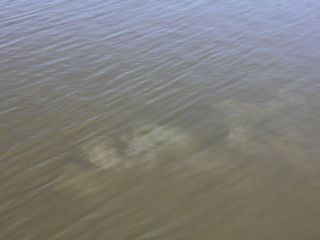 It was calm and cool as we eased along.  The water color is brown and the bottom matches.  It's not easy to see the redfish and takes a trained eye.  You look for muds and wakes, usually along the grassy edges.  We saw few muds right away but unfortunately, they were reds that already spooked from the boat.  45 minutes went by then we were in a tight channel and my first good shot came.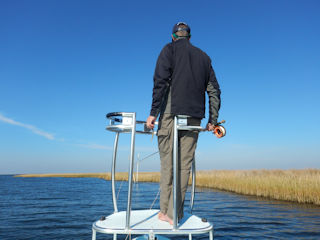 This redfish was cruising tight to the bank right towards us.  He was a respectable red around 10lbs.  Anywhere else this could be your redfish of the week!  I landed a decent cast and the fish spun and looked to eat my fly.  I strip set but didn't come tight.  I kept stripping while the redfish followed.  He wouldn't eat and he retreated to the deep and out of sight.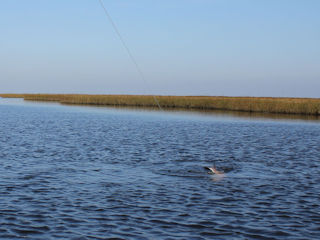 That was a start.  We continued on and it wasn't long before the next redfish showed.  This one was mudding crazily, likely chasing mullet rather than spooking.  I tossed into the mud and let my fly sink.  I saw a flash of bronzy red color and stripped.  My fly popped from the mud into clear view and to our delight so did the redfish.  He was the biggest redfish I'd ever seen!  The hefty drum devoured my fly.  I set the hook and he took off.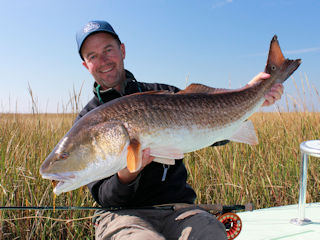 Redfish don't scream line off my Bauer like a big permit or a bonefish but they're no slouch.  This big guy made a steaming run about 75 feet then surged sideways.  I crank my drag and trust my tippet more than most people.  I use the bend of my rod to absorb the power.  It makes normally tough fish give up quick.  This redfish fell to my trickery and in less than five minutes Matt tailed my first red of the trip.
The 21lb redfish is by far my biggest.  This was a thrilling start to our Louisiana adventure.  We clicked off a bunch of pictures.  Never assume that just because your first fish of the trip came easy that there will be more to come.  Enjoy to the fullest then release.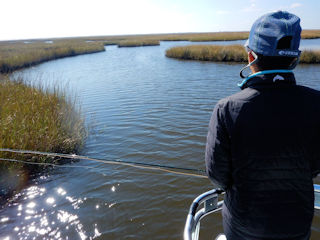 After, I kicked back on the Yeti seat and Granny climbed in the cage.  What a way to start I thought.  Now only if Granny could nail a beast of her own.  Strangely fishing didn't continue like that.  We went the next two hours without seeing a one.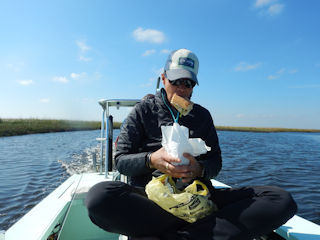 Fishing can be funny.  Particularly in the ocean.  Tides change as does the weather.  For some reason I'd proven to be lucky and now the redfish weren't around anymore.  We ate lunch while Matt thought about a new spot.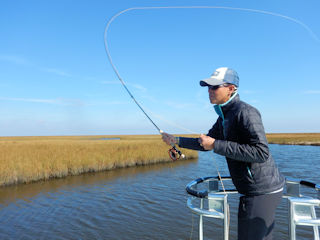 Thinking out of the box and persistence often pays off in fishing.  Matts afternoon flats showed us some redfish.  While most were surprisingly uncooperative in eating, Granny managed to hook three and I a couple more.  Each of mine came off as did two of hers.  Luckily, one Granny hooked well.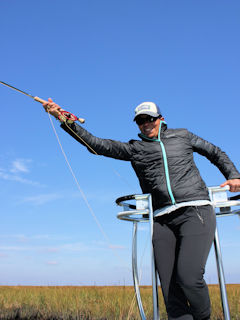 Granny hooked her redfish in a precarious place.  He was feeding in a shallow corner and once hooked took off right under the boat for the main flats.  I ducked out of the way from her swinging rod tip then the line tangled around Matts push pole.  She kept focused on the battle despite the minor chaos and finally got her fish under control.  Soon my lady was posing with one of the prettiest fish you can imagine.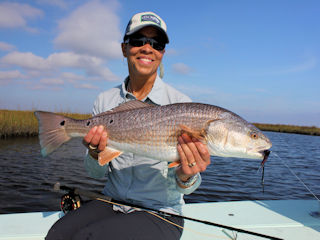 Granny's redfish was a beautiful coppery silver in color.  You expect red but this sheen is common.  He was big and a true poser making it easy for Granny to hold him.  He didn't have only the one tail spot like most redfish either.  He had three that we couldn't help but admire.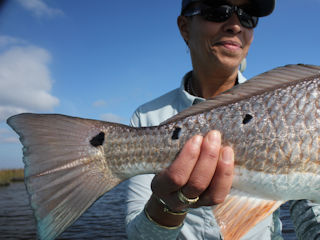 For me guided flats fishing days always pass too fast.  Before we knew it the sun got low and spotting redfish went from hard to extremely hard to impossible.  We gave it up around 4 PM and headed back to Hopedale and on to our Hotel Provincial in New Orleans.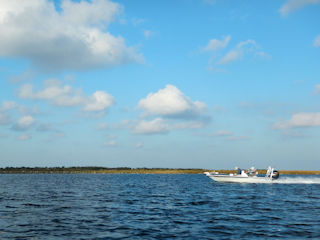 It was a terrific day with Matt.  Some would say, "but you only caught one redfish each".  For us this is great.  Each of our reds were our biggest.  Plus, saltwater flats fishing is tough and today more so than usual.  Tomorrow we'll take what we learned today and see if we can catch a few more.
Don't forget Christmas is coming fast.  Not only can you order a painting or have me decorate a Cliff fly box, but check out my new fish decals.  There's a chance for some free decals too!  And as always – my coffee mugs and beer steins are the ultimate gift for the angler that has EVERYTHING- SHOP ONLINE!