Bass on the Fly Tourney on Ririe Reservoir
Categories: Uncategorized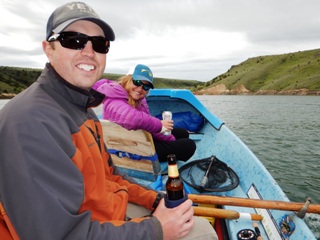 Not only did I miss last years Carp Classic while I was in Bhutan but I missed the Bass on the Fly Tourney on Ririe Reservoir as well.  Not this year.  I love these events and today my team of Mark Kuhn and Cyndle Clift gave the bass competition our best shot.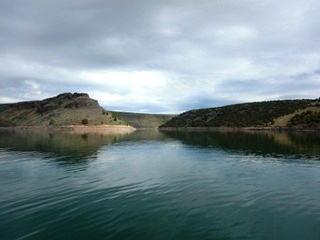 The weather was dreary but warm to start the tourney.  The annual Ririe Bass Tournament rarely sees a perfect day.  Today was perhaps the tourneys 8th year and I can only remember one that was hot and sunny.  This may in fact be why the smallmouth fishing is usually less than stellar.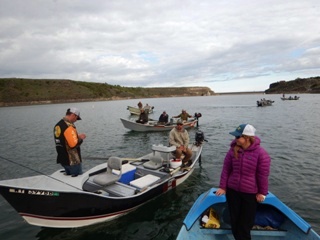 One of the highlights of the event for me is take off from the docks and today was no let down.  Tournament organizer and host Boots Allen shot off the start gun at 8:30 AM sharp and fifteen drift boats with 3-5 HP engines took off to their secret spots like wounded swimming cats.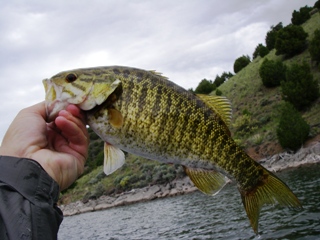 The way you win the tourney is to bring in five bass that weigh the most.  All must be alive and well for release after weigh in or points are deducted.   None of your bass can be less than 12" and sadly it's hard to catch five bass of 12" in Ririe.  Smallies aren't native here and Ririe doesn't exactly have ideal smallie habitat.  They grow slow and unfortunately the larger fish get harvested quickly.  That being said however there are lots of small bass and catching them on poppers is great fun.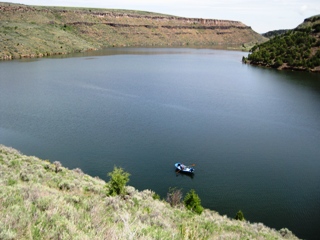 Although the poppers brought in a few small fish, it's the larger ones we needed so we fished streamers on sinking lines to get down to them.  I like two flies rigged.  My bottom fly is a badger colored Screamer and my upper fly is a chartreuse bugger with lead eyes.   Mark and Cyndle fished similar flies.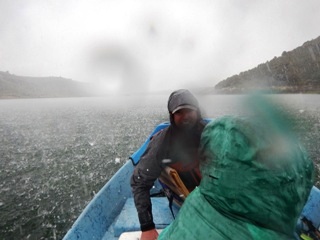 Thing started slow for us.  We didn't get our first measurable fish till 1 PM.  We were feeling bleak but then things picked up and we landed three more decent ones before 3 PM.  But then a thunderstorm from hell came and it rained and blew to dangerous near drift boat sinking conditions.  It was a chore to make the boat dock in time for weigh in at 4 PM.
The end result for us today was four measurable smallmouth. We had two at exactly 12", a 13" and I lucked us into one that was 15".  We ended up either fourth or fifth place.  If only we could have landed one more – even if it was just 12" we may have placed in the tournament.
I'll continue to remain on the move with a run across country tomorrow for Wolfeboro, New Hampshire.  Granny and I are headed there to visit my family and of course, spend some time warmwater fishing.  Lake Winnipesaukee and its surrounding lakes have some superb fly fishing for both smallmouth and largemouth bass as well as a variety of smaller sunfish, perch and pickerel.