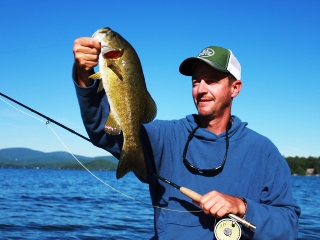 We've yet to have decent bass fishing this trip.  Sure we've picked up a few, but not like I'm used to here in my old stomping grounds on Lake Winnipesaukee in Wolfeboro, New Hampshire.  This morning it looked as though this trend was to continue.  Again the wind was blowing at 5 AM making it difficult to get to my favorite smallmouth bass grounds in the canoe.  Granny and I tried but we were forced back near camp to the sheltered Goodhue and Hawkins Boatyard area.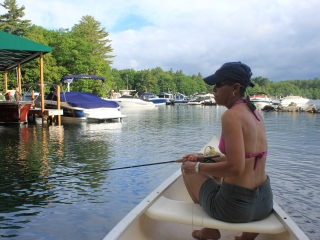 At 7 Granny gave up and I figured I would also.  When we got to camp my sister Becky was there getting ready to fish from shore.  She suggested the wind was dying and talked me into going back out for another look.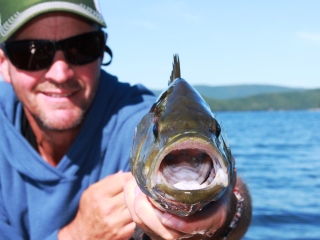 Becky was right and I finally got into the spot I've wanted to fish all week.  The wind was down to a light breeze.  This is perfect because the slight chop hides the fly line on the water and the breeze blows the canoe along at the ideal speed so that you can cast rather than continuously paddle.  On my second cast this spectacular smallie sipped my popper like a Henry's Fork rainbow sips a Pale Morning Dun.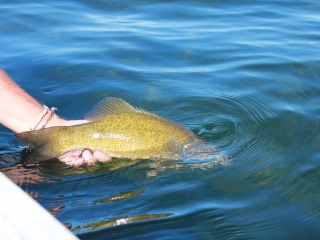 I felt the magic when I released that first smallie.  Off he went from one side of the canoe and I launched my popper back out the other side.  Immediately another sizeable smallie sipped my popper and I landed him also.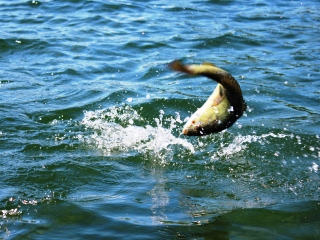 In two hours I landed an amazing nine 14" to 18" smallies.  Every fish came on the popper and they all sipped the fly in memorable fashion.  I love nothing more than seeing their ghostly figure materialize beneath my popper between pops.  The experience is like no other.  Unfortunately Becky got blanked.  I guess she needs to read up on my smallmouth bass tactics on my website!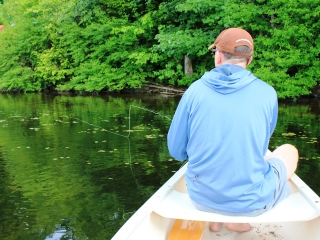 Late afternoon brother in law Don and I loaded the canoe up in dads F250 and drove to a small lily pad covered lake.  I wanted a change of scenery from the big lake and Back Bay.  Don and I caught another thirty bass  – a nice mix between smallmouth and largemouth. The largemouth below was the biggest, but every fish came on poppers.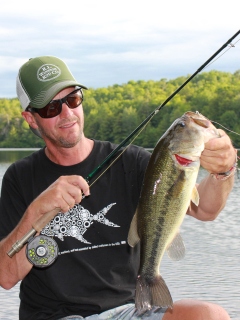 Today was that one you hope for on every week long fishing trip.  The day where the weather cooperates and the fish are hungry.  I've fly fished for bass all my life and this was one of the best!