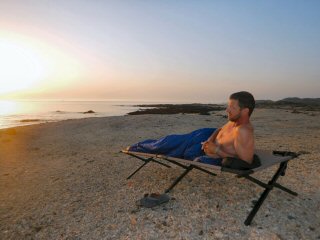 We had a long day yesterday, another dewy night and Granny got chewed up by some sort of gnats.  We slept till sunrise for the first time.  Instead of hanging my sleeping bag to dry the dew I let it dry with me in it and watched the sun, waves and birds.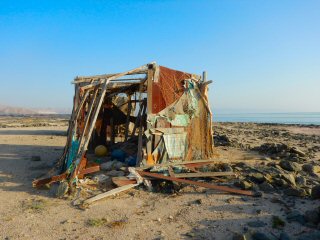 While the coffee was brewing I went for a walk.  The terrain has changed immensely. We've gone from the long beaches and small rock cropping's to the opposite.  There's lots of lobster traps in sight and signs of local fishermen in the area.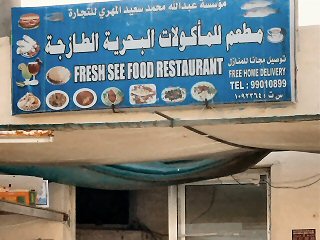 On the way into Hasik last night we saw some fishy looking water so we decided to backtrack and check it out.  We passed through Hasik again and did a more thorough job of looking for fuel canisters.  No luck.  We did however find a few fresh tomatoes, peppers and each ended up with tall icy cold cokes which perked us up from our lousy night sleep.  Oh, and we learned there's a fresh "See" food" restaurant in case we get skunked for the rest of the trip!
The fishy area we checked out was located close to a military checkpoint we went through last night.  Before I got our rods ready one of the military jeeps with the machineguns attached to the roof confronted us.  Our language barrier slowed the communication down but it was pretty easy to show we were fishing.  They smiled and told us if we needed anything to let them know.  Once again I asked to take a photo but got shut down.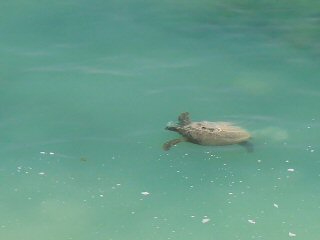 Despite being incredible looking water with huge bait balls in every direction we caught nothing more than a couple of small needlefish.  I saw a big fish that in this strangely murky milk colored water was hard to confirm but it may have been a huge milkfish.  Granny too saw something but couldn't identify it.  The highlight was the hundreds of sea turtles swimming around us as we waded.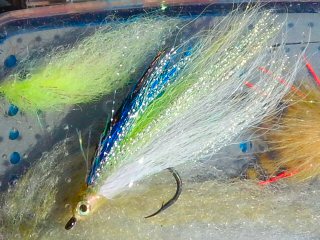 We packed it up from there around 11 AM and continued our drive south.  The rocky outcrops got better and better looking.  I stopped at several and tossed a size 3/0 blue and white Sea Habit with no results.  How could this be – great water and no fish?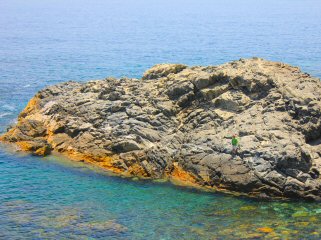 As we continued our drive south the water continued to gleam but the amount of lobster traps and fish trap buoys grew making our confidence nosedive.  Oman was appearing to be like the rest of the world's oceans – overfished.  I continued to try but was taking a beating navigating the rough rocky terrain under the inferno of the sun.
As I was mindlessly dredging I gazed left and my excitement level exploded.  On some outer rocks where the surf was pounding I spotted some aggressively feeding tailing fish.  The tails were permit like but no black color and their shapes were similar to permit but slightly narrower and longer.  They were southern pompano, better known on this side of the world as the famous Africanus (Trachinotus africanus)!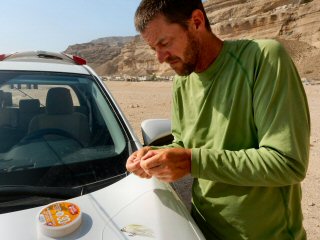 Thank goodness I trained for this trip.  After all the slow fishing today I had nothing with me but the fly I had on.  These fish eat mussels and crabs.  Without any regard for my body I sprinted across rocks back up to the car for flies and tippet.  I had no idea how long these feeding Africanus would stay in range.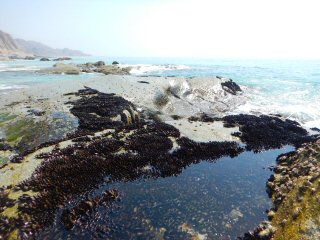 I grabbed the resting Granny and we tore back down there.  They were still there.  Planning my cast was hard.  These fish were in the heart of snag central and from my point of view, if I hooked one I'd be broken off in seconds because on the run they'd pass through jagged rocks covered in razor sharp mussels.  Then there was the surf.  Even an Atlantic salmon would have trouble holding ground in the frothing surf these guys were in and I had to wade out to them.  I felt hopeless, but went for it anyway.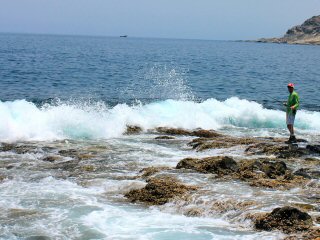 As I look back I feel as though I wasn't aggressive enough in my pursuit.  I waded out like I was afraid of getting hurt from a wave and fished my fly like I was in fear of snagging.  For those two reasons I never put my fly on their nose and eventually snagged anyhow and spooked them for good.  This is a fish that I don't believe has been taken on fly and now I see exactly why.  They're as finicky as permit, spooky as carp, live in an impossible place to successfully present a fly and it's safe to assume the fight is dumbfounding!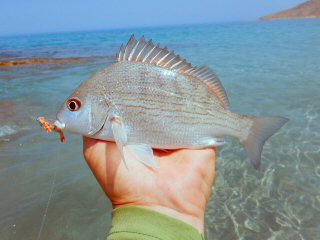 We continued our drive south and came to our first good size beach in two days.  It was a welcome sight and we decided right then and there it was our home for the rest of the day and night.  We parked and I walked right out and caught two new species, this yellowfin seabream (Acanthopargus arabicus) and a fish that flopped off before I clicked a photo.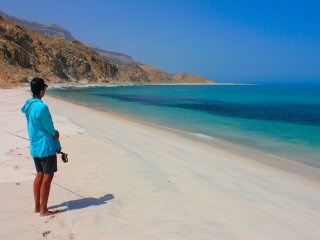 There were some major bait balls up the beach.  As we approached I could see we finally had one on the run.  A five pack of speedy gangsters could be seen pushing the bait and breaking them apart.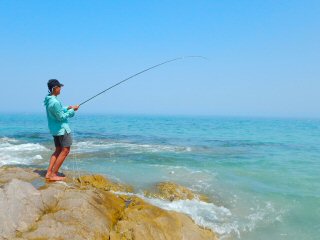 Granny stripped my bonefish taper off my Abel and launched a perfect cast with my 9-weight.  Though these fish were chasing baitfish there was no doubt they'd crush a sinking crab.  Granny doubted me but in a split second she was hooked up and a fly line and ten feet of backing separated her from her fish.
T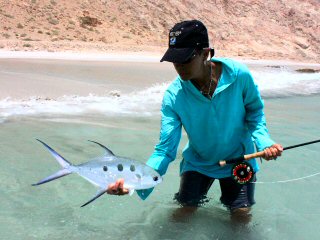 he largespot pompano gave every ounce of fight he had.  You can see by permit-like shape and boomerang tail that this fish can pull.  It was all Granny could do to bring him in.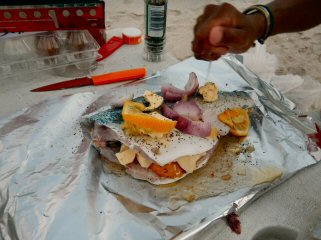 After some nice photos Granny gave me the nod.  We're low on food and sick of pasta.  I conked the poor guy over the head and prepared him for dinner.  Tonight would be a scrumptious night of fresh pompano over an open fire.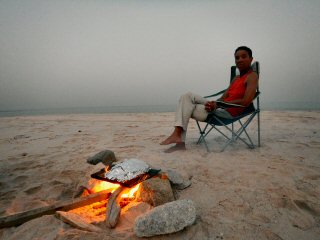 We're camped in a good place.  We saw numerous more largespot pompano, a few bream and yes – we have permit here.  I saw two along the beach but still can't get one to eat.  Tomorrow hopefully will be the day.  Time for a feast!