Fly Fishing for Parrotfish in Oman – Day 6
Categories: Uncategorized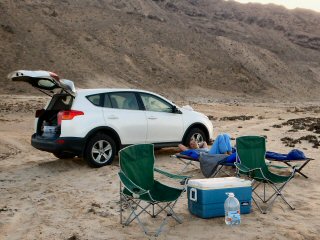 A tough night sleep here in Oman.  It's much hotter than our first few nights.  And the dew!  The dew has you soaked by 1 AM and it's like sleeping in a sponge for the next four hours.  Top that off with the fact that we haven't showered in six days and salt and sand is coming out our ears, sleep could get tougher.
Is it worth a little suffering at night?  Absolutely.  No matter how tired you are, when that sun hits your eyes, you sit up, smell the ocean and you're wide awake and ready for the day.  This morning I checked out our beach for tailing permit.  Unfortunately the coolest thing I found was this dead dolphin getting munched by a ghost crab.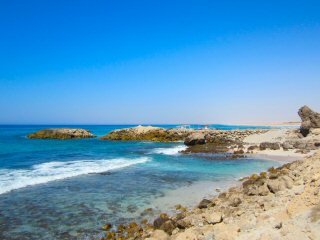 We decided to play in the rocks today.  Unlike yesterday, the rocky areas we encountered today were accessible.  Wading was difficult as the rocks were sharp and treacherous and the waves bash you off balance, but there were loads of parrotfish.  Parrotfish primarily crunch up the coral for food but they're opportunist enough to pick up a crab too.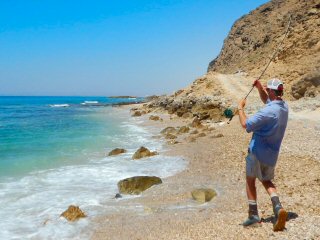 Despite liking crabs they are testing to catch on fly.  Your fly must be where they can see it and putting it there isn't easy.  Where they live, the smashing waves move your fly around and keeping it in their feed zone takes some practice and a heavy fly.  But heavy flies get snagged and you have to break it off or walk out and get it.  By the time you're done the parrots have spooked.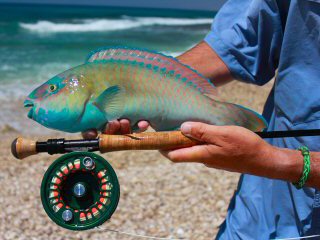 Today's parrotfish were particularly hungry and although weary, returned to feed only a few minutes after they spooked.  I got numerous chances and my persistence paid off.  In the first hour I landed this handsome and colorful parrotfish (species not known yet).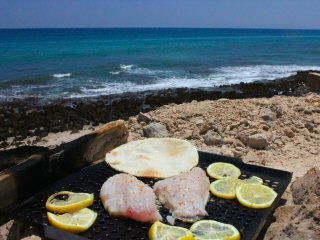 I've never eaten parrotfish but I have seen them at fish markets around the world.  As much as I hated to kill this pretty creature I thumped him over the head, filleted him and gave him to Granny for lunch.  Granny and I haven't had much protein lately.  Then I went back out.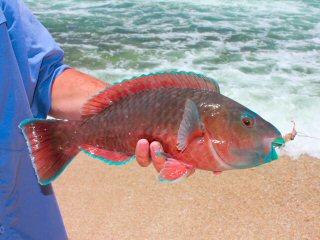 There was another species of parrotfish cruising around.  They were darker and hanging with the others.  I kept after the school and sure enough I got one.  A very cool looking parrot that I believe from some research is the Persian parrotfish (Scarus persicus).  The other I can't nail down.  Any help would be appreciated.  I released this one.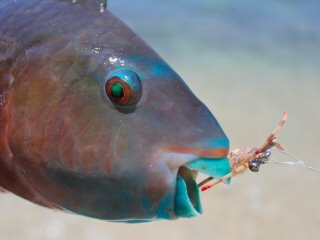 I had other parrots on this morning.  Each one made a run but then spit the hook.  Hooking these guys is the other hard part as their mouths are all one crazy sharp beak.  You may remember the big green bumphead parrotfish I caught in the Seychelles in December.  I learned there that you must let them take the fly and swim away with it in order to get them in the corner of the mouth.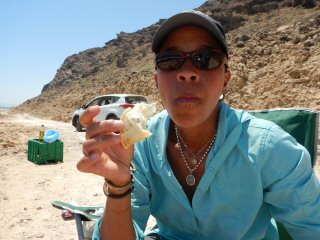 It wasn't long before Granny hollered for me to come up to the car.  She had the first parrotfish nearly cooked.  When I got up he was ready.  Might I say, parrotfish is one of the most delicious fish I have ever eaten!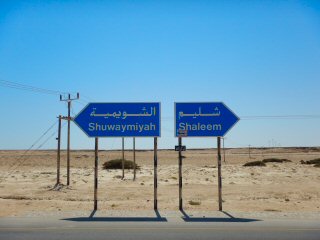 The tide dropped fast over lunch and the fish moved off the rocks to deep water.  Granny and I are low on supplies, particularly fuel for our stove.  There's a good size town, Shaleem, 30 km away so we headed there to get some fuel, water and ice.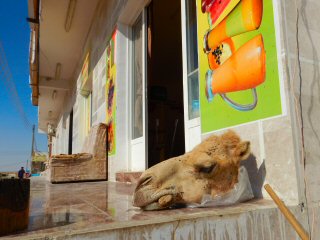 There were three grocery/general stores and not one of them had ice or the fuel canister for our stove.  We'd have been fine if we wanted camel head for stew.  The canister is peculiar so we'd taken it in each store to show them what we needed.  After striking out at all three places we decided to gas up before heading further south.  At the gas station Granny realized she left our one full canister at in the last shop.  We hauled back and the place was closed for siesta!
According to a guy outside, the store owner had left a minute before we got there.  Bummer.  The good news was that he'd be back in an hour so we waited.  We could live off an open fire the next few days but boiling water for coffee was much easier on the stove.  It was worth waiting an hour.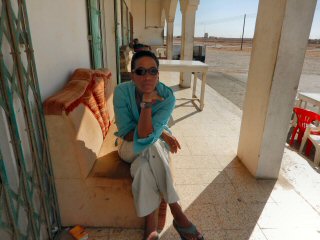 That was the longest hour.  And it in fact was more like an hour and a half.  Temps, once again were in the 100°s and we were stuck right smack in the sun.  Finally the store owner returned only to tell us we didn't leave the canister around.  Granny and I double checked the whole place but nothing.  We lost our fuel canister and wasted two hours!
It was a quiet drive back to Shuwaymiyah.  We returned to the parrotfish spot hoping to target them again for dinner but the tide was still so low the fish were gone.  Finally after a coke break, we opted to continue our drive south.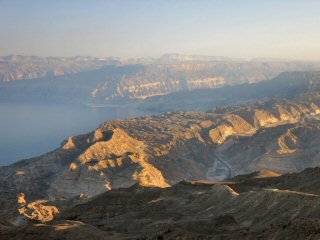 We drove all the way down to the town of Hasik.  The terrain continued to change and now we're in big mountains separated by incredible deep canyons.  We stopped and took numerous photos of the beautiful scenery.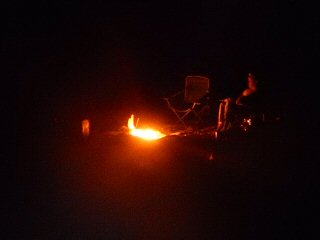 We arrived in Hasik at dark.  Their biggest store was open.  No fuel and no ice.  We got water and chips and found a camp place on the beach several miles south.  While I was making a fire Granny found the missing canister she thought we left in Shaleem!  I was so happy I couldn't be ticked at her.  We boiled water for pasta over the fire but coffee will be easy in the morning now that our canister has returned!