Fly Fishing for Atlantic salmon in Iceland
Categories: Uncategorized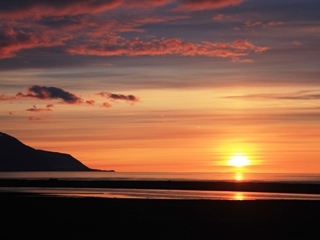 It was another short night here in Iceland with Ingo Helgason and Icelandic Fly Fishermen.  Short as far as darkness is concerned but also short as far as sleep.  Earlier today we finished up a spectacular dinner at 12:30 AM then got up and had breakfast at 6:30 then on the water fishing before 8 AM this morning.  I still haven't ditched my jet lag or got on the time change quite yet so the body is still a little tweaked.  But as always, once on the water I was awake and ready to roll.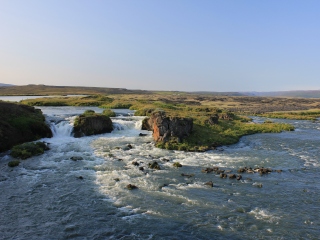 Ingo and I began the day on beat 1.  If you're just getting started on my Iceland blog be sure to read yesterdays entry to understand the beat system used for Atlantic salmon fishing here in Iceland.  Sharing our beat with us is Ingo's sister Loa and brother in law Hilmar who arrived last night and will be with us for the next three days.
Beat 1 is the lowest beat on the Laxá í Ađaldal.  In fact it's so low you can hear, smell and see the ocean.  The beat is a spectacular sight because it's below a tremendous waterfall.  The river rages over the top from beat 2 and plummets from three different channels.  It's breathtaking to look at let alone wade up close and cast below it.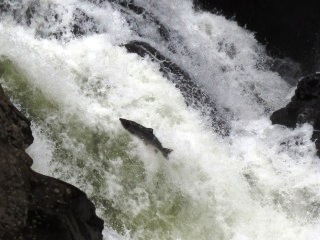 When you stand below the falls or look down from the top you can't help but think about the salmon.  Do they really swim up and over?  Of course the answer is yes and then immediately it strikes you as to why Atlantic salmon are considered by many as the greatest game fish in the world.  The power of this species to swim and leap over such an obstacle is a true wonder of the fishing world.
The sun was bright and the air was hot for Iceland.  I'll bet it was 60° and little to no wind.  Being a warm weather guy I liked it until Ingo warned me the balmy weather could hurt our fishing.  In Iceland Atlantic salmon prefer drizzle, cold temperatures and a north wind.
Ingo and Hilmar have a system where they rotate the pools when they share a beat.  Ingo and I grabbed a classic old wooden boat and I rowed us across to the far side.  We parked and walked to the first pool below the falls on our side.  Ingo wants me to catch a great salmon as much as I want me to and he carefully chose me a fly based on conditions.  Once rigged we both crept into position and he gave me some excellent tips on how to work a salmon pool.
There's a big difference between Atlantic salmon fishing and trout fishing.  No doubt I know how to fool trout but Atlantic salmon have brutalized me.  If you read through my Norway blogs from 2010 you'll see exactly how bad an Atlantic salmon angler I am – or at least how jinxed by this fish I am.  The bottom line is things must change.  I can definitely improve my technique and a little luck won't hurt a bit.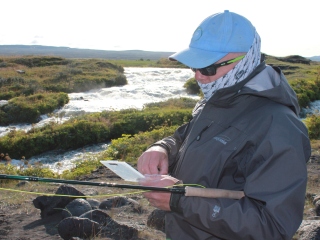 In a nut shell, Atlantic salmon are migrating up rivers from the ocean to spawn.  Folks don't know much about them after that.  The salmon don't eat as they travel but rather attack a fly in anger.  They usually don't like flies that are moving too quickly so you cast down and across current and let the fly swing.  Sometimes the fly should be dead drifted while sometimes it needs a slow strip.  But then even though its general rule that a fly shouldn't be moved fast, sometimes short fast strips are ok.  And of course all this depends on what fly you're using as well as weather, current and the list goes on.  You see why I've had problems?  Atlantic salmon fishing takes a lifetime of knowledge in order to regularly succeed.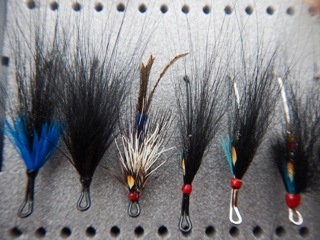 Ingo and I worked all his favorite pools on our side below the falls for more than three hours.  We didn't move a single salmon.  It was time to switch sides with Loa and Hilmar so we got back in the boat.  As I rowed us across I saw a small salmon roll in the middle of the river.  Ingo didn't see the fish but suggested we anchor up and give it a go.  On my fifth cast my Scientific Angler Salmon taper went tight and the small salmon started the rodeo the species are known for.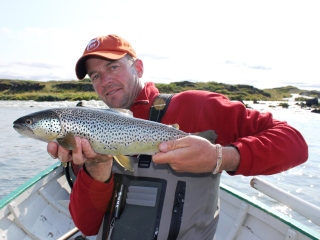 The salmon was tiny, better known as a grilse.  Personally I wanted to get my hands on the little guy and check him out but Ingo grabbed my leader and shook him off.  I reminded him of "pictures for the blog" so two casts later when I landed this small sea run brown we netted him and clicked off a few pics.  Two fish landed – I've officially now fished in Iceland.
Ingo and I fished several more pools below the other side of the waterfall for the remainder of the session.  I knocked off another brown trout but that was it.  Even Ingo couldn't raise a salmon which led him to more detailed observation.  The Laxá í Ađaldal was not in good shape.  The normally clear blue river was turning green and chunks of weed and moss were floating everywhere.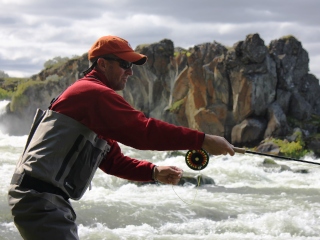 At 1 PM, ending time for the morning session, we returned to the lodge only to find all anglers (the other 8) experienced a difficult morning and they too were concerned about the river conditions.  The green color and floating moss and grass is not the norm.  Weeds not only messed up the fly almost every cast but salmon prefer clear water to be active.
Word has it that this river condition is an extremely rare event.  The last time anyone can remember it happening was ten years ago.  Thirty miles upstream there's a shallow lake where the bottom is covered in moss.  There are theories that a big storm broke too much of it loose and now its floating down stream  Then there's a wild story that an earthquake occurred two days ago and cracked the lake bottom leaking all kinds of crap in the river.  Whatever it is, it's not good news.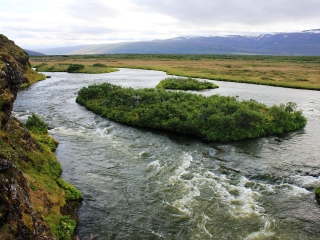 Cold, windy and drizzly weather moved in as we ate lunch.  Everyone smiled hoping this would turn the salmon fishing in our favor.  But Ingo, Hilmar and I fished beat 8 hard every minute of the six hour evening session.  None of us saw a single salmon.  All we saw were chunks of moss floating down a green colored river that seemed to be rising over its banks.  Ingo wisely checked in with a pair of other guests that always find a way to catch a fish.  They are known as the "trollers".  Lo and behold, the trollers had landed two salmon tonight.  I suggested to Ingo we rap up our session and go visit them.  I simply wanted to watch them fish.  You can learn a lot doing such.
The trollers are a couple of cool headed Icelanders that have been Atlantic salmon fishing their entire lives.  Coincidentally they were fishing on the exact beat we have in the morning, beat 3.  As we walked in to see them sure enough, they were releasing their third salmon of the session.  It was a respectable salmon appearing to be about 10lbs, one I'd just about kill for right now.  Then they walked up and proceeded to show Ingo and I the flies that worked and pointed out a few places for us to try tomorrow.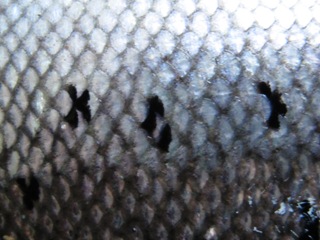 If it wasn't for the trollers I'd be a wreck with disappointment right now in fear of the continuation of my salmon jinx.  Instead I'm feeling confident for tomorrow.  The trollers have proven that despite crap river conditions, the salmon can be caught.  And we'll be on very beat where they were caught.
Okay, its 1 AM and we just finished our late dinner.  I've got a couple beers and glasses of red in me.  I'm beyond exhausted.  Hopefully in less than 24 hours I'll be the happiest fly fisherman on the planet!
A special thanks to Ingo and the Icelandic Fly Fishermen for making my trip to Iceland possible!