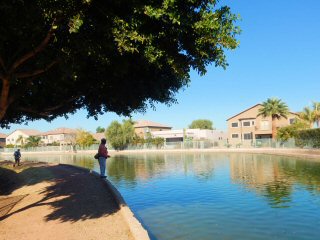 My last six fishing days of 2017 ended in skunks and yesterday, the first day of 2018, started with a skunk.  Today I had to get on track.  Steve Berry, Gentry Smith and I headed to some urban Phoenix ponds where we always catch fish.
The last time I fished here was in 2014.  Steve and I along with other longtime Arizona friend, Cinda Howard, crushed this place catching koi, common carp and grass carp in the same day.  But it was immediately obvious that today would be different.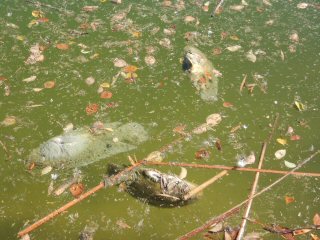 On Tuesday before I got to Phoenix they experienced rain and a cold front.  The waters of these ponds were chilly.  So cold that many of our hot weather loving carps were lethargic and some of the resident tilapia actually froze to death.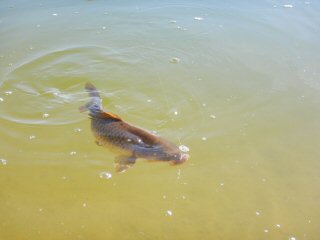 The conditions didn't keep us from trying.  There were a few koi and common carp lingering.  I tried various nymphs.  But I nor Gentry could convince any of the slow-moving fish to eat.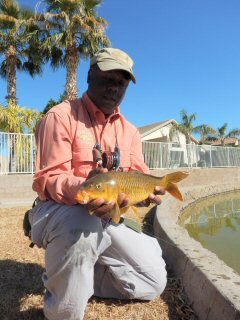 Steve on the other hand managed to fool a few.  He stuck a koi which slipped off before I got a photo and he caught a couple small common carp.  Steve had the perfect combination of the right fly (some egg looking thing) and a knack for hardly moving his fly.
By midafternoon things had slowed even for Steve.  I was pulling my hair out.  I couldn't catch a fish.  We were hungry so Steve suggested we hit a drive through and move to another place he and Gentry had heard of but never fished.  I hated the thought of a new place this late in the day.  What if the new place was a bust?  It would be my eighth skunk in a row.  But the boys were eager to see the new canal so off we went.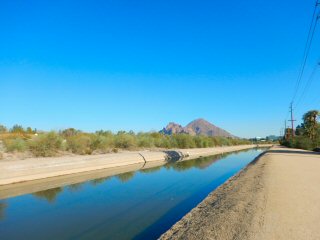 Traffic slowed us and we didn't get to the new spot until 3.  This canal was wide and shallow.  The water was clear and at the start we saw no fish.  We walked a half mile and just as we were about to give up a lone grass carp of about 20lbs cruised by.  Though I made a cast this was not a feeding fish and he fled when my hopper hit the water.
We walked further and the water got deeper.  Then there they were.  A few oversized koi, grass carp and plenty of common carp.  This was my last chance.  The January sun was lowering fast.  The clock was ticking so I tied on a secret crayfish pattern that's bailed me out on a tough day of fly fishing for carp more than once.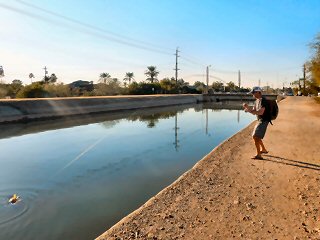 An hour went by.  In spite of all the carp around it became quickly apparent they weren't feeding.  Undoubtedly these carp also were affected by the colder than normal water temperature.  My eighth skunk in a row seemed very real.  It was a crushing thought that I couldn't get out of my head.  But then it happened.  Thanks to my never-ending determination, I hooked up!
The way the eat occurred was I saw a school of common carp raise from the bottom.  I could see more than their backs.  I could see their eyes clearly.  Rather than pick one individual, I cast in front of the entire school and began stripping my crayfish.  They followed and that's when I went tight.  A massive common carp thrashed with several violent headshakes then my line peeled off the reel.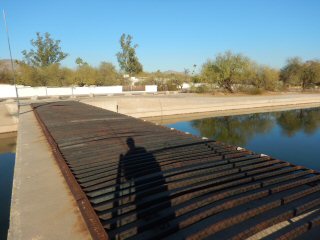 Though I finally hooked up, the next predicament gleamed heavily.  Where I stood on the banks of this canal to the water was a good six feet.  There was no way to land this fish on this side of the canal.  On the other side however, where Steve was wisely fishing because he'd crossed at the highway bridge, there were steps to the water.  The only reason I wasn't with Steve was because the setting sun was in his eyes.  I felt I needed to see while he was comfortable fishing blind.
The good news however was that I already had a plan.  There was rickety fenced off bridge 50 feet upstream from me.  As my carp took off downstream I loosened my drag and ran upstream.  I hopped the fence and scurried across the treacherous bridge.  Soon I was on the other side.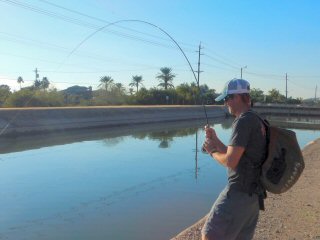 The carp had me deep in my backing.  My 5-weight Winston LS was bent to the hilt.  I ran downstream along the canal reeling in the slack as fast as I could.  I caught up to my carp and got half the fly line on the reel.  Steve was now by my side and said, "Currier, you know you're a maniac right?
I laughed at Steve's remark and started putting the heat on my carp.  At first, he seemed so heavy I felt helpless.  But things started to give.  Five minutes later I got him to the surface.  He was tired and I eased him near the steps into the canal.
These steps were small and steeply angled.  I wasn't too confident I'd be able to pull this carp landing off without a net.  I cleaned my pockets handing Steve my wallet and phone.  Then I took off my Simms pack and started down.  The carp was so hefty that I realized I needed two hands.  I handed Steve my rod when I had the fish close.  I grabbed my 3X tippet and gently slid the carp to me.  I put my right hand under his belly and in one quick move lifted him to my chest which turned into a bearhug with a carp.  I had him!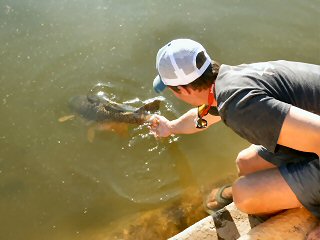 This was an awesome specimen of a common carp.  He was long and tremendously obese.  He was well behaved and Steve clicked of pics as did Gentry with his long lens from the other side of the canal.  After a minute of admiring him I crept back down the steps with the carp under my arm like oversized football.  Even when I put him back in the water the carp remained relaxed.  Then in one swift flick of the tail he was gone and I had Phoenix canal water from head to toe.  I'll take it any day.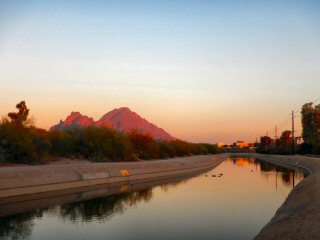 At last I've broke a long drought of catching my targeted fish.  When you target the hard ones, this can happen.  But I promise you, it builds character, mind endurance and probably a few fishing skills along the way.  We reeled it in under the last light on Camelback Mountain.  The urban fishing setting was actually quite beautiful.  I love this Phoenix Arizona urban fly fishing!
Tomorrow morning I fly home to unpack and pack.  Next week its back east for the Marlboro Fly Fishing Show.  I hope to see you there!