Change Over Day at Tengo Tigerfish Camp
Categories: Uncategorized
Today was the end of the week for my first hosted group.  Don, Linda and Mark boarded the charter for civilization at 11 AM and my second group of Steve Reem, John Elgee and Oliver White arrived.  Naturally these guys were beat after forty hours of travel from the states.  I helped them unpack their gear then we had some lunch.  The routine after lunch is a couple hours rest then head out for an evening on the water.  Today we missed the rest part.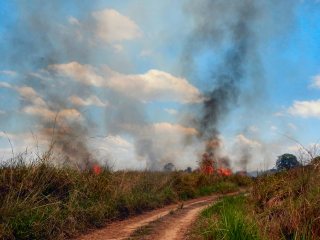 After the last bite of lunch we smelled smoke.  Then we heard the loud popping of burning brush.  A fire was close and strong wind had the blaze moving fast.  Unfortunately camp was directly in its path.
Camp hosts and employees never want guests to panic.  The guides played it off like the fire was no big deal.  But I could tell.  This fire was close and it was time for my group to pack up their stuff and be ready.  If you're prepared, luck usually ends in your favor.  It was certainly a hassle for the guys to repack an hour after unpacking, but because we were prepared the winds changed direction.  The fire headed off away from camp.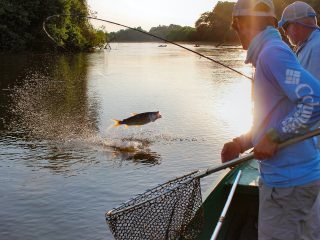 At 5 PM we hit the water so the new group could get their feet wet and be ready for the full day tomorrow.  I fished with Steve Reem and will do a full day with him tomorrow.  We went upstream from camp a mere three bends to a place called the Bus Stop.  I watched as Steve pulled out 60ft of line and launched it.  He's going to do just fine this week.  We were anchored and for about a half hour Steve made a series of blind casts and swings through the depths.  Then he got ripped.
I was so busy chatting with Steve I forgot he was fishing.  Then a huge fish hit the air next to the boat.  Steve's first tigerfish was huge!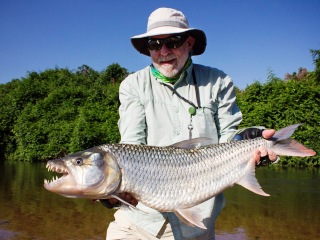 I love watching folks fight their first tiger.  The power amazes them.  Tigers are as strong as most saltwater fish.  Steve has the salt experience and did a great job taming his first.  He brought the toothy fish to net in less than five minutes.  The gorgeous African game fish was 13lbs.  Just so Steve wouldn't be jaded by this first fish, I made it very clear that this was not the norm.  I believe he's convinced by the amount of pictures Mark and I took.
It appears I have another great group.  We had a lot of fun around the dinner table with beers and wine.  This should be a fun week.  I made sure to nail a tiger of my own tonight and therefore I now have caught a tigerfish seven days in a row.
For information about this incredible trip feel free to CONTACT ME.
Be sure and visit Tourette Fishing – Fight it in Africa.
And ask about my future hosted trips through Yellow Dog FlyFishing Adventures.