Fishing with the South Africans on the 5th of July
Categories: Uncategorized
I apologize for the serious delay in posts this week but in the days to come you will soon learn why!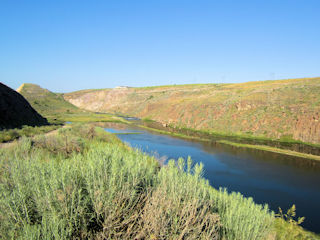 I love the 4th of July and yesterday was long and memorable one starting with the Victor parade. After the parade was a day of live music at the Knotty Pine then an evening of wiffle ball late into the night at the house with a heap of friends. Two of them are my South African friends Gerhard Laubscher and Tim Babich, owners of FlyCastaway fishing operations over in the Indian Ocean.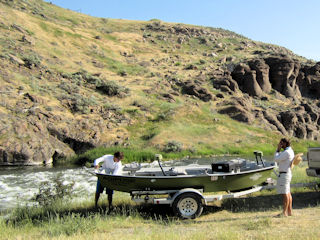 Most of my readers know of my South African friends because I make my way over there and fish with them occasionally. Today was my turn to take them fishing on my waters. Also along were my local pals Mike Dawes and Tim Brune of WorldCast Anglers. In fact, it was Dawes who picked our unusual two boat float trip out in the boonies of Idaho.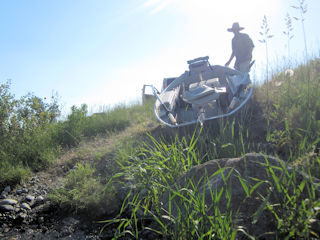 You know how I roll, if someone takes me to their secret spot I won't divulge any fine details. If you recognize the photo then you've been here before but for those who haven't it's a historical section of a lesser known Idaho river. There's no boat ramp here and it's also a gnarly float with a few serious rapids. Personally, I wouldn't take my boat here but the WorldCast boys are pros behind the oars and former fishing guides.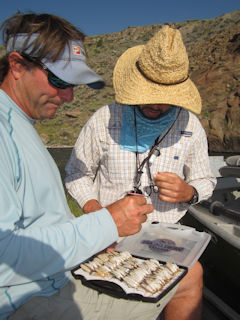 The water was still tremendously high but the weather was about as gorgeous as it can be. Despite the high water, Dawes and Brune predicted a chance of fish looking to feed off the top on stoneflies. This is our normal salmon fly hatch time however everything is slightly delayed this year. I chose to go with two streamers on my 6-weight Winston.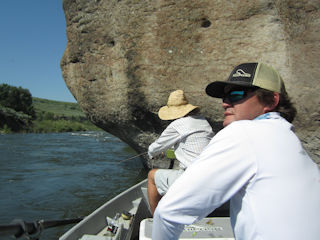 To say our fishing got off to a slow start is an understatement. Two boats and decent anglers and not a single fish was landed in the first hour. I changed streamer colors, weight and fly size several times. Gerhard dangled several different nymphs below his giant dry fly and he didn't get any action on that either. At this point in the day I was feeling bad for my foreign friends coming all this way and having such tough fishing.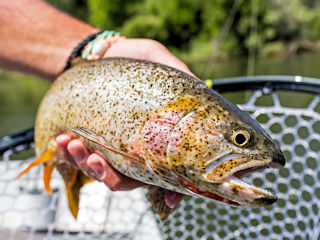 As the temperature rose so did the river. That's what happens in early summer as the snow melt in the mountain speeds up. We thought we'd be rowing off the river to head home early due to the diminishing conditions but instead I started moving some fish on the streamer. I got us on the board with this uniquely spotted Yellowstone cutthroat.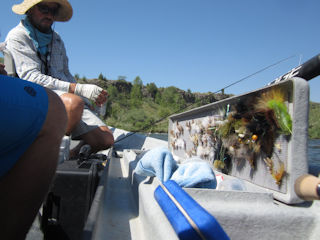 Tim was in the other boat with Brune. He started tossing streamers as well and picked up a fish too. From that moment on it was game on. As the river mucked up and rose the streamer fishing became red hot. It was the opposite of what you would expect. My theory on this situation is that the fish become concerned that the river will completely blow out making it hard to find food at all. So sometimes they go crazy!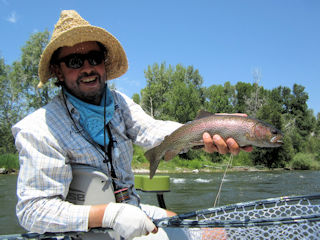 Soon all of us were chucking and ducking with streamers. Hands down we did best with a flashy Kreelex fly as well as anything dark. These colors stand out best when the river is off color. Gerhards first fish of the day was this spicy rainbow. Who says rainbow trout don't eat streamers?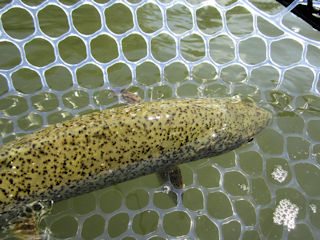 We caught about a dozen decent fish when said and done. We'd have caught more than that for sure but we pulled off the river at 2 because I had a plane to catch. That's right – the blog is about to heat up with some fun stuff.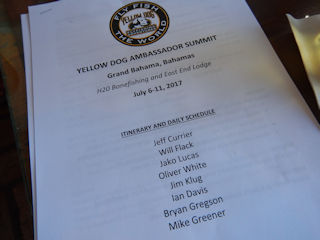 I'm presently at the Salt Lake City Airport with some friends of Yellow Dog Fly Fishing Adventures about to board our redeye for Atlanta. Then tomorrow morning we'll all fly to Freeport on Grand Bahamas. This will be an amazing photo and film shoot about fishing the flats for bonefish, tarpon and permit. I'll give the full details tomorrow.