Fly Fishing for Tigerfish on the Ruhudji River
Categories: Uncategorized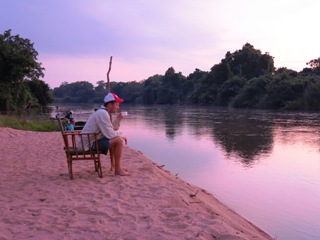 Unless you're unusual its hard to get good sleep the first night on the other side of the planet.  Personally I use chemistry to get me on schedule.  Therefore I was up early and refreshed at around 5:15 AM.  I drank coffee on the edge of the Ruhudji River not far from our tent.  I should clarify that, in this part of Africa you don't do anything next to the river because of Nile crocodiles and hippos, however this particular spot has proven safe over the years.  Nonetheless I sipped with a watchful eye.
The weather was overcast and warm to start.  At 6 AM you need nothing but your lightest clothes.  Mornings and evenings require long sleeve shirt and pants to protect you from mosquitoes that can carry Malaria.  I usually follow the normal precautions but this morning I went with a thick layer of bug dope.  During mid day it's scorching hot.  The first half of today was overcast and comfortable then the clouds burnt off and the boat deck got so hot it singed my bare feet.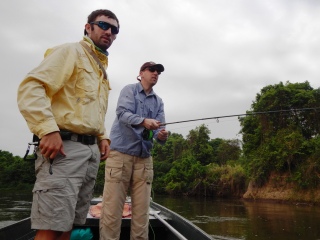 Our guide today was Mark Murray from Jeffreys Bay, South Africa.  Mark wasn't here when I fished in 2010 but in is his second season.  He's head guide, a superb guide and he really knows his stuff about the birds and animals which is nearly as important as the fishing to me.
As host I fish from the back of the boat.  Tigerfish are the type of fish that often pounce on the first fly they see rather than hitting the second one to swim through.  The only time I jump up front is when my guests are too tired to be there.  I'm still nursing the bad shoulder I've had all year so hopefully being in back slows down my usual pace and I can rest this damn thing and get better.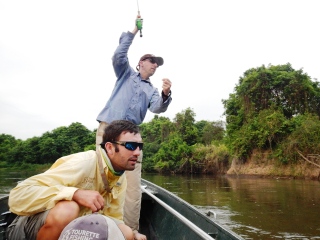 My first move of the day was pick up my camera and watch Don get started.  Don's been fishing ten years but nothing like this.  Before last night he never tossed more than a 5-weight.  His first few casts last night were interesting but this morning he caught on fast.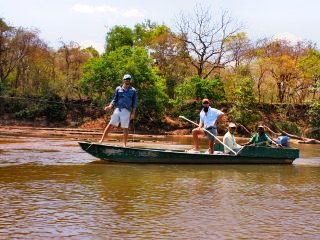 You fly fish for tigerfish from a narrow 16 foot aluminum boat and drift down the banks casting to structure.  It's the same style as streamer fishing for trout only you toss a 9-weight and a much larger fly while your guide maneuvers with a pole and the boatman paddles.  When we get to deep pools we anchor up and dredge for about twenty casts.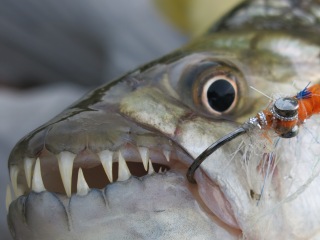 Tigerfish are difficult to hook.  Their mouth is as hard and boney as any fish species I know.  Amongst the bone are rows of incredible dagger-like teeth.  You MUST strip set with your rod directly pointed to the striking fish to have any chance.  Once you think you have the tiger hooked – strip set hard again.  Don got about five strikes while ripping his fly through the first pool but none of them connected.
As Mark was lifting the anchor to slide down to the next spot I picked up my 9-weight Ross RX and hit an unsuspecting pocket on the on the other side of the river.  It was similar to a spot you'd find a big brown trout in a river back home.  To my delight a 5lb tiger shot out like a rocket with my chemically sharp hook deep in the corner of his mouth.  The skunk was out of the boat and it turns out there were several 5lbers in this pocket and Don went on to land two more.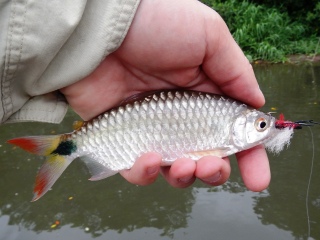 Fishing died on us quickly.  All Marks key locations were uncooperative to say the least.  We pulled into what he referred to as the "vundu" hole.  The vundu is "the" catfish of Africa.  I've had several exciting experiences with them over the years but still haven't put one in the boat.  As Don and Mark knocked back some old fashion bottles of coke, I dredged with a slow strip hoping for a miracle but to no avail.  As I was doing this I couldn't help but notice the njurus (red tailed barb) rising.  I whipped together my 5-weight and nailed several of the colorful and aggressive little dudes on a red-winged Chernobyl.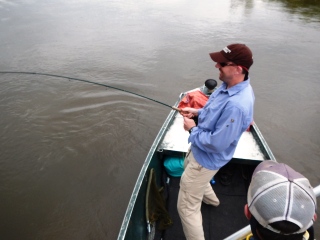 Before lunch I found myself chilling in the back of the boat watching and coaching Don.  He's really caught on to casting the big rod and accurately placing his fly where the tigerfish live.  Then it happened.  Despite the slow fishing, Don's persistence paid off and a 12lb tiger sucked in his fly.  The vicious tiger was on and it was time to teach Don how to fight them.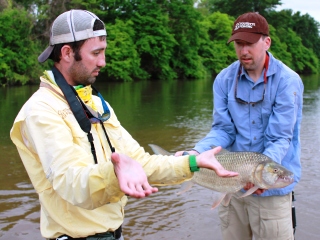 Fighting these oversized tigerfish takes practice.  First of all we don't screw around.  We fish straight 40lb Scientific Anglers saltwater fluorocarbon.  We do so because if you let these fish run much they will bury you in the mazes of log jams.  It's hard to teach or accept just clamping down on such big acrobatic fish but you must.  Don followed the advice well and almost sacrificed his body at least twice by nearly being pulled overboard.  But by doing so he beat the rambunctious 12lb tiger fair and square and was soon learning how to hold his prize.  Don surpassed his goal on the first day.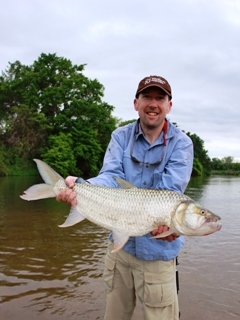 The tigerfishing picked up in the afternoon.  There are few places in the world where I can honestly say this, but the 5 to 8lb tigers are abundant from about 3:45 PM until dark.  There's a famous run on the Ruhudji River called the Casino.  I remember it well from my last trip.  Don and I tore it up and landed eight tigers from this area alone – unreal!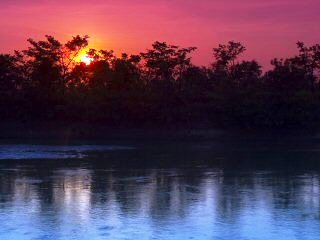 Despite our successful first day, the tigers ended the day with the upper hand.  We were anchored and dredging.  I was watching as Don worked the hole thoroughly.  Then he got snagged.  We weren't' done with the spot so he left his fly snagged and I went to work in the pool.  Sure enough I hooked a beast.  Now it was time for me to line burn my fingers.  For three minutes this fish bullied me down deep.  Then as his fight started to dwindle he raced straight for Dons snag, leaped over his line and tangled us up.  It was the nightmare that we knew could happen.  Franticly we tried to do a rod over rod to free my line from Dons but no such luck.  My fish jumped two more times while using Dons line tension as a bungee cord and eventually my fly dislodged.  We all laughed as the approximately 16lb tiger disappeared.  It's the first day and more opportunities will come.
For information about this incredible trip feel free to CONTACT ME.
Be sure and visit Tourette Fishing – Fight it in Africa.
And ask about my future hosted trips through Yellow Dog FlyFishing Adventures.