I'm not home often these days.  It's weird.  It wasn't planned this way.  It just sort of happened – a career in fly fishing that includes an annual show/speaking tour then months of fishing and travel.  I wouldn't trade it for anything but at times I miss my home in Victor, Idaho.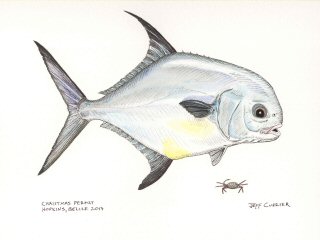 I'm amidst and entire week home.  The stopover is all about catching up on stuff and getting ready for the next run of travels.  One of the main things I catch up on is my art.  This week included painting this fine permit caught in Belize on Christmas day 2017. (A week after I was there suffering through brutal weather and no permit!).
On Thursday I'll begin life on the road again, only it doesn't start with work.  Friday I'll be ice fishing around Manitowish Waters, Wisconsin.  This is an annual trip with friends to my old stomping grounds in the Great Northwood's.  I love it up there and I love this trip more than most.
Northern pike, perch, walleye, crappie, bluegills and perhaps a musky – look out!