Chasing "Beans" in the Southern California Surf
Categories: Uncategorized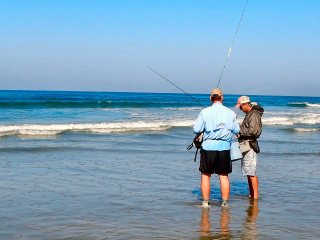 Granny and I rolled in to Encinitas, California late yesterday afternoon.  We came down here because tonight night I speak to Golden State Flycasters.  Our early arrival gave us a little time to screw off including a night on the town at the local sports bar where we watched a thrilling Sox Tigers game.  Then today we got up early and fished the surf with friend Steve Piper.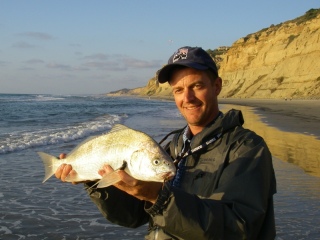 Steve Piper is a cool guy that fly fishes the surf on a regular basis.  Steve took me out a few years ago and I landed my first spotfin croaker.  The spotfin is an unusual surf dwelling drum considered by many as one of two prized fish down here.  The other is the California corbina.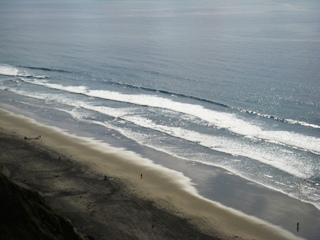 We met up with Steve casually at about 9.  The fishing place was by no means a secret.  There were surf fishers about and hundreds of folks walking the beach.  The waves were perfect for fly fishing.  They weren't too big and therefore it only took a 50 foot cast to get past the churned up murky water from the stirring sand.  Even a rookie like me could read the water and see the troughs and deeper cuts.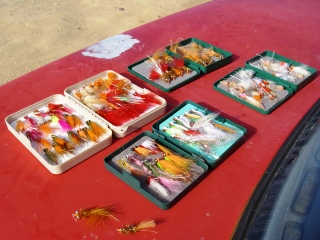 Although I have a good California surf fly collection these days, Steve generously loaded me up with a few of his specialties and within minutes I was on to a school of barred surfperch.  Barred surfperch are the most common of several species of surfperch.
While cranking in the handsome little perch, I saw a larger fish.  I'm no expert on this California surf but it looked like a corbina.  I'd heard the corbina fishing was lousy this year so I questioned my sighting.  Sure enough I spotted another and this time confirmed it.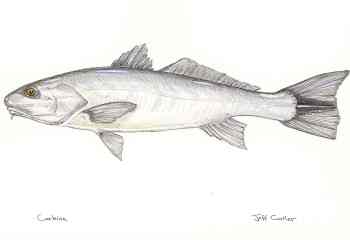 I'd had my fill of perch so I slowly eased my way from the surf to the beach hoping not to be seen by the next cruising corbina.  Corbina are a fish that creep right up to where the waves break on the beach and eat crabs.  This is a dangerous place for any fish to hang out because of fishermen and the occasional osprey.  Therefore corbina are extremely spooky.
Steve noticed my change of fishing tactics.  He wandered over and shouted, "Did you see a "bean" (nickname for corbina)?  When I told him I did he lit up and took a similar position a short ways down the beach.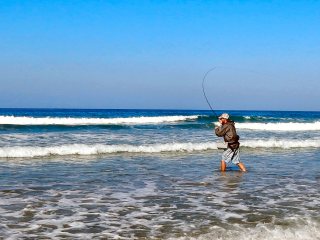 We both ended up with several casts to cruising beans but neither of us had luck.  Beans are tough, in fact experienced saltwater fly fishers rate them near the top as far as difficult fish to fool into eating a fly.  I'll strongly agree.  I've yet to catch one.  Today however I came my closest ever.  I had two serious looks and follows to the point where I know if I had all day I'd of got one.  Shucks!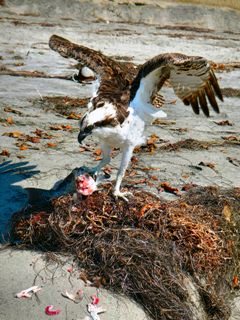 While Steve and I got corbina skunked, this bold osprey didn't.  Yes, that's a corbina he's chomping on!