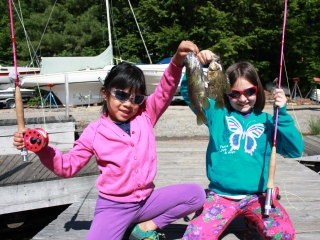 We picked up some hitchhikers on the way back from my parent's 50th anniversary party yesterday – my nieces Sammy and Montana.  My brother and his wife headed to Wisconsin for the weekend so Granny and I (and the rest of my family THANKFULLY) were babysitters.  Naturally they wanted to see their cousin Sierra and spend some time with Uncle Jeff.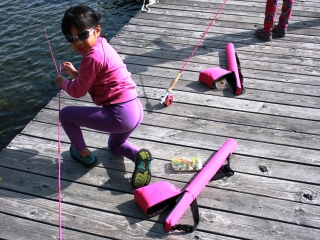 There's only one thing to do when hanging with Uncle Jeff and that's fly fish.  All my nieces have the cute pink Ross Youth Outfits.  They've been fishing them with me for three years now.  While Sammy, the oldest, opted to do her own thing, Montana and Sierra were up early on this longest day of the year, ready to torment the local fish from our dock as well as our neighbors dock, Goodhue and Hawkins Boatyard.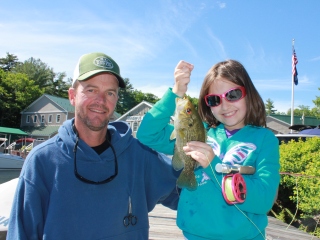 They each spent the morning racking up huge numbers of rock bass and pumpkinseeds.  Granny and simply kicked back and smiled.  Both girls can cast, fool the fish, and best of all, they can take them off the hook themselves.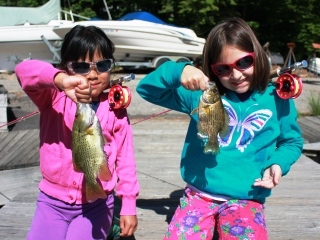 Sierra and Montana are both very aware of the blog.  Therefore they made sure to pose with almost every fish they caught.  Obviously I had some fun as well with some of the poses.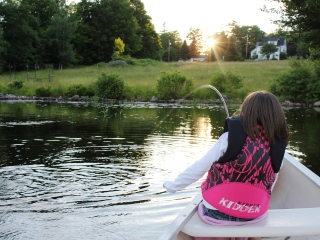 For the evening I organized a very special event.  I took Montana in my canoe and my brother in law Don took Sierra in his.  We took them to Back Bay for their first evening fish there.  As you know by now, Back Bay had a huge impact on me as a kid and I can only hope my nieces learn to enjoy the place as much as I did.  My guess is that after tonight they did.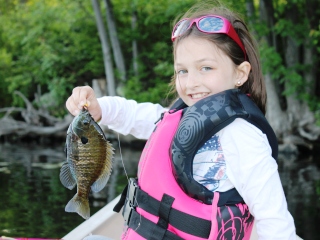 Montana got a nice bluegill on her first cast.  She proceeded to catch a few more as a bullfrog started to croak.  She couldn't believe it when I told her the soothing sound was a frog and of course then I had to find that monster frog.  He was easy to find but although I'm a good turtle catcher, the slippery frog slipped through my fingers.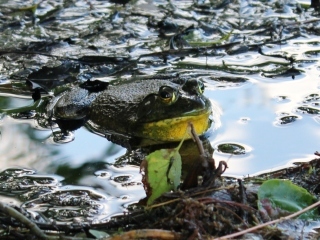 The girls caught a lot of fish and a witnessed a beautiful sunset.  Then the air chilled.  However despite being cold we took the girls to the famous Wolfeboro Bubble and got them ice creams.
Unfortunately Sammy and Montana head home in the morning so it was a short but sweet visit.  I recon I'll look into a morning of smallmouth around the point from Wolfeboro Bay before sunrise tomorrow.  Stay tuned. . . .