August 27-28, 2013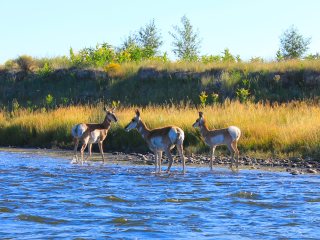 August 27
Fishing the Yellowstone Country in August can be tough.  Temperatures are often hot enough to sink large trout to the bottom of the deepest pools.  Deep pools are hard to find because of low water.  Floating weeds and debris stick to streamers on every cast and the wind blows harder than normal.  But a little creativity in picking your spots can lead to fine fishing, no people and plenty of wildlife despite these harsh conditions.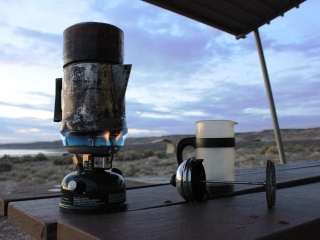 Granny and I drove to the heart of Wyoming Monday night, enjoyed a fabulous meteor shower and slept in the Exploder.  We downed some coffee at the crack of dawn Tuesday under ominous skies and met Weldon Jones and his friend Owen where we could buy only cheap beer.  Then after combing over a tattered map on the hood of my truck we chose a section of the river to float.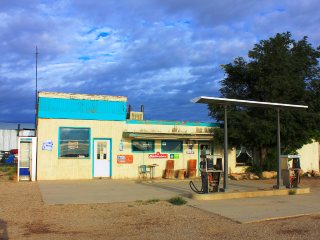 Shuttle services don't exist in such remote places and hitchhiking doesn't work when there's no traffic.  We did our own shuttle and pushed off at 9 AM.  Distant clouds indicated storms on the way but at this point it was an easy 90º and sunny, the absolute worst weather for trout fishing anywhere on the planet.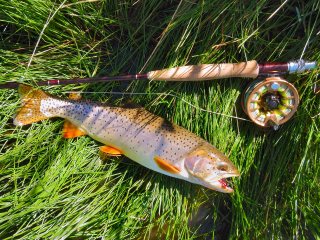 Fishing matched the weather as suspected.  There wasn't a rising trout to be found and streamers did nothing but entangle in weeds.  Granny hoisted in this small but rather uniquely spotted Bonneville Cutthroat but that was it before lunch.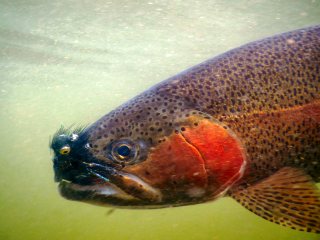 Fortunately those distant storms seen in the morning arrived after we ate.  We broke out the raingear several times and I struggled to hold the boat through heavy wind.  Granny wisely kept a black Warpath jig fly running through every good looking hole she could reach and the fish started eating.  Between 2 PM and dark Granny and I caught a dozen beautiful rainbows and a few more cutthroats.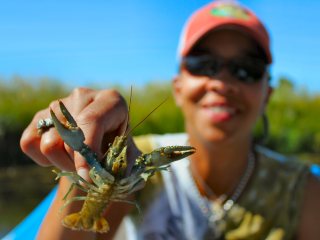 I'm not sure why the black streamer was so effective.  There's definitely a few baitfish in the river but there are more crayfish than anywhere I've ever fished.  These crayfish are dark olive so I'm guessing it was the movement we were putting on the fly that enticed the fish.  Crayfish move in short jumping motions so we stripped and jigged our rod tip at the same time.  Whether that was the trick or not the technique certainly worked.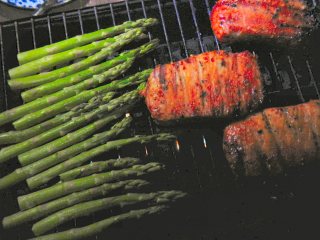 August 28
Last night was a late one.  We got off the river in darkness and then it was 30 minutes to our camping spot.  Granny and I brought some monster thick pork chops and asparagus for the grill and a bottle of red.  Weldon and Owen, younger more durable chaps, opted for brats, whiskey and microbrews.  We listened to the entire Cubs vs. Dodgers game on my XM.  I'm happy to say my struggling Cubs beat Clayton Kershaw.
The boys couldn't fish with us today.  It wasn't because they were hung-over but rather they couldn't fish.  Weldon began his long journey home back to North Carolina and Owen returned to work in Jackson.  However, before he left, Owen was kind enough to do a shuttle for Granny and me.  We fished a different stretch under partly cloudy skies and scorching temps.  It was so hot we passed this enormous Bull Moose literally sitting in the river.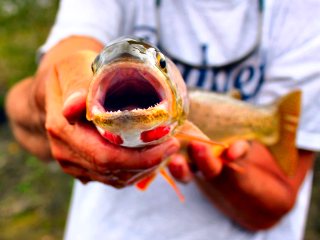 Just like yesterday things started slow.  It was hot.  It was calm and mostly sunny.  Very few creatures moved.  I walked up a side channel and caught this slim cutthroat on a dry fly but though there was plenty of great looking water, the cutty was my only fish.  The day was turning into a scenic float.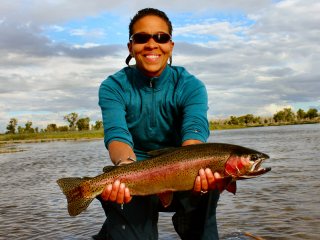 Then, despite the sunnier day than yesterday, the fish turned on.  Its amazing how this often happens.  You literally go from nothing happening anywhere to where you can do no wrong.  From 11 on we caught more than 20 quality line stealing bows, three browns and a few more cutthroats.  The best fish of the weekend was this fantastic rainbow Granny pulled from an inside turn less than 12" deep.  Like all the rest, this dark striped bow ate the Warpath jig fly.  What a weekend!