Hunt for Scary Fish – Farquhar Atoll Seychelles
Categories: Uncategorized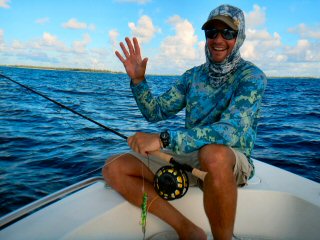 The colossal fish that destroyed me two days ago haunts me more than you can believe.  Of all the fish I've caught in my life, even the ones I've lost, NONE manhandled me like that.  We're guessing dogtooth tuna but it maddens me that I'll never know.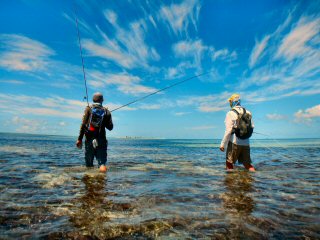 Today was our last day fishing here in the Seychelles.  I fished with guest Brad Thompson, better known as "Spy" and FlyCastaway head guide Tim Babich.  Most of you have seen the fly fishing movie "Waypoints" (If not you can contact me to buy one). Tim was the star of the St. Brandon's segment.
Spy tossed a loop my way last night.  When Tim met with us to see what we wanted to do, Spy looked me in the eye and said get Jeff his doggie.  I quizzed him hard, "Do you really want to mess with deep water all day?  It could be boring."  Spy convinced me he was ready.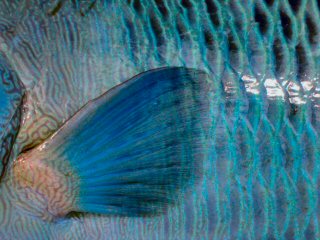 Tim has experience with dogtooth tuna.  He's caught plenty and some on fly.  He said the best time to try is the end of the day.  Tim suggested we start our day bombing coral heads with sinking lines and try to catch a Napoleon wrasse along with an assortment of grouper.  Then hit prime time on the flats.  And then at 3 PM go to the "Dog Kennel".  My god I could hardly sleep!
We headed out promptly at 7.  Tim searched for some specific coral heads he knew were rich with fish.  Once found we cut the engines and drifted.  We had some big roller waves but very little wind making conditions ideal.  The depth varied from 15 to 25 feet and you could see all the way to bottom.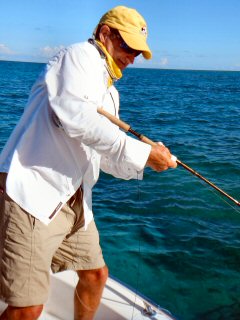 Spy and I were stoked for some adventure.  Truly an adventure for Spy because I'm not sure he knew what to expect.  We both filtered through a few bluefin trevally that give you a good tug to start.  But when Spy hooked a sizeable white-blotched grouper, the shoulder wrenching pull put a giggle in him and I could hear his feet trying to grip the boat deck better than the norm.  As mentioned before, groupers, and all fish of the reef and coral heads give an initial pull that would offer a challenging venue in the Strong Man Competition!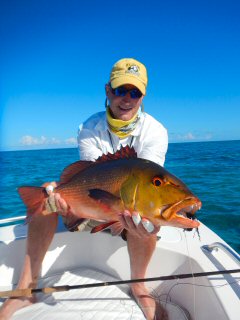 Spy catches on fast and he landed that white-blotched grouper and followed it up with this superb mean looking bohar (two-spot red snapper).  I promise you, this bohar had the Spy dancing in the bow.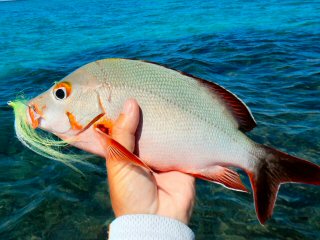 From the back of the boat I took on a little excitement of my own.  First off all I knocked off the bone snapper.  New species #11 for the week.  Problem is, bone snapper is the name the guides give this fish but I can't find him on google to save my life.  If anyone can help here I'd be thrilled!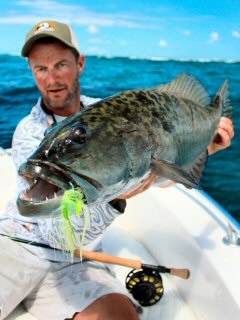 I also picked up a few of the usual's such as small bohars, African marbled grouper and more bluefin trevally.  But as Spy was landing a small African, another larger African showed up to chomp his young friend for dinner.  Chaos broke out that naturally led to my fly separating Spy's hooked fish and the large grouper.  I hooked him up and it was time for me to giggle and dance!  The ruckus got a wee bit serious for a minute when the African blue marbled grouper ripped under the boat and out the other side almost splintering my rod.  Happily, the 12-weight Winston wins again!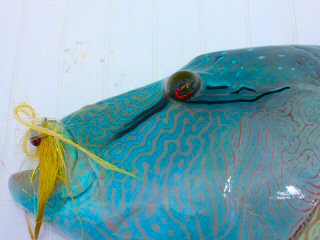 Spy and I worked the corals for four hours.  We were exhausted and our fishing got sloppy.  The grouper and snapper we caught this morning were fish of a lifetime and they wore us out. Some were huge for their species and all were stunning.  I can count the places in the ocean that still have reef fish populations like this on one hand.  But the fish of the morning was Spy's Napoleon wrasse!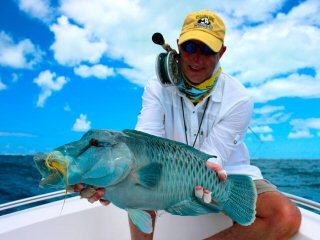 First of all, very few Napoleons are caught on fly.  The fight from the Napoleon matched size for size with a grouper (and this is based on watching Spy battle) is much harder.  That says a lot.  Furthermore, Napoleon wrasse can obtain sizes over 400lbs!  100lb plus Napoleons are common in the Seychelles and quite possibly – "unlandable".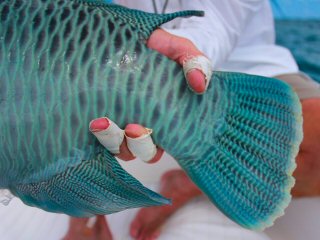 Spy was lucky to get a small one.  This guy put the hurt on his 12-weight and there were few times I thought he lost him.  Honestly, I expected a 40lb plus potato grouper.  The colors of this amazing reef dweller as he came into sight of the boat was like an art show.  These photos DO NOT show how true the emerald greens, blues, grays and the lines on this fishes face look in real life.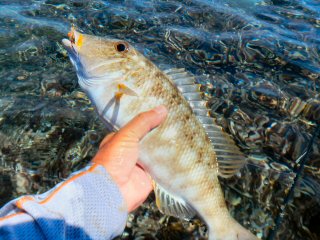 Spy and I weren't sure we wanted to walk the flats because we were having so much fun on the corals.  But at 1 PM we were spent and needed lunch and a leg stretch so we walked a flat expecting triggers.  We saw a few but none were cooperative.  Unexpectedly I crossed a school of bumpies and as usual went nuts.  I had a look but my fly got stolen then broke off by a bluefin trevally.  I had time to retie another on and chase down the same bumpies.  Next good cast was intercepted by this yellowlip emperor.  New species #12 for the week.  The bumpies were gone.
At 3 PM the bell rang.  It was time get in the ring and see if the dogtooth tunas wanted to cooperate.  I started having flashbacks from the monster of two days ago.  Was I going to put that memory to rest or get my butt kicked again?  Off we went on a boat ride straight out into the blue for five minutes to a high rise in the sea.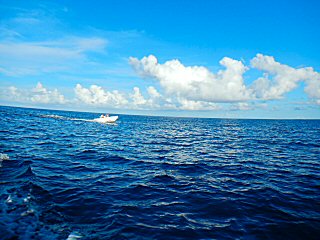 Any place, lake or ocean, where there's a rise in depth surrounded by deep water there's fish.  In this scenario there was bound to be monsters.  Tim carefully watched his GPS for depth and location.  We found some pinnacles that came up as shallow as 90ft.  That's a long way to dunk a fly but the 700 grains with giant chartreuse Clousers made their way down.
The SECOND Spy and I reached as deep as we could get both of us got jolted.  Spy got tore up on this one while I battled in my first rainbow runner.  Species #13 for the week.  Far more thrilling than my rainbow runner was the fish that chased it up from the depths close enough for a glimpse.  I'll tell you this.  The fish was huge and Tim narrowed the sighting down to one of two things, a giant trevally or the mighty dogtooth!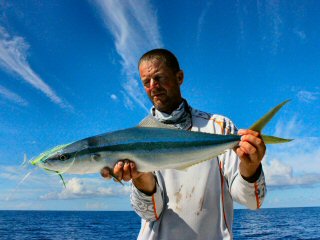 If I look disgruntled in my rainbow runner hero shot it's because I wanted my fly back down and down fast.  The rainbow runner is a favorite food of the dogtooth so let's just say, there's a good chance I just saw a doggie.  I'll warn you now, if you ever fish in a boat with me and an event of this magnitude occurs, I lose my mind!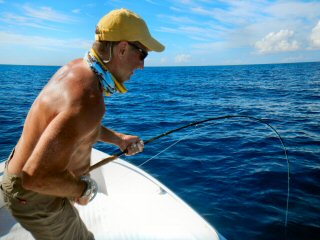 Spy's fly was down in the vicinity.  I made it down in the zone quickly also but we were mortified to both hook into yellowlip emperors.  What were they doing out here? We got those off as fast as we could and went down again.  That's when Spy connected to something big.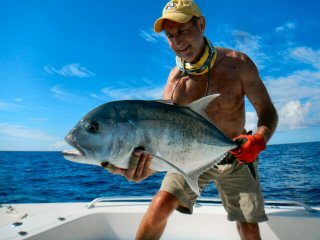 We assumed dogtooth.  It wasn't a grouper because he didn't run straight down.  But Tim noticed the circular battle, Spy had a giant trevally.  He's caught more this week than anyone so it seemed only appropriate.  He not only landed this one but another right after.
We drifted and dredged that spot several times hoping for that doggie to show.  We caught more yellowlips, bluefin trevally and white-blotched grouper, but the rainbow runner I caught seemed like a fluke.  The doggie attracting school of rainbow runners must have moved and we needed to find them.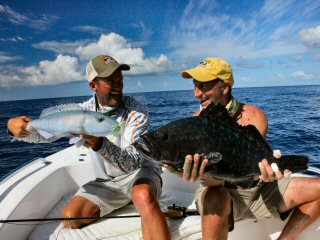 We tried spot after spot, each time catching fish but not what we wanted.  We caught several large white-blotched groupers and also got into a school of green jobfish.  This is the first one I've ever caught.  Species #14 for the week.  Granny caught one on bait in Madagascar in 2011.  Yet another beautiful emerald green fish.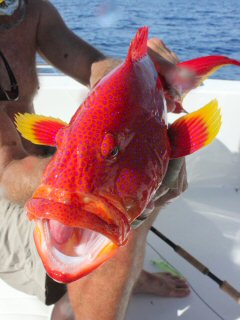 I finally got my chance an hour into the quest.  I was stripping my fly as fast as lightening.  I got stopped violently half way up.  The fish sat for a few seconds.  Then he wound up and took off.  The power was amazing but the experience short.  My 130lb mono tippet was sheared off clean.  I lost either a wahoo or a doggie (doggies can be selective to wire tippet).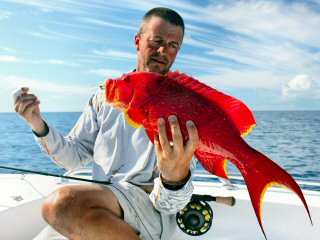 That would be it for our chance at a dogtooth tuna on the fly this trip.  A new fish war has begun.  We dredged another hour till about 5:30.  Spy and I added yet another new species (#15), these gorgeous yellow-edged lyretails.  We found a hump loaded with them and caught four each.  Hard to believe bright flashy colors like these struggling on the end of our lines didn't arouse some nearby doggies.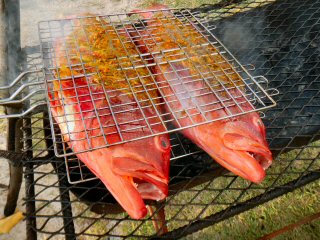 We reeled it in and returned to camp for the last night celebratory barbeque party.  Coincidentally lyretails were on the menu (not ours!).  But if I lived here, I'd hunt them.  The lyretails were absolutely delicious.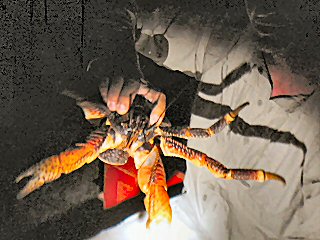 The after dinner event is embarrassing to admit.  We all climbed aboard the camp tractor with headlamps and went out to see the rare coconut crab – the largest land crab in the world.  Our guide found a couple and I got the chance to hold one.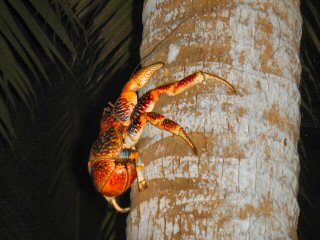 I was the only dummy to enjoy the opportunity.  I guess my gamble with the rattlesnake last month wasn't enough, I took over the crab catching duties – just for fun. We had one that ran and hid behind the tire of the tractor.  I reached under for him anyway.  It felt like I had him correctly where the claws can't reach but I was wrong.  My thumb was too close to the front on his belly and he clipped the tip of my thumb.  These things open coconuts!  I lost all the skin on the tip of my thumb.  Quite frankly I'm lucky.  Lucky to have a thumb and lucky they don't do the crab hunt during the fishing week.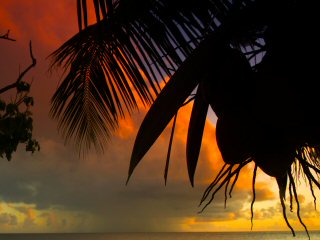 It's been an incredible trip.  Incredibly fun.  A fantastic group.  And I can't say enough about the FlyCastaway guides on Farquhar Island here in the Seychelles.  This was the last day of fishing but tomorrow I'll close the book with memorable photos.
If Farquhar in the Seychelles sounds like a trip for you feel free to contact me or Yellow Dog Fly Fishing Adventures for more information.