Guide Season Ending Party Hits Thermopolis
Categories: Uncategorized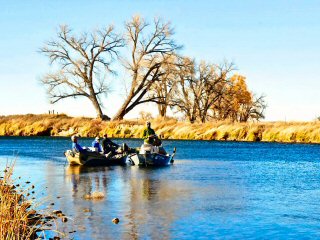 October 24-27, 2014
The hardest part about leaving my fly shop job of twenty-three years exactly five years ago this weekend wasn't fear of failing in self-employment.  It was leaving my fellow employees that happened to be my best friends.  Folks who I saw every morning and spent all day with for years.  What if the end to our daily time together slowly separated us?
Well great news.  Everyone I worked with is still in my cell phone, my email address book and we find time to fish.  Fishing with friends and family is one of my most enjoyable things in life.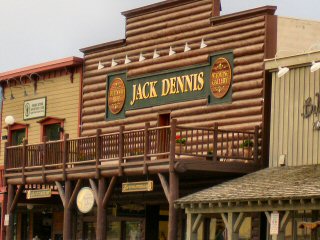 A little history.  I left the Jack Dennis Fly Shop in October 2009.  I loved that job and thought I'd retire from there.  But Jack and the owners made some strange moves and had more bizarre plans for the future.  Their new philosophy made no sense so I gave my notice and hit the world of self-employment.  The move was a smart one and life is better than ever.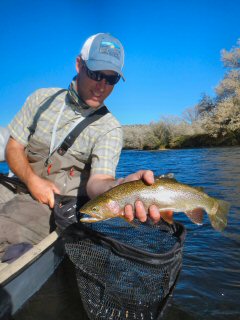 Sure enough, by 2010 the Jack Dennis Outdoor Shop unraveled.  By 2011, like me, nearly all my fishing personnel had left.  In 2012 Scott Smith, my head guide, along with a few other of my past employees, purchased the Jack Dennis Fly Shop guiding permits and opened their own company, Grand Teton Fly Fishing.
Under Scott's great leadership, they are taking off as the leading fishing guide service in all of Jackson Hole, Wyoming.  Check out Grand Teton Fly Fishing on the web and be sure to include them as part of your next visit to Jackson Hole.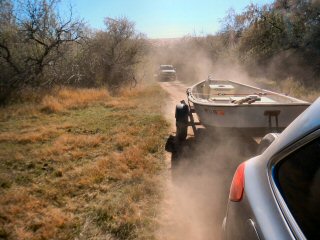 One event I started with the guys back in 1990 was an end of the year fishing party.  I organized the crazy guide and employee bash for nineteen straight years.  We looked forward to this as our top trip of the year.  After I left the party went away.  In 2012 (again in 2013) Scott and Grand Teton Fly Fishing brought it back.  And despite doing my own thing, they're keeping me in this wild event.  This weekend nine of us headed to the Bighorn River in Thermopolis, Wyoming.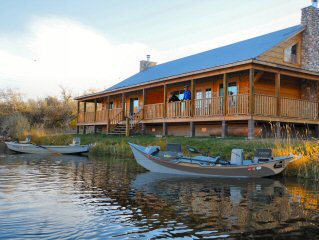 After a four hour drive we arrived at 2 PM on Friday afternoon.  Scott led us to a fantastic house he rented right on the river.  We envisioned quickly getting organized and doing a long float that afternoon.  But hot sun and cold beers led us to some relaxing porch time before we launched the boats for a short evening float.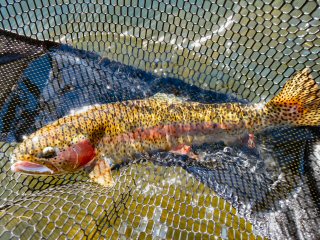 It's hard to believe but it was warm enough for wet wading.  I hopped in the boat with blog regulars Tom Montgomery and Trey Scharp and we caught more than a dozen quality rainbow trout and cutthroats on dry flies till dark.  Although the fish were munching tiny baetis, the fly of choice and one I can always see, was a size 18 parachute Adams.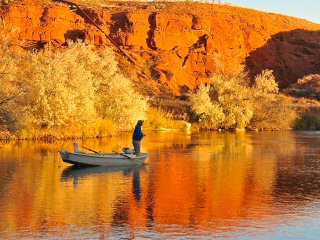 After a fun night of pool and the World Series at the Days Inn Safari Club we managed to get up early and hit the water Saturday.  It was easier than you may expect due to the fact that our boats were anchored in front of our house.  All we had to do was load up and push off.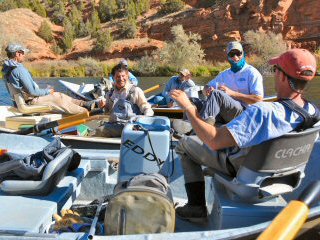 Despite warm conditions, Wyoming winds of fall kicked in early.  The few bugs that started to trickle off around 11 ended up blowing to Nebraska and few fish could be found.  That's when the boats tied up together and we drifted and shared our stories from summer.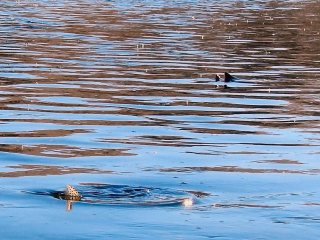 The wind didn't last past 4 PM.  In an hours' time the wind stopped altogether and the baetis hatch came on in full force.  Big rainbows, cutthroats and brown trout started feasting along every bank and in pods of ten or more in tail outs.  Some of these fish literally stuck out their heads with the mouth open and let the bugs float in several at a time.  They were easy targets for a group of experienced anglers and we had an evening we'll remember for long time.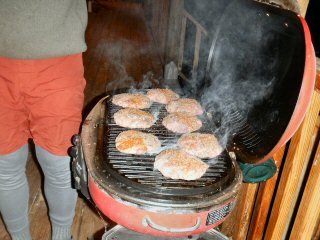 After fishing we returned to the house and feasted on burgers and cast rods in the dark till the wee hours of the morning.  The rods became too easy so around 1 AM we took turns casting a WF5F with our hands.  By bedtime some of us were heaving nearly the entire line!
The group was slow to emerge on Sunday.  It wasn't only the late night of beer and wine, but casting as far as you can both with and without a fly rod for hours on end stretches a few muscles you don't know you have.  It took eight pots of coffee and Ben Brenann's weighty breakfast to get us moving to the water.
The float turned into more of a party day than the first two.  Saturdays wind seemed light compared to Sundays.  The normally pleasant flowing Bighorn became a sea of whitecaps and we heard reports of wind gusts up to 60 MPH in the area!  We certainly recall many boat-tipping gusts up to 40.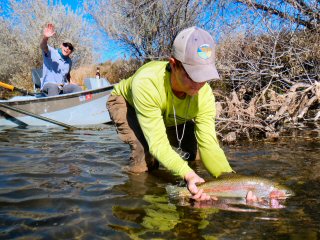 We're a hearty bunch and dangerous or not, huge streamers zigzagged through the air past tightened hats and sunglasses.  Although the weedy Thermop section of the Bighorn isn't ideal streamer fishing, a few nice fish were caught including this dandy of a rainbow by Neil Chamberlain.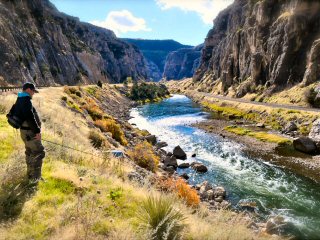 Most the boys returned to Jackson Sunday night.  Tom, Scott, Ben and I remained one last night and fished the Wind River Canyon today.  Wind River Canyon is on the Wind River Indian Reservation and here you need a special permit/license and recreation stamp to fish.  We purchased them for one day at our friend Darren Calhoun's shop.  His shop is on the left just as you approach Thermopolis.  Darren is the only outfitter that can guide float trips on the Reservation parts of the Wind River.  I recommend every angler treat themselves to this trip at least once in their lives.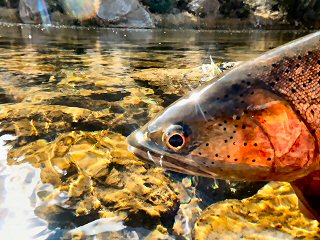 We wade fished on our own and although last year was better we all caught nice fish.  I stubbornly stayed with a dry fly for the few hours I fished.  Once again we had an incredible baetis hatch and I saw numerous grass hoppers.  But all that and I only saw one rising fish.  It was this hefty cutty but he'd be my only catch today.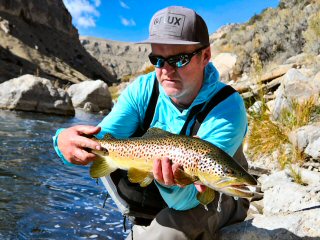 The four of us headed on the four hour drive home around 5 PM.  We soon realized this was the last weekend of summer.  On Togwotee Pass we hit snow and ice and saw the first flipped car of the 2014/2015 winter season.  Luckily it was none of us and further good news, Tom and I stopped to help and found no one was hurt.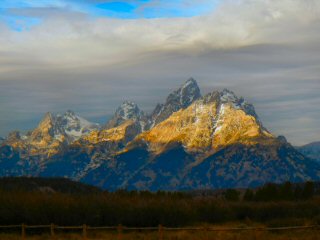 What an incredible four days with pals.  Now I have two days to get my gear in line and prepare for the next fishing trip.  On Thursday I leave for Guyana where I'll hope to nail my first arapaima, one of the world's largest freshwater game fish!