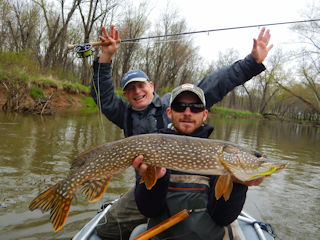 I arrived in Ohio late last night.  This is a day early for my Friday speaking engagement at the Cleveland Museum of Natural History but friend Jerry Darkes, who is hosting me and running the event, offered to take me fishing.  No sane fly fisherman would miss out fishing a cold rainy day in Ohio!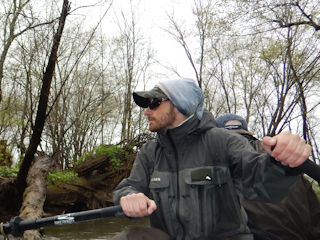 Jerry lined us up with guide Pat Kelly of Mad River Outfitters in Columbus.  A month ago Jerry and Pat had a plan to get me on my first ever sauger on fly but the sauger run was over early this year.  Pat is a born and raised Ohioan and quite savvy when it comes to catching toothy critters with a fly rod.  He knows a few of the most southern haunts for northern pike here in Ohio so they became our quest.  In fact, Pat also fishes musky frequently and funny thing, we were both on Cave Run nearly the same day last week in Kentucky.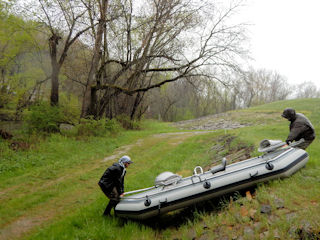 The weather began no less than horrifically as you'd expect with a guy nicknamed "Monsoon".  The rain came down in buckets for the first two hours of the trip.  There's no boat launch where we started on the pretty section of the Cuyahoga River but the grass was so wet that Pat's slick little raft nearly launched itself.
The fishing was tough.  The rain was cold so along with raising the flows and muddying things up, the water temperature dropped to where it wasn't exactly comfortable if you're a pike.  Half way through the day we were cold, damp and had seen exactly zero pike.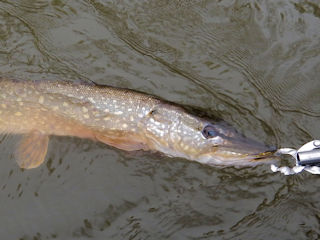 I was blanked on my musky trip ten days ago.  I was skunked back to back days' grass carping on the golf courses of Kentucky last week.  Could it be possible that I was setting up for my fourth skunk in a row for my target fish of the day?  I was certainly in danger of it when lo and behold, Jerry pulled a hammer handle pike from behind a wood pile.  Game on!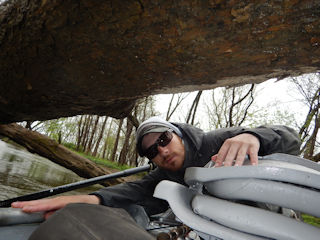 The three of us were going through the motions before Jerry hooked up.  But all it takes is to see a fish caught and you regain the confidence.  From then on we worked our tails off.  Pat made sure we hit every pocket even if it meant ducking under fallen trees to get there.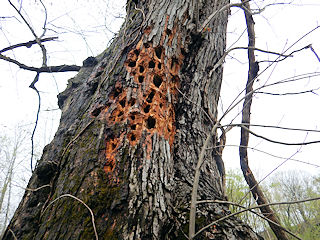 The rain stopped in midafternoon.  The sun never appeared but it became a serene day nonetheless.  Although we have great birds in Idaho, honestly they're nothing like the birds of the hardwood forests in the Midwest, especially during spring migration.  At least twenty different song birds went off when the rain stopped.  Their songs were absolutely mesmerizing.  Every so often they were interrupted by the drilling of a pileated woodpecker.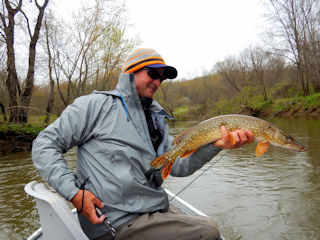 The fishing didn't exactly turn on like we hoped, we plugged away and got our total up to four pike.  The biggest was the solid 28" pike Jerry caught that kicked off this blog.  While I missed two of the three that attacked my fly, I stuck and landed one.  He's a far cry from the pike you saw in FT3's Turning Points North but I broke my three-day skunk nonetheless.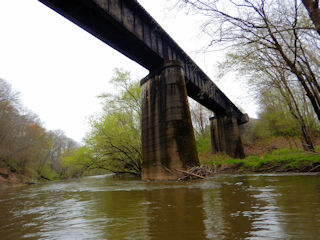 Its special fishing new water.  I've been incredibly lucky this spring to add a new country to my list (Gabon) and a new state (Ohio).  A lot of folks don't fish where they live.  They only trout fish out west.  For some that's once a year.  For others it's once every ten years.  All I can say is, "You're crazy if I'm talking about you!"  A fish is a fish and no matter where you live.
I had a great time fishing in Ohio today.  A special thanks goes to Jerry and Pat for taking me out.  Tomorrow is a big day speaking for the Cleveland Trout Club for their Reflections on the Water event at the Cleveland Museum of Natural History.  I hope to see you there!