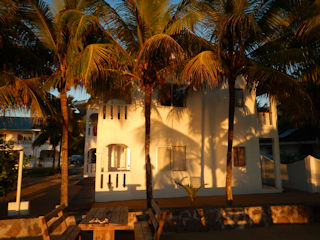 I awoke this morning still trying to grasp the fact that my friends from Jackson won't be on this trip to Farquhar.  I have a lump in my gut that isn't going away.  I had to read my emails from yesterday again to believe it.  This situation sucks.  In hindsight, I wish I advised them to come a day early to Mahe and hang.  But I can't look back.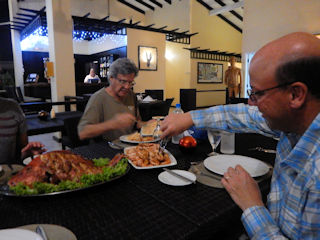 Fortunately, the rest of my group arrived as planned.  They're jetlagged but ready to get started.  We're presently at the Hotel La Rousette here in Mahe.  We just finished a fantastic dinner and most are sleep.  We have an early morning charter to catch and at this time tomorrow we should be on Farquhar Atoll.
Internet sucks here so I went down the street to where I was last night to load my blog.  It's a dark walk and one of the trees above me was alive with the giant fox bats eating fruit.  Sammy and I tried to get some pics but all we got were the eyes.  Pretty cool shot nonetheless.
The Seychelles are truly one of the great saltwater fly fishing destinations left in the world.  To learn more or even better, join me on my next trip here, contact me or Yellow Dog Flyfishing Adventures!