Fly Fishing for Smallmouth Bass on the James River
Categories: Uncategorized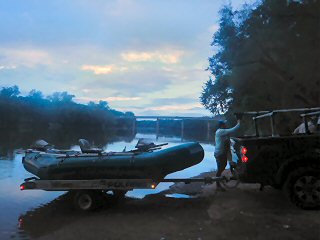 The Mossy Creek Fly Fishing boys, Colby and Brian Trow, took me fly fishing for smallmouth bass and longnose gar on the James River today.  It's my last day of fishing VA before I speak tomorrow to Fly Fishers of Virginia.  Best of all, I've I kicked the flu thing and this morning I felt human again.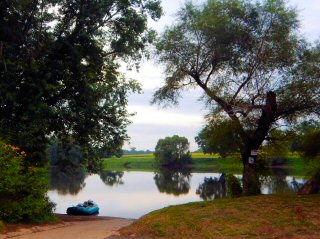 We met at 5:30 AM and found ourselves launching their raft at dawn.  It was warm, the wind was nonexistent and we had overcast skies.  Everything seemed perfect for smallmouth fishing to me but down here the Trow's prefer sun so they can sight fish both the bass and the gar.  While they did a float shuttle I relaxed and took in the beauty of the James River.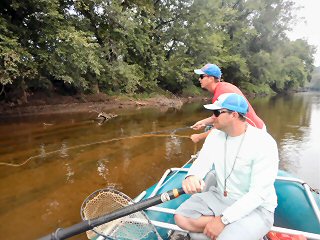 The bottom of the James was pure sand with scattered rocks and weeds.  The banks were lined with beautiful hardwood forest.  Some trees leaned over the water while others were completely submerged.  We drifted down the bank like on a trout river back home.  I was up front dead drifting a cicada pattern looking similar to a popper however there's no popping involved.  Brian was in back stripping a small Clouser minnow.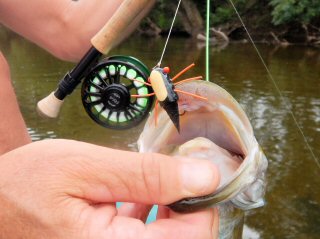 The James River is where the Trow's normally catch only a few bass but they're big as opposed to the Shenandoah where you catch lots of fish but they're small.  Nonetheless I cranked in several small bass right out of the gates on Colby's cicada pattern.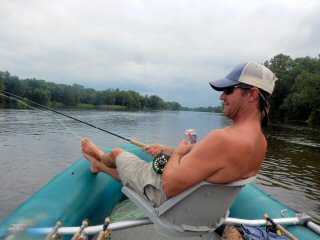 We saw a few gar.  I've caught spotted gar but these longnose are much bigger.  The Trow's had me tossing a special secret streamer at them.  I got some refusals at first but eventually got one to crunch the fly.  Unfortunately, gar are hard to hook because of their bony mouths and my potential new species came off before the net.  That was the one and only bummer on this relaxing day in paradise!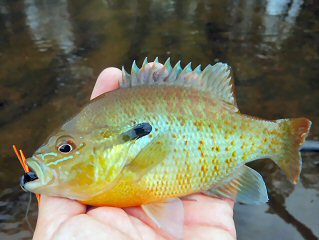 While the poor light from clouds limited our sight fishing we enjoyed a steady flow of action from small smallies.  I thought it was fun but the Trow's were annoyed because usually the smallmouth are big here.  Also fun were these scrappy and colorful redbreast sunfish.  I love warmwater fly fishing for all the neat fish you can catch in a day.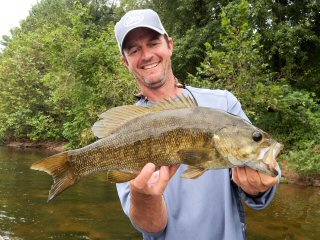 As always I kept my fly in the water and I came through in the end. While I finally scraped up a few 14" smallies and also a 16", it was a smallmouth bass of over 18" we were hoping for.  Lo and behold, literally off the last bank before the boat ramp, I got the pig of the day.  He's not fat, but he was exactly 19.5".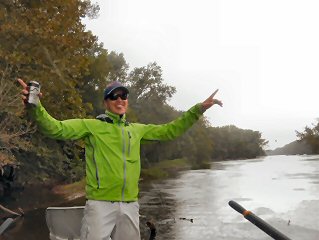 It's been a great week fishing down here in Virginia.  A special thanks to the Colby and Brian Trow of Mossy Creek Fly Fishing.  They know the fishing down this way whether it be trout, warmwater fish or even the saltwater.  If you find yourself in VA you ought to look them up.
Tomorrow I'll fulfill how this trip came to be by giving an afternoon of fly fishing seminars followed by an evening presentation to Fly Fishers of Virginia.  Then its home sweet home on Friday for some fall fishing.