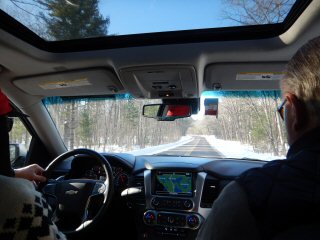 Friends and I woke up to the Great Northwoods of Wisconsin this morning to begin our annual three days of ice fishing.  The thermometer read an invigorating -17 below zero.  Back in my college days up in Ashland, Wisconsin, -30 hardly made me flinch.  These days I'm smarter.  After we read the temps we lollygagged through breakfast at Chippewa Retreat and it wasn't until 9 that we drove to the frozen lake.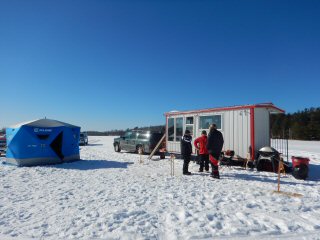 The beauty of this trip is we have guides.  Our friend George who hosts us on this trip annually hires three guides, Joe Pestka, James Pestka and Brett Jolly.  These guides aren't just guides but over the years have become terrific friends.  When we arrived at the lake they already had holes drilled, ice shack with full kitchen rigged and jigging tents all up with heaters running.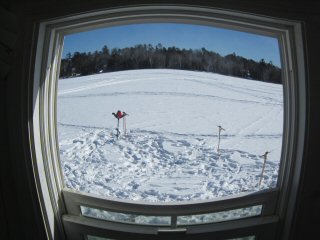 Usually we fish tip-ups for northern pike but today was a full-on pursuit of black crappie.  When ice fishing for crappie we use tiny rods with 4lb mono.  Each angler is allowed three lines so each of us balanced two rods with minnows on a Joe creation while jigging tiny spoons or jigs on the third rod.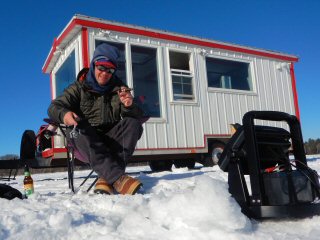 I love jigging through the ice for panfish.  Although it was still -10 I decided against fishing inside the tents and found a snug spot against the ice shack in the sun and actually got quite comfortable.  I had a beer and a cigar and soon the stresses of my busy speaking/show tour were long forgotten.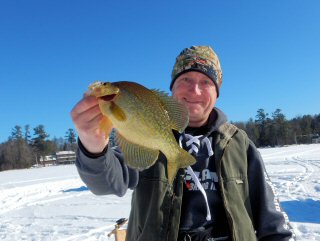 When we first arrived the crappie bite was on.  All of us dropped the jigs down and hooked up.  We each landed about four of the handsome panfish. Then as fast as the action started it stopped.  The crappie schools were gone and replaced by tiny perch that were more of a hassle than fun.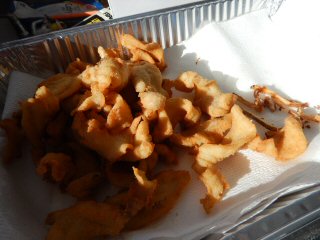 In my fly fishing life, I'm a catch and release guy.  But when it comes to catching crappie through the ice I enjoy the harvest.  As soon as the action slowed Joe filleted the crappies and at noon sharp we were gorging on one of the tastiest freshwater fish I know.  Early this morning they were alive and swimming.  At noon they were a mouthwatering lunch!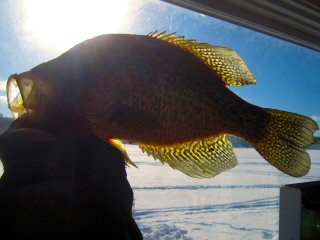 Although we continued our jigging efforts, the afternoon produced a mere couple more crappies.  Crappie can be this way.  They're a schooling fish and once they leave the area it can be for good.  Shortly after 4 when the thermometer began to plummet with the dropping sun we headed in.
Day one was successful thanks to the morning bite.  We enjoyed a beer at the White Oak Grill at Chippewa Retreat then headed to one of our favorite Manitowish restaurants, Smokey's.  We ate enough that we probably could've slept on the ice in light sleeping bags without ever getting cold.  George treated us to a true feast.  I can hardly move as I rest my head.  Back after it tomorrow.