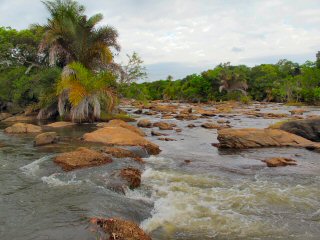 It's the final day of week two and the final day for me also.  Today is my fourteenth tigerfishing day in a row and the journey home begins tomorrow.  With all that in mind, we needed to end big and therefore we brought Steve and John to the rapids.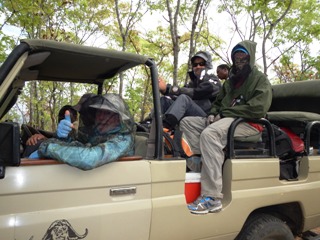 You know by now that fishing the rapids is the most demanding fishing imaginable.  Both John and Steve are in their late sixties.  John's in great shape.  Steve's a little older and has a great open-minded-attitude and he's willing force himself to do what it takes to get the best fishing.  Based on that, guide Mark, Steve and I would stay on the normal side of the rapids and take it slow, Andrew and Oliver would help John across the rapids and fish the incredible other side.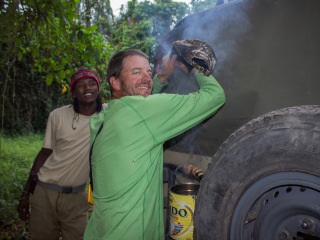 We left Ruhudji River Camp at 6 AM.  We did the drive a little differently today.  On our ride Wednesday we took a beating from Tsetse flies.  Today we dangled a pot of burning elephant dung behind the vehicle as repellent.  Believe it or not, it worked.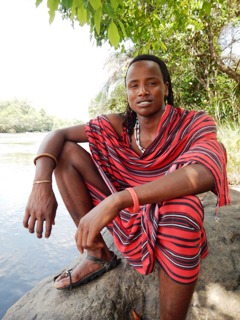 We were setting up to fish the rapids at 9.  Andrew, Oliver and John headed off and crossed, Mark, Steve and I marched to the bottom of the rapids.  We actually brought along a special guest, Maasai warrior Michael.  Michael is his nickname because we English speakers butcher his real name.  Michael was in the movie "Connect" with me.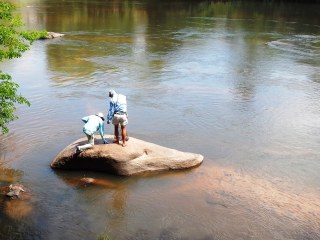 Mark steadied Steve on the exact rock I started on the day Oliver and I were here.  It wasn't easy getting Steve there but he made it.  Steve launched a serious of excellent casts but to no avail.  This spot wasn't firing.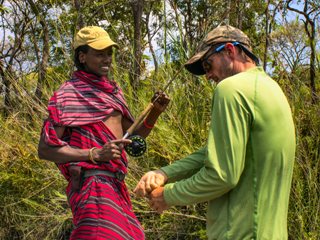 Hardly any of our spots were firing today.  We strolled up to the "Connect" pool expecting big things but Steve once again got nothing.  The other guys happened to be directly across and they too had slow fishing.   I grabbed my rod and proceeded to show Michael how to cast.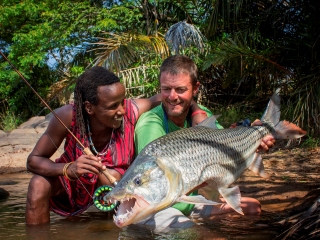 By lunch Steve had nothing.  Mark and I were very surprised because not only did Steve get in proper position on all the places but he made great casts.  Not to mention he's cleaned up this week to this point.  But it wasn't Steve's day.  I had been observing.  Steve got tired and offered me the next spot.  I made one cast and caught this 19lb.  I was very very lucky.  The great news is I wanted to pose in a picture with Michael and a big tiger.  We got it done.
The rapids didn't produce the norm for anyone.  I got my lucky giant, Oliver and John got a few in the 10-12lb range but fishing was fair compared to a usual day in the rapids.  When we arrived at the last few tigerfish pools near the truck, I put away my tigerfish 9-weight RX rig.  The 19lb was going to end it for me.  Then as I watched Steve begin to work the area I came up with an idea.  Get my 5-weight and catch a yellowfish.
I ran back to the truck and quickly put together my 5-weight Ross Essence.  I rigged a dry dropper outfit and hit the upper rapids.  I had very limited time but sure enough I landed a beautiful little black velvet.  My trip was done.  An absolutely incredible trip might I add!
For information about this incredible trip feel free to CONTACT ME.
Be sure and visit Tourette Fishing – Fight it in Africa.
And ask about my future hosted trips through Yellow Dog FlyFishing Adventures.