Bluefins and Bonefish – St Brandon's Atoll
Categories: Uncategorized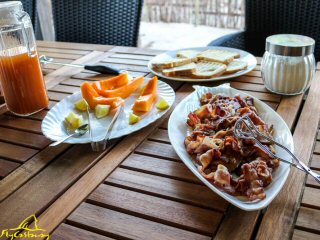 I love the morning no matter where I'm at.  If I'm home, on the Henry's Fork, the Nunya or drinking my 5 AM coffee with Scott and Ben here at St Brandon's Atoll in Mauritius.  For me it's the best time of day.  After a filling breakfast of eggs and bacon it was off to the flats.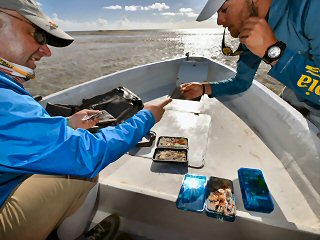 I matched up with Ben again and for the first time ever I fished with FlyCastaway guide Milan.  Milan is a 6' 6" fish spotting machine that's been chasing fish on St Brandon's for three years.  He picked Ben and I a couple of his favorite crab flies and off we went.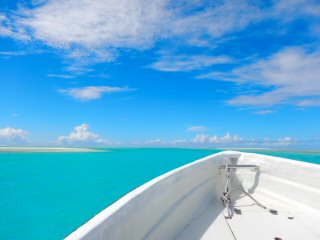 We drove way south.  Our boat ride was 1 hour and 10 minutes.  We ended up on a flat called Bipolar near a small commercial fishing community.  You guessed it, we went looking for yellow permit.  Lo and behold, after an hour of nothing, just as we returned to the boat two nice permit began tailing.  This may have been my best shot of the week.  I dropped my fly right between the two which ended up lining the closest sending them both running.  Ugh. . . .
Next was a beautiful island and flat.  There was white sand for miles.  It was stunning.  Milan sent me the direction of permit while he and Ben hunted everything that swims.  I heard them get a few shots at bluefin trevally.  I made a cast to a bonefish and picked up a new species by accident.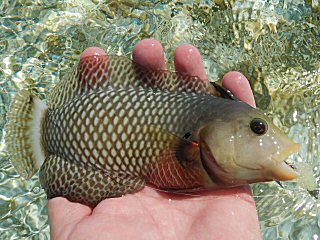 I know this fish is a member of the wrasse family but dang if I can figure what kind.  One of the guides, Brendan, looked at my photo and thinks it's an immature Napoleon wrasse.  No doubt it's that 3rd new species for me this week but until I get information it will go down as the "mystery wrasse".  If anyone can help this would be greatly appreciated.
It turns out this is not a Napoleon wrasse.  It is a rock-mover wrasse (Novaculichthys taeniourus).  Thanks Sean at Nervous Waters Fly Fishers and my South African friend Ed Truter.
This second flat was tough.  I didn't see a permit and like yesterday, the bones were both finicky and spooky.  We moved to our third flat and finally our luck changed.  Ben and I both got out of the boat and chased down a couple bonefish.  Ben landed a nice one about 7lbs.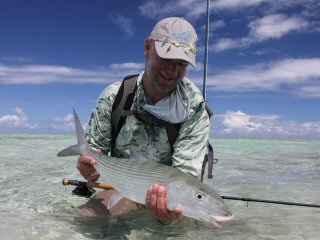 I know that I should have been stubbornly waiting out the permit but there are so few around its time to enjoy some other fish.  And believe me, I'm still watching for them, I simply won't skip other opportunities from here out.  On this flat there were quite a few bluefin trevally cruising.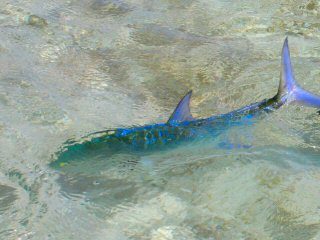 The bluefin challenge today was that they refused our trevally flies on the 12-weight making us fish to them with crabs on lighter tippet.  Most of this week I've been chasing the bones and permit with my 8-weight Boron III Winston and 16lb SA Flouro.  That's pretty light for a bluefin trevally because they are strong and specialize in cutting you off in the coral.  I had three tail on my fly beautifully but the first two won and broke me off.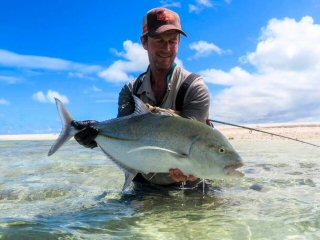 Perhaps I put in the extra effort on my third bluefin but I knew from the get go he wasn't getting away.  Just like the previous two, he tailed on the fly the way fish do in my dreams.  Once I hooked up I ran backwards.  Normally I don't like to increase the distance between me and a fish but in order to crank down the drag and keep this fella out of the coral with 16lb tippet I needed some line stretch to absorb some pull.  As you can see it worked out!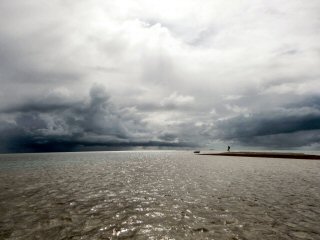 After this flat we ate lunch and a storm came on us fast.  We barely got rained on but the wind and dark clouds made us wonder if things would get extreme.  It was very difficult to spot fish for the rest of the day.  We began our hour-long boat ride to the lodge at 3.
Bonefish and bluefin made up our list for today.  Oh, and the wrasse.  No doubt fishing has been tough this week.  Everyone is sort of scratching their heads tonight.  This being said however, fishing is still damn good when you look at the size of these bonefish.  This is Nick posing with an 8lber from this morning.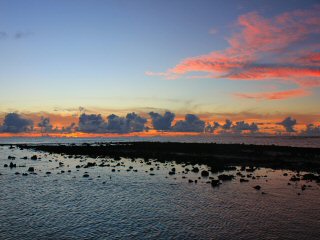 As I've done each night, I made a trip around Rafael Island on foot before hitting the hors d' oeurvres and party with the guys.  There wasn't much going on but the sunset was to die for.  Time for dinner and preparation for out last day on St Brandon's Atoll.
Although this may not seem like an obtainable adventure – actually it is.  Feel free to Contact Me and you can book this incredible trip to St Brandon's with us at Yellow Dog Flyfishing Adventures.