Long Hike Pays Dividends Fishing in Lesotho
Categories: Uncategorized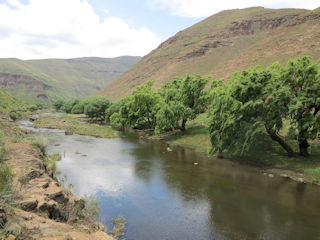 The sun rises here in Lesotho just before 5 AM.  The birds go off like mad.  While winter approaches back home, the green of spring is full on in Southern Africa.  I live for the southern hemisphere when the days are cold and short back home.  We left early to fish a very special section of water today.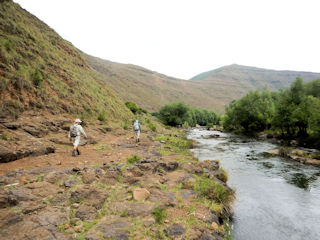 The river was an hour drive from our cabin up and down the winding roads of the mountains.  Once parked we split up.  Today I went with FlyCastaway guides Craig and Brendan to fish the upper reaches of the river.  This meant an hour hike before first cast.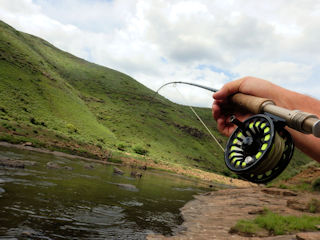 Once to our start place Craig and Brendan went in to action fishing upstream.  I needed some food and water followed by one of my Kate's bars.  While enjoying the three I saw a rise on the far bank.  The water was slow moving so I approached with caution.  The smallmouth yellowfish was swimming towards me when I got close so I made my cast.  I hooked up!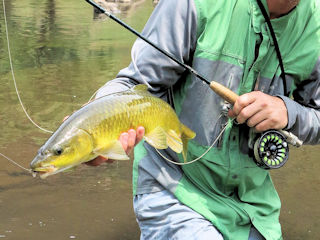 Yellowfish fight far harder than you suspect.  This dude smoked me upstream then buried me in some weeds.  I waded through deep horrible muck and broke him loose then off he went downstream.  These are wild fish never been caught before and it shows.  At last I corralled him and flicked this shot with my self-timer.  I cut off my head but not a bad fish portrait!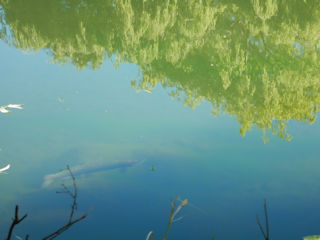 I stayed on the far bank and slowly stalked upstream looking for my next target.  It didn't take long before I saw the smallmouth yellowfish of dreams.  He was long and as thick across the back as a mirror carp on Blackfoot Reservoir.  I watched and soon he settled like a big trout against a boulder.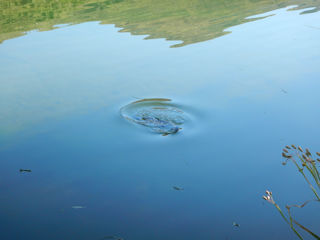 I launched a cast.  It was a tough casting angle because I was on a high bank and the needed distance was long.  I went too far but was able to lift my rod and drag my parachute hopper into the fish's lane without him seeing.  The anticipation as my fly drifted into the zone gave me the feeling I got with big trout as a kid.  The monstrous smallmouth yellowfish rose as slow as a cutthroat and took the fly facing directly at me.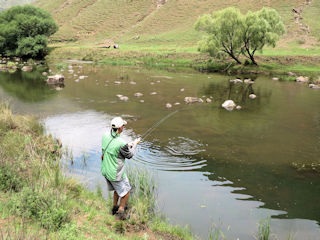 I mentioned yesterday about how yellowfish don't have a mouth for feeding off the surface.  I've learned that when the yellow eats directly at you, you must wait at least three seconds before striking.  I did exactly this and rewardingly I went tight.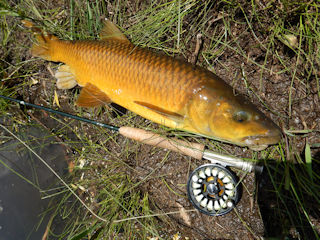 With all the rocks, weeds and logs in the water it's a miracle I landed this beast.  But I got him.  Unfortunately, the big yellow was cumbersome to handle so I didn't try again for a self-timer hero shot.  Instead, it's the lousy ole fish next to the rod shot.  He was big!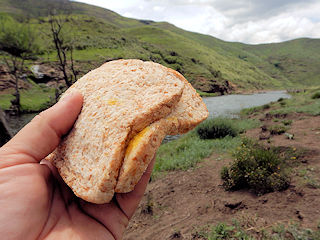 I liked my spot and hung around there relaxing, nibbling on snacks, had a droopy ham sandwich and took in the gorgeous landscape.  I could see plenty of grazing sheep around me and somewhere up the mountain behind was a local singing and playing a homemade guitar sounding instrument.  It was a cultural surreal scene for sure – I'm not in Victor anymore.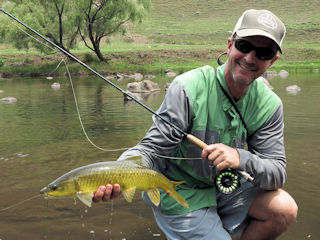 Midafternoon Craig came back to check on me.  He was surprised to see I only moved about a quarter mile from the starting point.  But I was in my groove.  My slow pace was perfect for taking it all in.  I was catching fish and enjoying the best of Lesotho.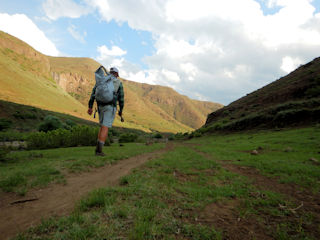 I'd end up catching four yellows by the time we hiked out.  I was more than satisfied.  On the trek out the mountain valleys took on an entire new look.  The sunset cast shadows proving the mountains are much larger then they first appear.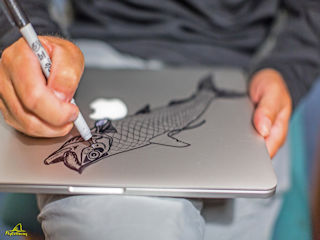 Tonight I broke out the Sharpies again.  This time I decorated Gerhard's laptop with a leaping tarpon.  Perhaps I'm practicing for the show season?  Could I actually get 20 pieces done in Somerset this year?  I think I can so put me to work!
Looks like some storms are rolling in tonight.  Could be trouble for our rivers in the morning.  No matter what happens this has already been incredible.  Stay tuned for more from this month of insane fishing adventure!