Jeff Currier headlines inaugural "Reflections from the water"

I want to thank everyone that came to see my presentations this weekend at the Cleveland Museum of Natural History for the Reflections on the Water event.  That was a great time and might I add the museum theater was the nicest facility I've ever spoke in.  If anyone that came took a photo please send it to me as I have nothing.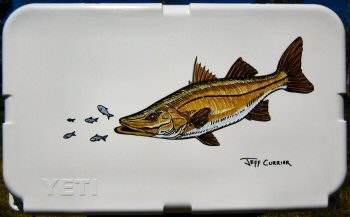 I made the long trek home on Saturday then the theme of Sunday was rest, watch baseball and dabble in some art.  My medium of choice was sharpies because I had a couple Cliff Fly Box orders to complete and last but not least, a Yeti Cooler.  I'd say it's official now, I offer my art on Yeti Coolers.