An Early Season Run Down the South Fork of the Snake
Categories: Uncategorized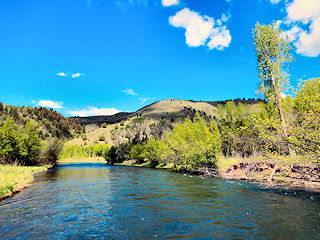 About a month ago friend and superb South Fork River fishing guide, Mike Bean, asked me to block off May 27 so we could go fishing together.  We've been trying to fish together for a couple years and this advance notice was the only way to make it happen.  Mike is simply booked up all the time.
Along with us was a customer/friend of his, Page Chapman.  Page is one of Mikes best clients and he generously let me come along.  We floated 20 miles of the South Fork River Canyon.  The CFS was around 11,000 making this a very feasible expedition.  And unexpectedly for this time of year, the water was crystal clear.
We left the Conant Boat Ramp at 9 AM sharp and I was surprised to get into some nice browns, cutthroats and rainbows on streamers right away.  Despite the clear water conditions, the water temperature is very cold. Fishing remained steady for me most of the day with the streamers till we pulled the boat out at Wolverine around 7 PM.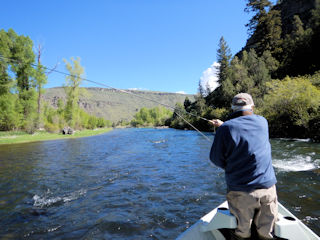 Page isn't a big streamer angler but rather a full on dry fly guy.  Honestly, I am too but I didn't even bring more than my 6-weight Winston with my favorite streamer line, the Stillwater by Scientific Anglers.  I was seriously wondering if Page would have any chance at all to enjoy some dry fly action at first but at about 11 AM the first bluewing olives of the day began to appear and soon the first trout noses I've seen all year began to pop for them.
Once the fish were up, I put my 6-weight down and relaxed and watched Page and Mike go to work.  All I can say is it's no wonder Page is one of Mikes VIP clients and that Page thinks Mikes the very best.  They went on to nit-pick the South Forks nooks and crannies and boat many beautiful cutthroats like the one you see in the photo here.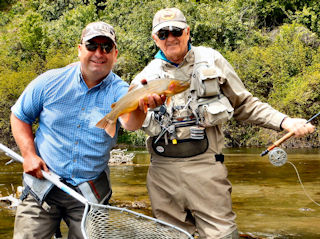 The first trout fishing day of the year for me was a very pleasurable one.  It's not often you can enjoy clear water river conditions in May along with hatches and a beautiful green landscape.  That will be it for fishing for a week as tomorrow I'm taking Granny to Wrigley Field in Chicago for her 50th birthday.  We have seats for Mondays game and we are hoping to find a way in to Sundays and Tuesdays as well.  Hopefully I say because now that the Cubs are good it's not so easy anymore!