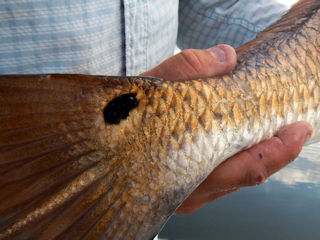 Fly fishing for redfish here in Louisiana has a reputation for being superb.  This week however it's been fair.  Indeed, the reds we've caught have been good quality but only four in our first two days.  But this is why you can't judge a location on only two days fishing.  Today, day 3, was nothing less than remarkable!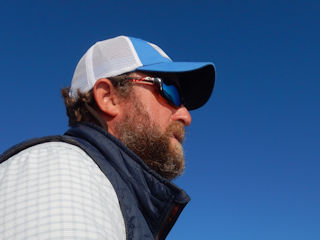 Instead of heading down to Hopedale like we did earlier this week we fished from Venice with Capt. Cleve Evans.  When I first chatted with Cleve two weeks ago I requested a hunt for black drum and sheepshead.  Cleve was on board for the challenge however when we talked last night he mentioned he'd been seeing some extraordinary redfish the last few days.  Twist my arm.  Flexibility in the species you seek often leads to great success.  Redfishing it was.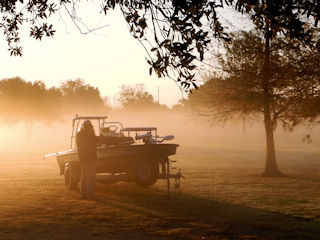 It's about an hour and a half from our hotel in New Orleans to Cleve in Venice.  We left at 5:30 AM and by the time we had breakfast, picked up lunch and gassed up the boat, we left Cleves dock at 8 AM.  There was little wind and the early morning sun already had heat to it.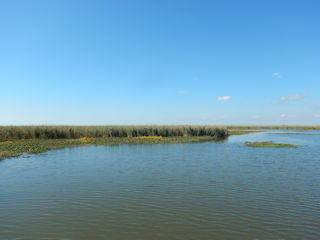 The first spot we stopped didn't indicate what we had in store for us.  The location was gorgeous and we saw some "floaters" (big redfish laying in obvious view near the surface).  But like our previous two days these fish showed no interest in the fly and seemed exceptionally spooky.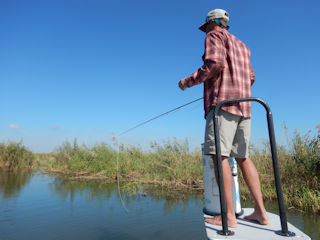 The next spot didn't resemble anywhere I'd expect to fish for redfish.  Cleve used his electric motor to guide us into narrow Roseau Cane bordered channel.  The water was deep and off color.  Cleve said when we reached the back corner there would be schools of mullet and a huge cagey redfish.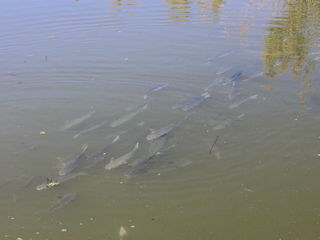 When we arrived at the back, no doubt there were mullet.  They were everywhere.  Cleve said watch for a mammoth red to float then cast.  Sure, enough the big red showed but for my untrained redfish spotting eyes, she was up and gone so fast I didn't get a cast.  I couldn't even tell which end was the head to cast to.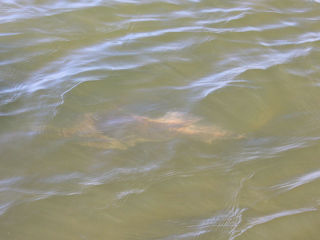 I was bummed with myself but Cleve the opposite, "Excellent. . . She's here", he whispered"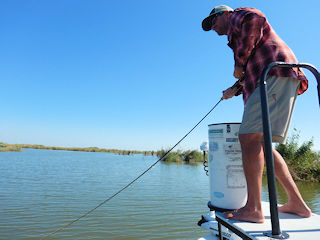 I knew that meant expect another chance.  This time I was ready.  She lifted to my sight and I could clearly see she was facing me.  I made a surprisingly perfect cast and she devoured the fly gills flared and everything.  I strip set hard and to my dismay the fly came right out of her mouth.  Thank god she charged it again.  This time I drove the hook home.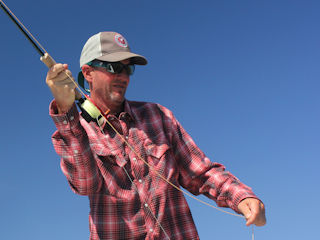 I must say, once hooked up was sort of a – "now what?"  I had a huge redfish cornered in the back of a weed infested channel full of fight with loose line everywhere because she had nowhere to run.  I'd have tested my SA Flouro to the max defending my fear she'd burry me in the weeds but Cleve had a better tactic.  Don't put too much heat on and rather only enough to let the red slowly swim out of the channel.  Cleve spun the boat and we followed my fish almost letting her tow us.  It worked!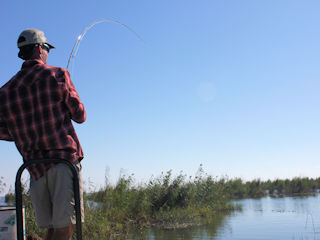 This redfish was massive.  Often extra-large fish don't panic like smaller ones.  My theory is they're so dominant that nothing screws with them.  Therefore, they can't imagine they're in danger.  They slowly cruise pulling hard – probably in their own mind believing they are winning – almost outsmarting you.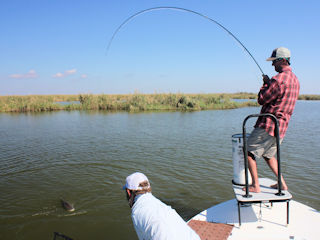 For once it was us we humans who did the outsmarting.  After a few minutes of "walking the dog" the jumbo redfish was out in the open marsh.  Then I put the red on the reel and cranked down my drag.  That woke her up but it was too late.  I used my Winston Jungle 9-weight to finish her off and Cleve made a fine scoop with the net.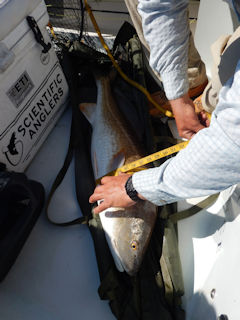 This size of this redfish far surpassed my wildest expectations.  The 21lber the first day was a thrill but this fish blew my mind.  Cleve pulled out a big fish cradle I've seen used for big pike and musky.  We carefully placed the redfish in the bag where Cleve measured the girth and length.  Our redfish was 42" long with a beastly girth of 21".  This red was over 30lbs!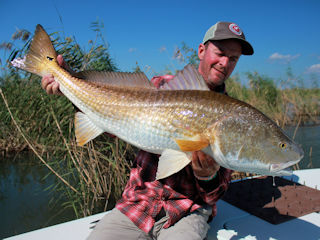 There are times when a fish you catch shocks you so much you hardly remember it.  This was one of those fish.  The pictures are ok.  As usual they hardly do the size of the fish justice.  But I promise you, this redfish was a specimen!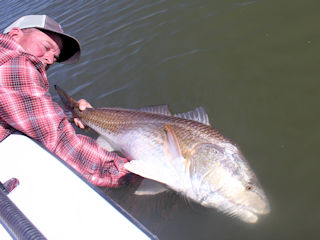 It was all I could do to bend over the side of the boat while holding the 30lb plus slab without busting a rib.  Once in position I admired the beauty one more time.  Due to her gentle fight the red was still full of life and after a few more clicks of the camera she spun off leaving me soaking wet but with a mighty big smile!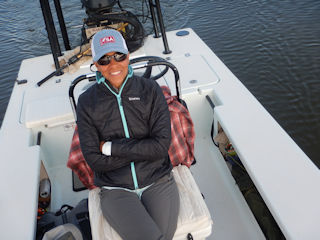 Granny should've taken the bow after that but refused.  I'm not sure if she was scared of catching a 30lb redfish, the challenging narrow casting lanes of this part of the marsh or perhaps she simply knew I was in my glory, but she told me to enjoy.  She kicked back and drank a beer.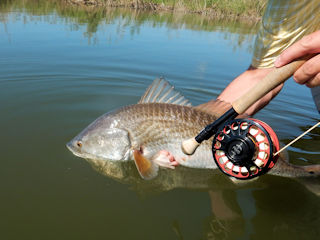 It was so warm now I switched to a short sleeve shirt and then it took a mere five more minutes to land the next redfish.  It was a drumming male of 12lbs.  He too was a handsome red but with the previous monster fresh in mind, this was very much a baby.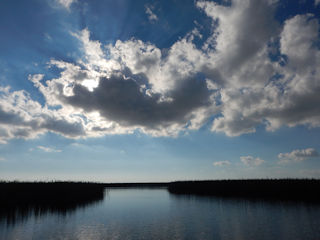 I was more than satisfied with our redfishing at this point and Cleve knew.  We both agreed – lets go for a black drum and sheepshead.  We went for a 30-minute boat ride then Cleve poled me through several lagoons he often sees black drum.  Naturally because we wanted one they were nowhere to be found.  It didn't help either that the sun was taken from us by clouds.  It was extremely difficult to sight fish.  For the next two hours I hardly made a cast.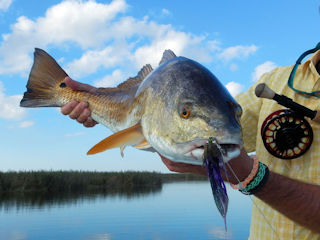 My fish species quest has sacrifices.  We left amazing big redfish water for black drum water and they weren't around.  Only a few sun blocking clouds.  But eventually, even with the light poor light I saw something.  I wasn't sure it was a fish but threw a cast (like you always should!) and landed another dandy.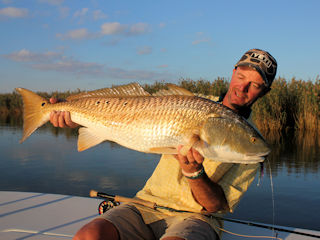 We had time for one more spot.  Technically we were still hunting our black drum.  The sun was low and it was hard to see but at least the clouds weren't blocking at this time.  We saw a swirl and some nervous water with a few scattering mullet.  Without hesitation I chucked the fly there.  One strip and I went tight with my fourth redfish of the day.  And although not 30lbs, it was another red of a lifetime!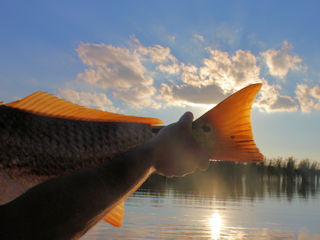 I couldn't help but study that last redfish hard.  They are so beautiful!  I released him and reeled it in.  Granny and I thanked Cleve for one hell of day.  All I can say is – wow!  Despite the fact that I'd caught redfish before this week, Louisiana has given both of us a whole new appreciation.  I fully agree with anyone that says redfish are one of the top game fish species of North America.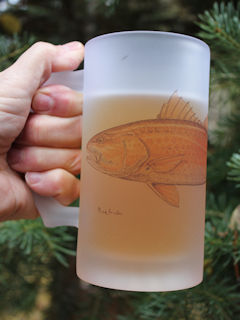 It's good to take a fishing trip on a whim.  Yea, it cost us some money.  But sometimes you need to say screw it.  What am I waiting for?  It was terrific to meet new fishing guides that have quickly become friends.  And we'll be back.  Louisiana redfish is a top fly fishing experience!
Don't forget Christmas is coming fast.  Not only can you order a painting or have me decorate a Cliff fly box, but check out my new fish decals.  There's a chance for some free decals too!  And as always – my coffee mugs and beer steins are the ultimate gift for the angler that has EVERYTHING- SHOP ONLINE!