Another Tough One Tarpon Fishing In Costa Rica
Categories: Uncategorized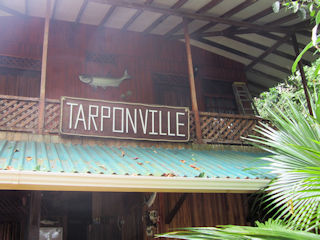 Tarponville is a well-known lodge down here in Costa Rica.  It's located in Manzanillo National Wildlife Refuge and about a half hour boat ride from the mouth of the Sixaola River which is the river that separates Costa Rica from Panama.  It is here that huge tarpon thrive and have a habit of devouring big flies.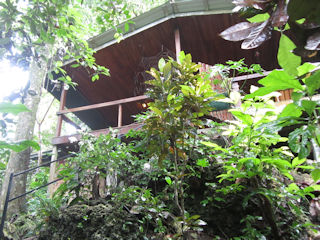 Tarponville isn't open at this time but Grant Wiswell is friends with the owner Mark who has generously let us stay at his house which is on the beach on the lodge property.  It's a wild house to say the least.  It's a treehouse built over the top of a protruding rock.  We'll be quite comfortable here for two nights.
One of the highlights of this trip is that my South African friend Rob Scott is fishing with us during our two days here at Tarponville.  Rob owns Tourette Fishing – Fight it in Africa.  These are the folks I tigerfish with in Tanzania, yellowfish in Lesotho, walk the flats of Sudan and also went to Gabon for giant African threadfin. The last time Rob and I fished together was when he and his wife Lucy visited Granny and I in Victor last summer.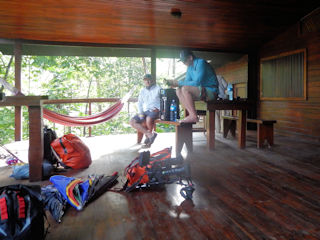 We were supposed to begin filming for "Atlanticus" at 5 AM sharp this morning.  We experienced a violent thunderstorm between 4 AM and 6 AM and we couldn't leave for fishing until 8 AM.  Another tough break to say the least.  Rob, Dylan and I still got up early and drank coffee and caught up as the sun broke through.  It's the first time I've relaxed since I got here.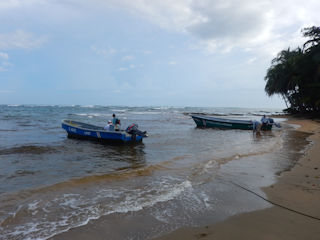 Once it was 8 we walked down the beach and met our guides.  We have two guides and two boats.  Rob and I took one with an additional camera man that just arrived, Darin Warren.  The weather was much nicer than earlier but we were experiencing big rolling waves which would definitely hinder our fishing and boat handling once we got to the mouth of the Sixaola River.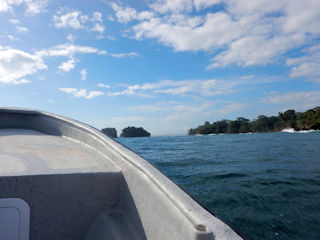 The boat ride to the mouth of the Sixaola River was gorgeous.  The ride was about eight miles and we parallel the shore the entire way.  While most of the way was stunning beach butted up against the rainforest there were some fantastic rock formations as well.  Costa Rica's Caribbean shores are rightfully famous for being beautiful.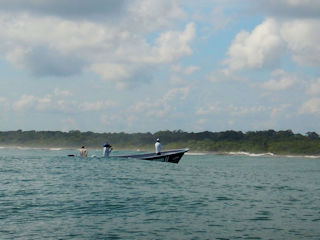 When we got there the waves were difficult to handle as expected.  The way you tarpon fish here is you feed out line and let it hang deep and strip very slowly – almost jigging your fly in the current.  The line of choice is the Sonar Titan Big Water Taper 500 gr sinking.  We ran into yet another hurdle.  There was virtually no current.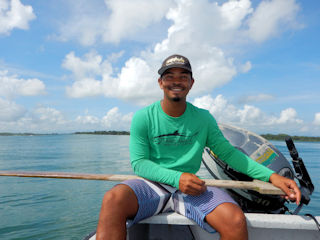 Our guides are brothers.  Rob and I fished with the younger of the two, Dalmen Hansel.  Dalmen is a mere 19 years old but very pleasant and seems extremely knowledgeable.  His dad was a fishing guide and Dalmen went on trips and helped him since he could walk.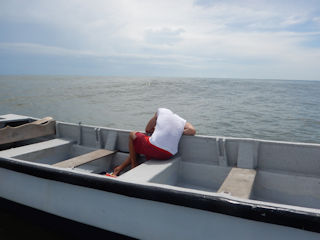 Despite the huge rolling waves and no current, Rob and I and Dylan from the other boat were able to cast and give the tarpon our best shot.  We actually saw a few rolls but never got a strike.  Dalmen said that normally they see hundreds of rolling tarpon on any given morning but not today.  Further adding to our already challenging morning, Darin got seasick from trying film in the big rolling waves.  Poor guy was hurling over the side.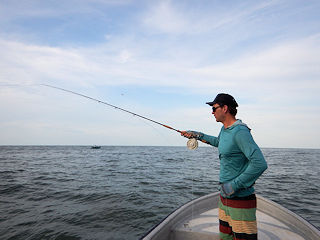 We went in around 11 AM.  The tarpon weren't feeding and Darin was feeling awful.  Usually someone that gets seasick hits land they feel better but Darin was done for the day.  The rest of us ate some lunch and rested until 3 PM.  Then we headed back out till nearly dark.  This session we didn't even see a fish.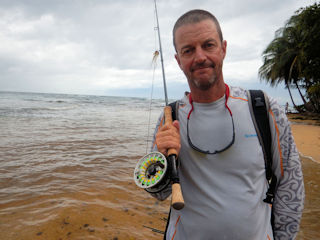 It's been a tough three days of catching no fish.  I really feel for Grant as he's invested some money for this four-day shoot and so far, got no reward.  As for me it's always great to be part of a film and fish new water.  But I'm beaten down as well.  There's some pressure on me tomorrow.  I've never been skunked on an international fishing trip in my life.  Hopefully tomorrow I can catch at least something.
Stay tuned for the last day of fly fishing in Costa Rica for the tarpon film, "Atlanticus".
A special thanks to Grant Wiswell and Castaway Films for inviting me on this fantastic trip and to Jungle Tarpon Reserve and Tarponville for making our visit possible!