Learning the Brown Trout of Lough Corrib
Categories: Uncategorized
Every World Flyfishing Championship I fished back in my day had one fishing location that caused havoc with the scores of the tournament.  It was usually a lake where only about 10% of the competitors caught a single fish and the other 90% blanked.  Based on our practice day Friday and news carrying on from other teams that practiced this week, Lough Corrib might very well be the "make it or break it" session.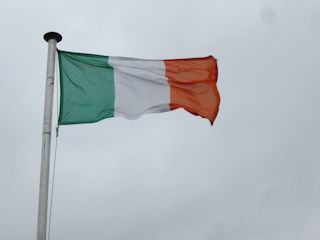 We returned to Lough Corrib today in hopes we could build some confidence.  While our guide Michael Drinan manned one boat with Jay Buchner and Scott Robertson I manned the other and took Joe Humphreys and our captain Jerry Arnold.  It was our coolest day yet and the wind cranked.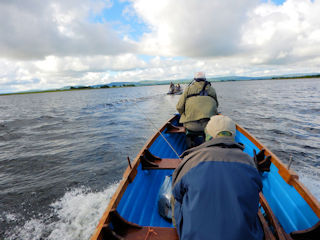 The neatest thing about Team USA in this year's World Masters Flyfishing Championship is that Joe Humphries is on it.  As most of you know, Joe is a legend in the fly fishing world and has been for more than 50 years.  Most incredible is that Joe is 87 years old and despite the fact that competitive fly fishing is no less then grueling, Joe is here to give 100% towards a medal for Team USA.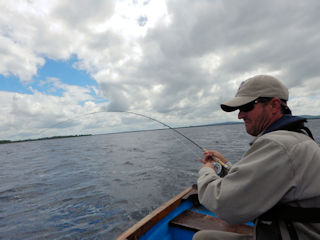 Fortunately, the fish gods were looking after us today.  On our first drift I stuck a 10" trout.  This was by no means a dandy on Corrib but nonetheless a little gem that would've counted.  Shortly after in another drift I landed our first good trout of the week.  Due to photo disaster all I have for a pic is my Winston doubled over and bent to the cork.  All I can tell you is these big lake fish fight like heck and they are gorgeous.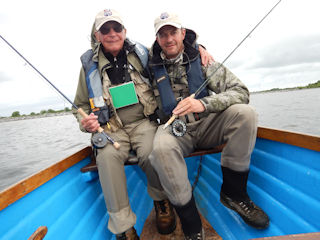 We stuck to the wet flies throughout the day practicing the technique that Michael taught us earlier this week.  Most of the team landed at least one fish of size that would score in the competition.  The highlight was when Joe got one to the net.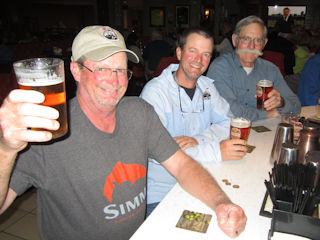 We're feeling good tonight.  There will be no fishing tomorrow as it's the opening ceremonies of the World Masters Flyfishing Championships.  The event kicks off tomorrow evening with a parade of all the teams in downtown Galway.  Then at the mouth of the Corrib River the competition will be officially kicked off followed by practice fishing on Tuesday then tournament fishing starts on Wednesday.  This is going to be an awesome week!