Yellow Dog Flyfishing Ambassador Summit
Categories: Uncategorized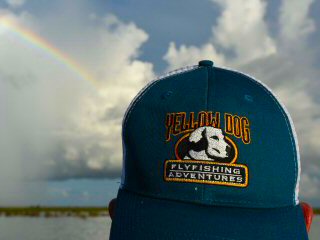 I'm at the H20 Bonefishing/Pelican Bay Resort in Freeport, Grand Bahamas.  I'm here for the first ever Yellow Dog Flyfishing Adventures Ambassador Summit.  There are four Yellow Dog (YD) ambassadors, Jako Lucas, Wil Flack, Oliver White and myself.  We're fishing four days while YD founders Jim Klug and Ian Davis and camera crew photograph and film us on the flats.  Not only will the 2018 YD catalog be gleaming with new photos, but the films we make will be instructional to better prepare our novice flats customers with answers to the most commonly asked questions.
Although we'll be fishing, the short YouTube clips are the priority.  If you've never fished for bonefish before, imagine having the ability to click on a 45 second film clip of Jako Lucas demonstrating "how to hook a bonefish" or myself on "What are the essential items I take with me for a walk on the flats?".  It will be incredible and our goal is to have more than a 100 of these valuable tips available to anyone.
Most of us arrived in Freeport at 2 PM today.  Oliver and Jako arrive tomorrow.  Instead of filming we spent more time planning our shoot with our hosts Greg Vincent and Jay of H20.  I've been on many shoots over the years and if not organized the end product is mediocre at best.  In my experience working with Jim and Ian, mediocre is unacceptable and after hearing the plan – this should be superb!
While preparing we had fun also.  Our hosts Greg and Jay kept our Sands Beer glasses full and the snacks coming.  It helps that Jay owns the famous Bones Bar here at Pelican Bay.  We closed our night with a seafood dinner to die for.  I kid you not, I had nearly four lobster tails!
Our schedule is intense the next few days.  If for some reason I fall behind on the blog just relax, the day by day accounts will post.  And I have a good feeling about the fishing this week!
A special thanks to Yellow Dog Flyfishing Adventures, H2O Bonefishing and East End Lodge for making this incredible flats fishing trip possible!