I heard more than birds at 4:45 AM this morning from my sleeping spot on the porch here in Wolfeboro, New Hampshire.  This morning I had two nieces trying to wake me with subtle noises as not to be so obvious.  Montana and her cousin Sierra were dying to get the day going at the crack of daylight.  Sierra had gymnastics and a softball game today so she wasn't going fishing but up just sharing the excitement.  I couldn't believe how early it was.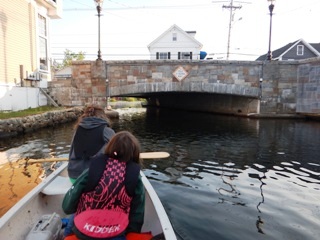 I put tired aside and got up.  Montana made my coffee.  Sierra helped put my sleeping bag away and carried my stuff down to the canoe.  Then Montana woke up her sister Sammy because she missed out on yesterday and soon Sierra was pushing Montana, Sammy and I off on our paddle to Back Bay.  Sierra was very sad she couldn't go but I'll get her out later this week.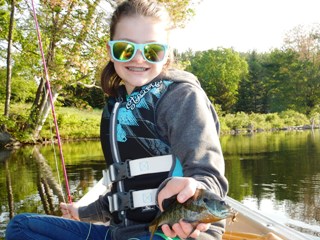 When I got to Back Bay both girls wanted to fish bad and tried to do so at the same time.  In seconds two pink Ross Rod Outfits were tangled and I put the kibosh on two fishing at a time.  Each got fifteen minute sessions that I carefully monitored while the one not fishing kept asking what time it was.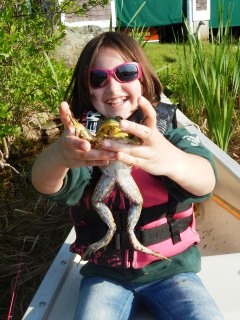 While fishing for bluegill, pumpkinseeds and rock bass was excellent, it was the catching of critters that was best.  This bullfrog was undoubtedly the highlight for the girls.
For me, it was this painted turtle that I dove out of the canoe into nasty mud to catch.  I haven't done that in a few years.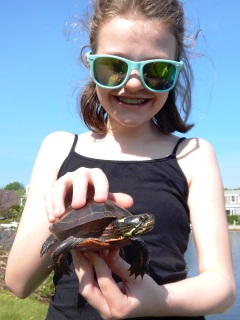 Today was it for Montana and Sammy as they head home in the morning.  There's some bad weather in the forecast for the next few days but I'll try to get out with my cousin Jon tomorrow.  Granny and I have another whole week of warmwater fishing here in New Hampshire.