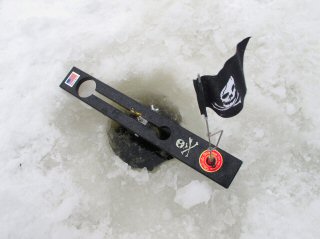 This is a short and sweet trip and on Sunday morning everyone is free to do as they like.  Do as you like but you must make it back to meet at the Pea Patch for some pool games and lunch followed by the cigar room at Little Bohemia for a few hours of dice.  I chose to fish, so Joe, JR, Brett and I went fishing close by to Chippewa Retreat while everyone else opted out based on the slow previous days.  We got an early start and had our first tip-ups down by 8 AM.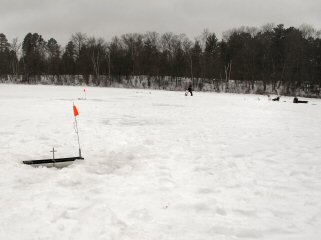 Who knows whether it was the early start or the location, but the bite was on.  We didn't get more than three tip-ups set and a flag popped.  I landed a respectable pike and by the time I released him (he was barely hooked) two more flags popped.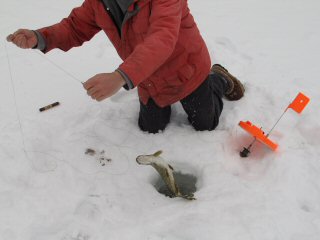 For the next three hours the four of us were busy tending to flags.  Being the guest, the guys let me try for every flag one man could handle – that would be about thirty.  I caught fourteen pike and one yellow perch.  Most of which we released because almost all were lip hooked.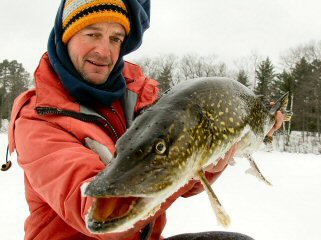 With all the action you'd expect at least one good fish.  Sure enough we got one.  I landed this hefty 34" northern that I was lucky to catch.  There were some walleye around so our hooks were small and the tippet was light.  The fight of this bruiser started easy but at the hole he put on a fierce attempt to escape.  Head shakes with these toothy beasts usually end in disaster but luckily the line slipped through my hands with no resistance and the angry pike didn't bite me off.  Instead we got him and he posed for a couple quick shots before I released him back to his under ice wonder world.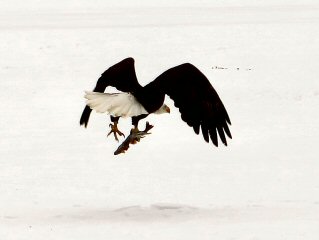 It was a nice four days up in Northern Wisconsin.  There were a lot of highlights ranging from a couple of quality pike to eating fine food with terrific friends.  One of the best highlights was when a bald eagle snatched a small pike from the ice seconds after we caught him.  John was literally about to carry him to Joe to prepare for lunch but as he put his gloves back on the eagle came from nowhere and snatched him.  This aggressive behavior shows the fishing has been tough for everyone!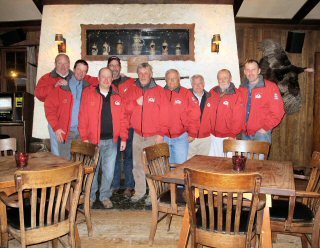 After some competitive games of eight ball and a smoky-room afternoon rolling dice with fine cigars, we ended this outstanding annual fishing tradition with a massive celebratory feast at the Little Bohemia.  Just to give you an example, George had me order twelve shrimp appetizers and eight lobster tails (for additional appetizers) to go along before our dinners.  Here's to an epic first fishing adventure for 2015!
Now it's back on the speaking circuit.  Next stop, Lynnwood, Washington this weekend for the Fly Fishing Show.  I hope to see you there!