It was a cold night but it didn't snow.  We woke up to the same drizzle we went to bed with.  It didn't look like a fun day to go fishing in northern Canada but the wind had settled at least enough we could fish from the boats.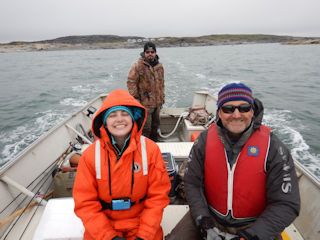 High tide was at 2 PM.  This meant we could put the boats in around noon as long as we made it back by 4.  Not a long day but sufficient time to make it at least to Duck and Bird Island where we had most our luck earlier this week.  I went with Burt along with Paul and his daughter Marisa.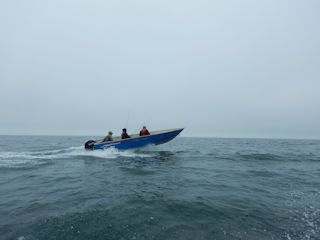 Once we got on the water it turned out to be rougher than we thought.  We were exposed and there was enough wind to make the boat ride uncomfortable and big enough swells we had to keep our heads on tight.  Remember, two minutes in the frigid waters of Ungava Bay and you're dead.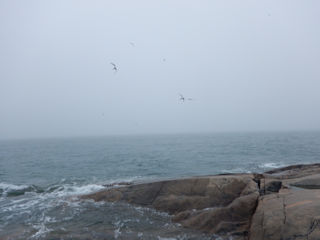 It took us about 40 minutes to get to Bird and Duck Islands.  There were diving birds everywhere and we saw a bait crushing blitz of birds and seals a mile out to sea.  It's a shame it was too rough to investigate because no doubt there was a school of big Arctic char pushing the sand lances to the surface.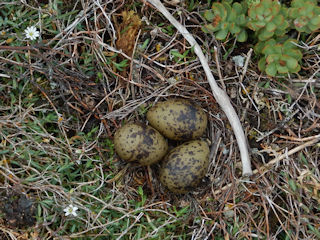 It was too windy to control the boats for fly fishing so we made a call to park the boats on the lee side of Bird Island and fish hard for a couple hours from shore.  There are bird nests everywhere mixed of terns, sea pigeons, gulls, scoter ducks and eiders.  You had to be careful where you stepped in order not to cause any damage.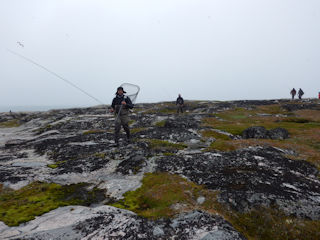 Although the calmer side of the island was inviting, no doubt the rougher water attracts the most fish whether on a lake at home or here on Ungava Bay.  After we walked to the windy side we sort of laughed then got down near the water and started blind casting into the wind.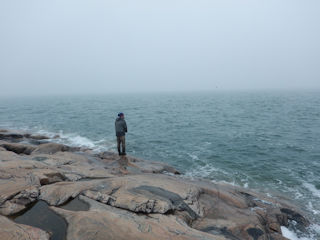 We fished for about an hour and a half.  Right when we got there Paul hooked and fought a fish right to the edge of the rocks.  He said it wasn't big and looked like a sea run brook trout.  His bent rod was enough to have six people fishing their butts off.  But the closest we came to hooking another was when I had a sea run brook trout of my own nearly beach himself chasing my flies on the hang.  Unfortunately, I did not close the deal.
A thick fog moved in.  The wind steadily increased.  Soon we had to pull the plug.  Back to back fishless days were in the books for everyone.  It wasn't for the lack of effort.  The weather simply didn't cooperate.  We headed back to Inukshuk Lodge.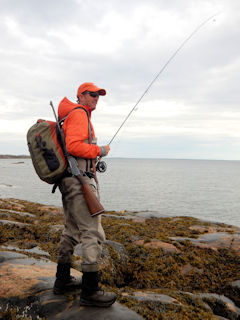 Despite challenging weather that in turn hurt our fishing, this visit to Inukshuk Lodge in Nunavik Quebec has been incredible.  If more experiences in life make you richer, than I'm likely to become the financially poorest billionaire on the planet!  I'm proud of this and continually have to ask myself –  Is this really happening?  Thank god it is.
Tomorrow begins the long trip home.  I'll travel from Inukshuk to Kuujjuaq then to Montreal.  I'll overnight there then Monday fly to Atlanta then Salt Lake City then into Idaho around midnight and home at 1 AM Tuesday.  It will be good to get home but it's only brief.  Wednesday night I'll be delivering "Tricks and Tactics to Catch More and Larger Trout on Streamers" for High Country Fly Fishers in Park City, Utah.  No rest for the wicked and I'm glad about this too!
A special thanks to my friend Paul Ostiguy the proud owner of McKenzie River Lodge in Labrador and Inukshuk Lodge in Nunavik for bringing me along on this incredible adventure.