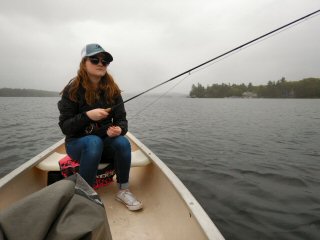 Granny and I had no interest in having kids but we like borrowing.  For years I've been taking my nieces fishing.  They've made annual appearances on the blog and it's been cool watching them grow up.  This year the oldest, Sammy, is 15 and soon to become 16.  My brother arrived at camp here in Wolfeboro, NH last night with Sammy for the Memorial Weekend and tonight I took her fishing.  I'm not sure she was 100% on board for this Uncle Jeff adventure in the drizzle and cold!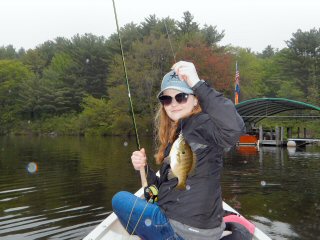 But Sammy was a sport.  She and I paddled to Back Bay and rousted up a few nice sunfish.  They were far and few between with the cold temps but twitching a small size Chernobyl ant still put a move on a few of them.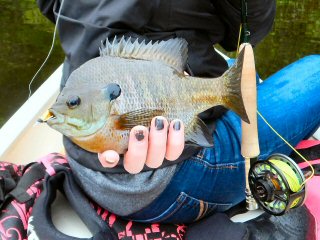 Most of the fish we caught were bluegill like this one here.  Not bad fish at all.  Mixed in we got some pumpkinseed sunfish and a few rock bass as well.  Sammy and I warmed up at dark at the Wolf Trap fish restaurant then paddled home in the dark.  Probably not the safest move but worth every bit because the loons and peeper frogs sang us all the way home.