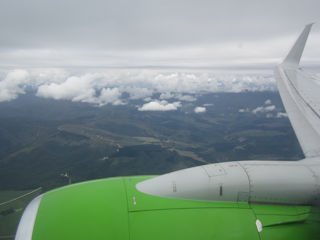 Granny and I have flown through a 48-hour time warp from the onset of winter in Victor, Idaho to the heart of spring down here on the bottom of the African continent in Knysna, South Africa.  We are staying the next four days in this area with my friend Craig Smith and his wife Coreta.  I met Craig while fishing in Egypt for Nile perch in 2008 then we fished there again in 2010.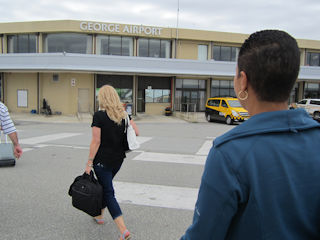 As you can imagine, jetlag after such a journey is huge.  South Africa is nine hours ahead of Idaho time and in a completely different hemisphere.  As always, we follow my rule of fighting jetlag by getting on schedule at our new location immediately.  This means that no matter how tired we are we stay awake till at least 9 PM.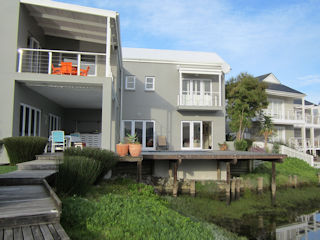 After our arrival at around 10 AM in George, South Africa Craig picked us up and we drove for his home town of Knysna.  Upon arrival we met his wife Coreta and they showed us around their beautiful home on the Knysna Lagoon.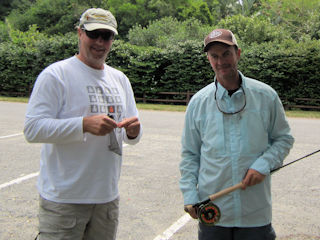 Granny and I were beaten from travel but Craig and Coreta kept us busy so dozing wasn't an option.  We began the visit with lunch at one of their favorite lunch spots, East Head Cafe.  Craig and I pulverized mushroom burgers while the ladies ate fresh fish.  After lunch Craig and I fished shrimp patterns through some deep holes on the Knysna River with the incoming tide in hopes of catching anything but we had no luck.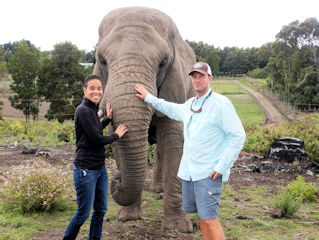 Jetlag hit hard and our bodies wanted to sleep after fishing at around 3 PM but Craig took us to Knysna Elephant Park and we walked with tigers (just kidding).  This place was amazing and we learned much about an animal we've been around much the last ten years.  As spectacular as it was, I was not at ease walking with these monsters.  While Granny was comfortable petting the huge animals I jumped in for a quick pic then got the heck back.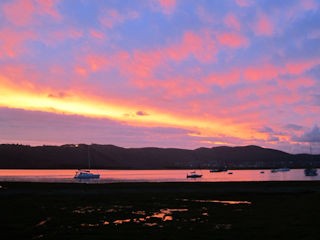 We returned to Craig's and met up with Coreta around 6 PM.  Continuing to help keep us awake, Coreta led the way to their friend's house for an enjoyable cocktail hour overlooking the bay.  The place was gorgeous and we watched the sunset.  Craig and I drank a few South African Castle beers while the ladies sipped good South African wine.
I must say the highlight of the day was dinner.  Our wonderful hosts took us to their favorite restaurant on the picturesque little waterfront of Knysna named Cafe Mario.  Coreta recommended we get anything with calamari because Mario's has the best squid imaginable.  They were right and I can honestly say it was the best calamari I've had in my life!