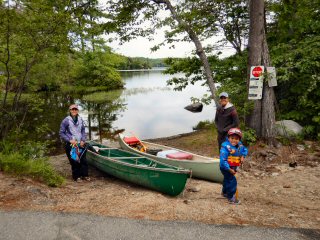 Today Becky had the day off again as well as her husband Don.  For Granny and me it wasn't only a day to fish with them but also to go to another of my favorite Lakes Region haunts that has some of the nicest largemouth bass in the area.  It's a drive from camp so we loaded up the canoes in my dads old Ford and arrived at the lake around 7 AM.
It didn't take long to get into some largemouth bass.  I fish the largemouth with the exact same equipment as I do the smallies.  The only difference is that I find smallies around rocks and sunken logs while the largemouth bass tend to hang around the weeds.  Today's lake has numerous lily pad areas and each produced action.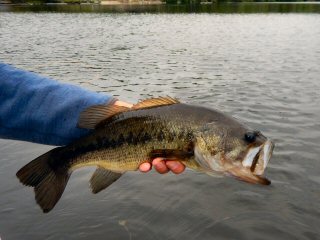 The only drawback to the day was that the bass size ran smaller than the norm.  We probably landed twenty but not a one was bigger than 12".  Largemouth prefer even warmer water than the smallies so I'll blame the lack of big boys on all the bad weather earlier this week.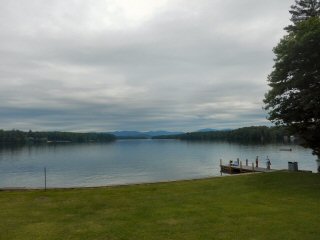 We're having a great time between fishing messing around with the family.  Some of you may remember in 2012 I was back here to be with dad when he had brain surgery for Parkinson's disease.  Many of you ask about him so I'll let you know that despite him taking a long time to recover from the surgery, it was definitely worth it.  He's had a few much better years than had he not had the surgery.  Unfortunately the terrible disease is returning strong so we've not been able to fish.  That being said we've had some great nights around the dinner and tipped a few beers while gazing at this beautiful region I once called home.