Kids Fly Fishing Day on Lake Winnipesaukee
Categories: Uncategorized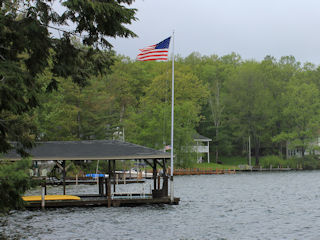 We haven't had a lot of nice weather this trip, but yesterday we had some and it was the most important day of the trip to have good weather.  It wasn't for fishing.  It was mom's surprise 75th birthday.  We had a fantastic time and mom was shocked.  Today, Memorial Day, it was back to the cold drizzly crap for taking the nieces and nephew fishing.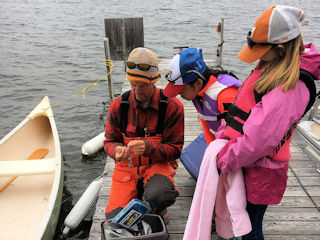 I probably love taking my nieces fishing as much as I do walking a flat in the Indian Ocean.  The girls are a hoot and Sierra and Montana are still young enough that being with "Uncle Jeff" very well may be their highlight of the month.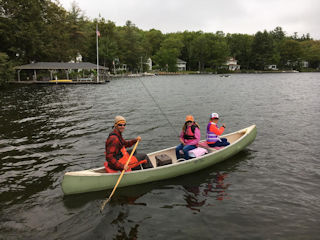 After making sure the girls were dressed warm enough I rigged up a pair of Winston's.  A 6-weight for trolling across Wolfeboro Bay in hopes to catch a rainbow trout or salmon.  The second one was my new 4-weight Air for bluegill and pumpkinseed sunfish in Back Bay.  Off we went.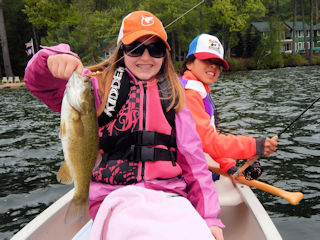 Trust me, it was colder than these photos show.  The girls were having such a good time to start they didn't notice.  Instead of trolling up a salmonid Montana trolled up this smallmouth bass on a Kreelex Fly.  It wasn't the only one either.  We caught three.  What was strange was that they came in the middle of Wolfeboro Bay from about 40 feet deep.  Just when you think you understand a fish!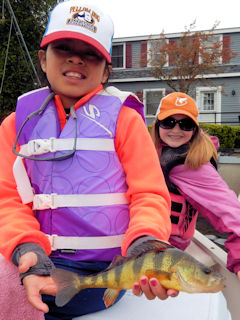 When we got to Back Bay the girls wanted to keep the "troll" on because we caught three bass.  What the heck.  Back Bay is too shallow in most areas but there is a waterski channel I cut through on the way to my bluegill hole.  I'm glad we trolled it because Sierra caught her first yellow perch on fly.
We caught a few more perch, bluegill, pumpkinseeds, rock bass and I caught a tiny chain pickerel.  The girls had an absolute blast.  But the cold and drizzle sunk in after the second hour and as much as they loved being out, they were ready to go in.  I paddled us up to the Back Bay Tavern dock and we met the family there for lunch. . . . and hot chocolates.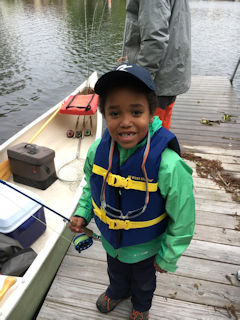 If you thought my day was done – guess again.  There's one more kid that hasn't made it out with Uncle Jeff yet, my sisters boy Eli.  It was colder and raining but he didn't care.  Eli heard enough from the girls catching fish.  Granny gave me a hand with the little guy and we got him a few bluegill of his own.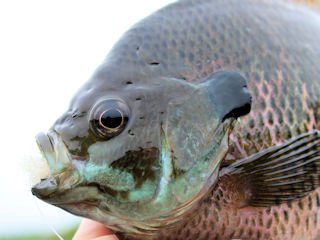 Even I was frozen by the end of this afternoons fishing.  Granny and I took mom to Meredith for drinks and dinner.  Tomorrow the weather continues to look bad but it's our last day.  We'll fish hard for sure!