Fly Fishing the Itirizama River of Bolivia
Categories: Uncategorized
July 31, 2013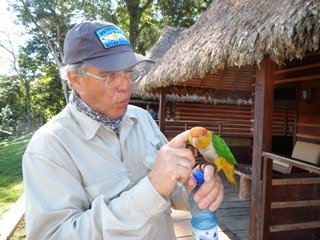 Today was Day 1 fishing from the Pluma Lodge.  We mixed up fishing partners and Skip, who I fished with the first three days, moved over with Dale and me with Tom Hansen.  It was Tom that initiated bringing me on this trip and we've been looking forward to fishing together here in Bolivia for more than a year.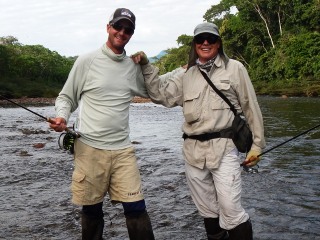 Tom and I drew what is considered the riskiest of the four available Beats, the Itirizama River.  The Itirizama River is known as the river of feast or famine.  The New Zealand looking stream is small and clear and full of resident golden dorado rather than migratory dorado.  They're far trickier to catch because they've seen flies before.  Furthermore, the river is the lowest and clearest it's been in recent memory.  The last time it was fished was a week ago and results were grim.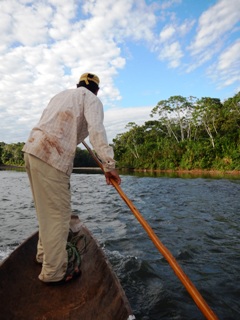 Most of the fishing done from Pluma Lodge is by wading.  Locals follow you in a dug out canoe carrying your stuff and a cooler of food and drinks.  Usually they're in the dug out polling along but water levels are so low that they were out dragging the dug outs most of the time.  Our work is just as tough hiking over slippery rocks all day long.
There's also an English speaking guide.  Most of the guides are from Argentina and spend their summers guiding in Patagonia.  Our excellent guide today was Emiliano whom I have posing here with the largest sabalo I've ever seen.  Sabalo are the main food for dorado.  I want to catch the dorado that can eat this one!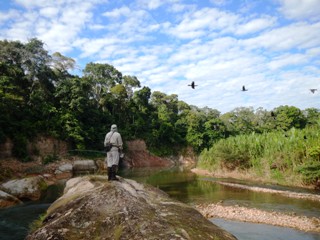 To describe our day on the Itirizama as difficult would be speaking lightly.  From the very first cast to the last the dorado spent most of the day fleeing ahead of us.  At our first stop Emiliano pointed out four big dorado while perched from a massive rock.  I crawled into position and when I raised my rod four other dorado we didn't see rocketed upstream spooking every other fish along the way including some pacu.
Speaking of pacu, once we acknowledged the dorado as next to impossible to catch, I focused on pacu.  Emiliano knew of some reliable holding spots for pacu.  We got a few glimpses of them but for the most part I was casting blind to the areas.  The method we used for the normally fruit eating fish was to sink a small streamer next to the rocks and let it virtually dead drift.  Its tedious fishing and quite frankly you don't do it with tons of confidence.  Lo and behold, at our lunch spot I hooked up.  Although not ferocious like the take of a dorado, it was solid grab and for ten seconds I felt power like you rarely experience in freshwater.  Then just like that he was gone.  I was left enormously disappointed from yet another pacu.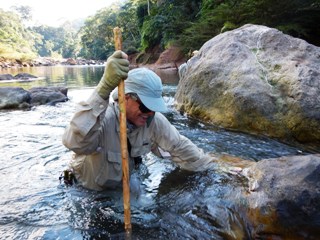 Tom and I each landed one small dorado.  Results from the rest of the group weren't incredible like Bolivia is famous for but the other beats produced a few fish and some quality ones.  Dale landed and 18lb dorado and Skip a 20lb and of course, a pacu he caught while blind casting to a dorado spot.   The fish are here, Tom and I apparently need one of the more forgiving beats.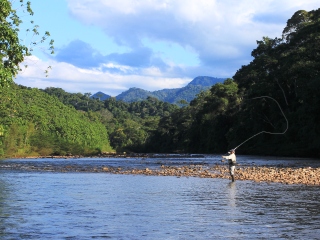 Despite our tough fishing, seeing one of Bolivia's most classic rivers, the Itirizama River was a treat.  Of all the places I've fished, this one ranks as another of the most scenic.  Tom and I saw a lot of it also.  We looked at the map on Google Earth tonight with some of the guides and we hiked and waded more than eight rugged miles.  No wonder my hips and knees are shot.
Tomorrow it's the lower Pluma River.  This is where Skip landed his 20lb dorado and pacu today.  Unfortunately Eric, another of our group was skunked here so who knows.  The guides and lodge manager are claiming this is the toughest fishing they've experienced since they opened the lodge – lucky us.