Return to Chippewa Retreat Manitowish Waters, WI
Categories: Uncategorized
Only those who don't understand roll their eyes and shiver when I gleam about my annual ice fishing adventure to Manitowish Waters, Wisconsin.  Ice fishing in the Great North Woods of WI is one of the most beautiful events of the year.  Not only is the fishing generally excellent but it's in a fascinating setting and a relaxing break from my life on the road.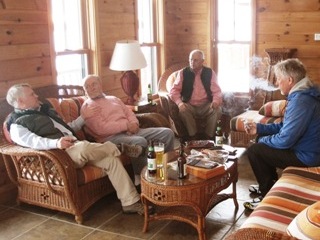 Friend Rick Schreiber and I arrived in Wausau, WI late last night.  We stayed in town and went out and shot some pool like old times.  It was great.  This morning we drove up to our headquarters of Chippewa Retreat and met up with friends Larry F. Burtschy, Dave Baker, John McGraw (owner of Chippewa Retreat) and our host George Hillenbrand.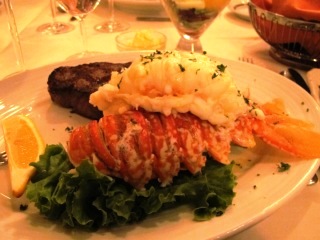 Today was a kick back day with beers and world class cigars before heading out to Smokey's Restaurant for our first feast of the week.  We had sensational meals of fillets with buttered lobster tails – this followed about ten different shrimp appetizers!  Tomorrow its ice fishing with guides Joe and James Pestka and Brett Jolly.  These guys are good friends and we've been fishing together for seven years now.  Stay tuned!