Fly Fishing the Yellowstone River in YNP
Categories: Uncategorized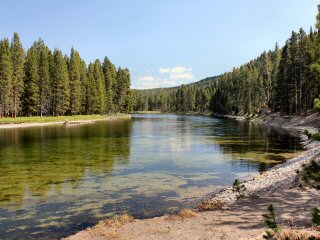 It's been more than twenty years since I caught much on the Yellowstone River in Yellowstone National Park.  That's since the 1990's when the Park declared war on lake trout in Yellowstone Lake.  The very lake trout the Park is accused of stocking in the late 1800's and 1920's.
I'm the first to agree that non-natives shouldn't be where they don't belong.  But if they've been there for more than two generations and the ecosystem is ok – leave it be.  Nearby Heart Lake has lake trout and cutthroats living in harmony.  Fifteen miles away on Lewis Lake, brown trout and lake trout thrive and just south in Grand Teton National Park all the lakes have lake trout and cutthroat trout living together.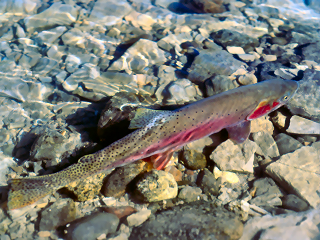 The first time I fished the Yellowstone River was 1982 at Buffalo Ford (now called Nez Perce).  There were thousands of huge Yellowstone cutthroats swimming by my feet.  I went on to fish the Yellowstone River hundreds of times and the fishing remained incredible until the mid-1990's.  That's when the Park began gillnetting and poisoning Yellowstone Lake in an attempt to kill the lake trout.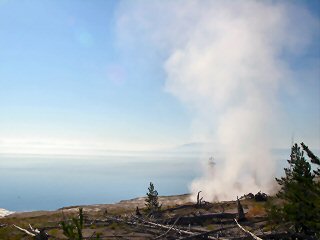 I'm not much to criticize but attempting to eradicate a certain species of fish from the depths of a massive lake the size of Yellowstone Lake with gillnets and poison in one of our most loved National Parks – not cool.  One can only imagine how many Yellowstone cutthroats, birds, mammals and amphibians were affected and killed as well.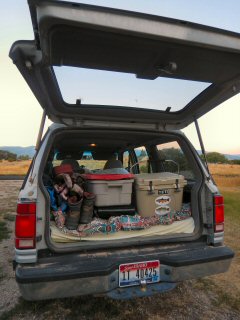 Since the fishing on the Yellowstone River declined I return every few years hoping to find the beautiful river back to the way I once knew it.  So far I haven't been so lucky.  It's been so disappointing that getting Granny to load the Explorer with me early this morning for yet another trip to Yellowstone was nearly impossible.  Fortunately she accompanied me but she brought a book instead of her waders.
We arrived at Nez Perce on the Yellowstone at 11 AM.  Without my rod I walked the bank with my polarized glasses scanning for fish.  Seriously, twenty years ago you'd of seen hundreds but today it took me about a half hour to find one.  But I found one.
It turned out to be a large Yellowstone Cutthroat.  I grabbed my Winston Boron III 5-weight and tied on an October caddis pattern.  To my surprise on my first cast the fish left his lie and swam ten feet and devoured the fly.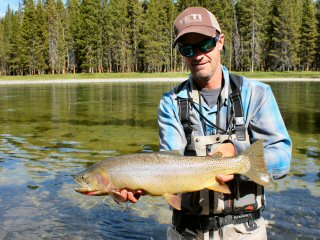 Cutthroats in general get a bad rap when it comes to their fight.  Yellowstone cutthroats however in this ice cold water can put on a show.  Add in the size of these beauties and on a 4- or a 5-weight they can be a handful.  Soon I landed my first big Yellowstone cutthroat in years.
The cutties were by no means abundant.  I walked further upstream and saw not a fish nor a rise.  We hopped in the car and drove upstream towards LeHardy's Rapids.  Here there were at least twenty cutthroats scattered over a 100 yard stretch.  Still nothing like old times but they were here.
These fish were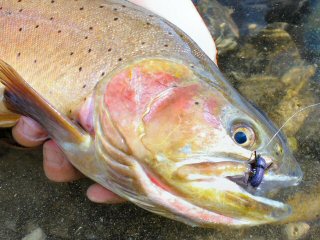 n't as cooperative as the one that took the caddis downstream.  For this next one I returned to the car for my new 4-weight Winston Air.  Then I must have changed flies six times and also dropped my tippet to 5X.  Finally I fooled my second big cutthroat on a beetle pattern that I acquired for yellowfishing on Sterkfontein Dam in South Africa a few falls ago.  When fish get selective don't be hesitant to toss a fly at them they've never seen!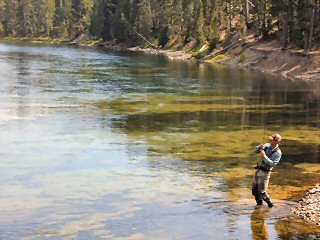 I went on to catch three nice Yellowstone cutthroats before we headed out in late afternoon.  Though the fishing was no means spectacular like I enjoyed as a kid, it was better than I've experienced in twenty years.  We can only hope that these amazing native Yellowstone trout are on their way back.
I hate to end on a downer but while on the Yellowstone River I chatted with another angler who like me, hates the idea of Yellowstone Park netting and poisoning our waters.  He informed me that two of my old favorite haunts, Grebe Lake for grayling and the Upper Gibbon River are now being aggressively poisoned to kill rainbow trout and grayling.  I'm sad to say it's true.  What's next Yellowstone?
I'm skeptical of killing a healthy trout fishery under any circumstance.  Especially ones I, and many of us have cherished all of our lives!