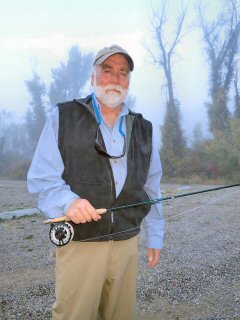 When I started working the fly shop gig back in 1987, one of my first big sales was a set of XL Simms Neoprene Waders along with shoes and detachable gravel guards.  My customer at the time, Ken Holder, continued to use me as his sales person and source for fishing info for years to come.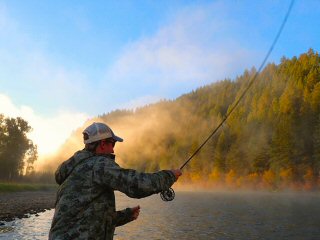 Ken and I became friends.  He encouraged my growth in a fly fishing career and it was Ken that pushed me to have a website.  My site and career took off like I never could've imagined.  Now when Ken comes to town we always get together for fishing and dinners and beers.  Today he had a guided trip on the South Fork of the Snake and let me join along.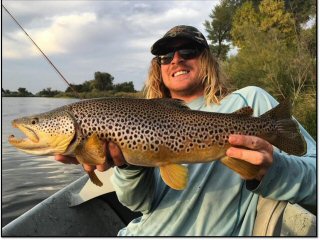 I know most the guides of the area but not today's.  Jordan Nelson is a young energetic – raised in Idaho Falls kid.  I liked him the minute we met.  He was fishy to the eye and he showed up with a plan.  He had Ken and I meet him at 6:45 AM rather than the ever so common 8 AM routine time.  I like a guide that thinks out of the box.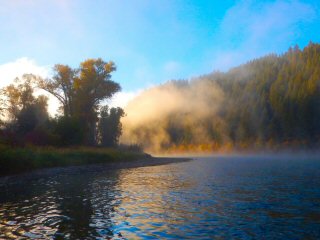 Fall on the South Fork is hard to beat.  Toss in the fact that we pushed off at sunrise – pictures hardly tell you how beautiful it actually was out there.  It's unseasonably warm this week and other than a light jacket I wet waded right from the start.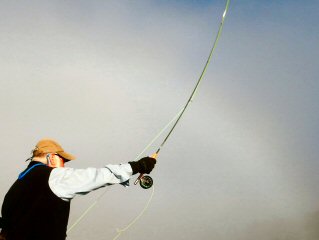 Fishing has been slow on the South Fork since late August.  This is normal for the dries and streamer fishing, however, those willing to fish a pair of tiny nymphs below a dry fly or bobber still do well.  Ken works his butt off for United Airlines and fishing time is limited so without hesitation he went with nymphs to guarantee some fish.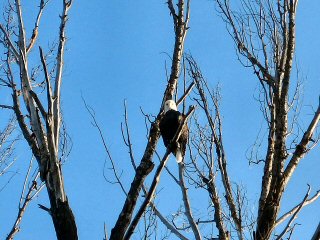 There was a whitefish kill here this summer much like the one you may have read about on the Yellowstone River this summer.  The kills have been blamed on a parasite that thrives in the unusually warm water temps this summer.  The fish carnage attracts eagles and although I always see plenty of bald eagles on the South Fork today was ridiculous.  They seemed fat and happy and almost every tall cottonwood tree had one staring at us.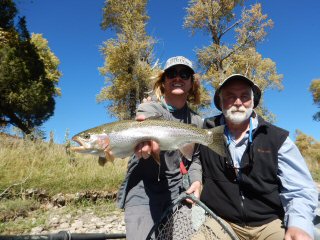 I caught more nice fish on the streamers than expected.  Ken caught at least five really nice fish on the nymphs.  Although a few were browns, his nicest fish of the day was this thick bodied well fed rainbow.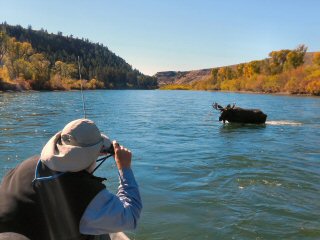 While we had good fishing on a stunning fall day, our highlight was this moose.  I see a lot of big bull moose on the South Fork.  This particular bull had just finished bashing his antlers into some bushes.  Some became entangled in his antlers.  Then he looked at us and decided to swim right in front of the boat.  I never get sick of this kind of stuff!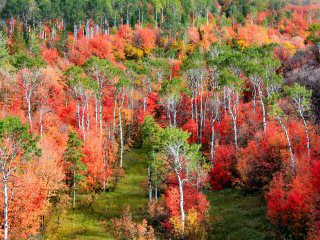 I haven't been out on my home waters enough this year.  By no means is this a complaint however after days like today I'm reminded I live in one of the greatest places on earth.  Next on my agenda will be one last day hiking into the Ranch of the Henry's Fork.  One more big rainbow for me!