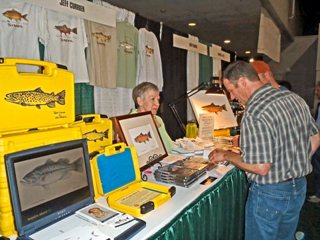 The Denver
Fly Fishing Show
was a great success. Masses of fly fishers and new to be fly fishers from all over attended. I was there to give fly casting demonstrations and present
PowerPoint Seminars
. Between my shows I answered questions about every aspect of fly fishing, visited with friends and dabbled with my art.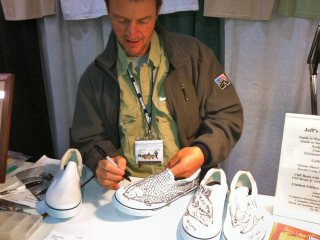 Usually I paint up a
green back cutthroat
when in Denver. Greenbacks are the famous native cutthroat trout of Colorado. This year however, I never got around to breaking out the paints. Instead I "sharpied" up about six
Cliff Fly Boxes
 and even better I drew on two pairs of shoes! Sandy Roberts, a well known casting champ and longtime pal of mine, called me last week to ask if I would draw a bass on a pair of her shoes. I told her only if they didn't stink. Luckily, they were bran new white boat shoes. All I can say is it wasn't easy. Stitched seams and rubber adhesives made my new canvas difficult to deal with but the end result was success. Not only did I sketch her up a pair of largemouth bass sneakers but also a pair of common carp.