Roosterfishing Beach Jam Ends with New Species
Categories: Uncategorized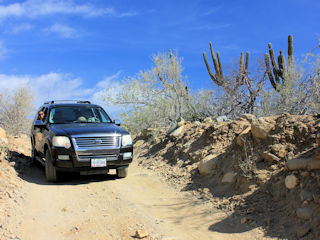 I left out another roosterfishing hazard yesterday – other anglers.  Roosters are so amazing that these days anglers head for Baja with rods and camping gear with no idea what they're doing.  Granny and I drove an excruciating two hours of dirt to get to one of my "secret spots" only to find five clueless fly fishers frothing the small beach.  Clueless because they were marching the beach blind casting with flies and randomly teasing with spin rods.  It was too early and the light wasn't good enough to properly see a cruising rooster.  These boys were simply telling every catchable roosterfish within a mile of the beach, "We're here!"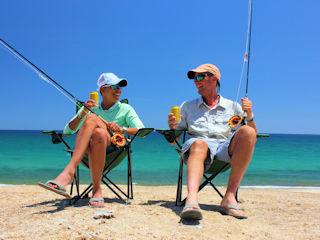 I was frustrated to say the least but deep inside I know if I was 25 years old I'd be doing the same.  It was bad timing on our part and we moved on to what turned out to be a lovely day of exploring and relaxing on the beach with Pacifico's and good snacks.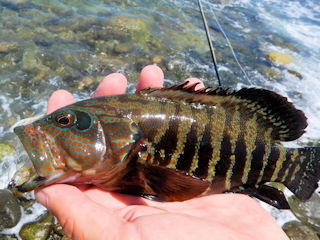 The highlight of the day was towards the end when we found some rocks.  Rocks aren't ideal for sight fishing roosterfish but can produce some snappers and grouper casting Clouser's blind if you're lucky.  I wisely packed our rugged Simms flats wading boots or we'd not been able to fish here.  Turns out we caught a few cool fish such as this Panama graysby.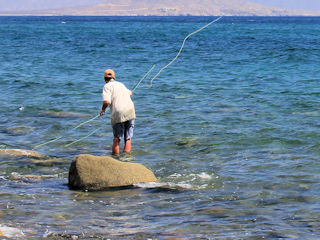 The area wasn't fast and furious by any means.  Like everywhere in the world, one of the most sought after fish and first to get fished out are snappers because of they are quality table fare.  No doubt the fish had been harvested here but it was fun chucking my 9-weight Winston nonetheless.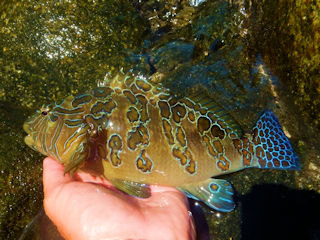 Towards the end I was taken by surprise.  I caught this giant clown hawkfish (Cirrhitichthys rivulatus).  This stunningly gorgeous fish is one I've been hoping to stumble upon for all my Baja years but haven't.  I was so excited to add this species to my list!  Bummer was I was alone also so Granny didn't get to see him and with the big waves this is the only photo I got.
We headed back to Sammy's condo in Todos Santos at 4 PM in order to get home before dark.  You don't want to drive in Mexico after dark for a lot of reasons but donkey crossing is a big one.  They are hard to see!
Stay tuned for some Pacific Ocean side beach fishing tomorrow.