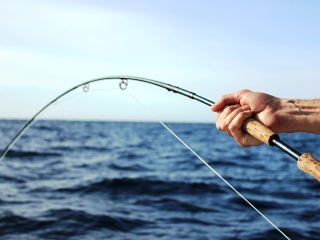 It was nice to get a nearly full night sleep after yesterday.  I say nearly because we still didn't get to bed till around 11 yet we were on our way to the Cabo docks at 5 AM.  Sammy's condo is near Todos Santos which is about a 45 minute drive to the boat.  The dark drive can take longer because the road often has donkeys, horses or cows on it.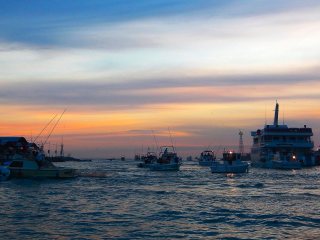 We arrived at the dock at 6 AM with a glimmer of morning light.  The docks were exploding with action.  There were so many marlin boats racing around it looked like a $1,000,000 prize tournament was taking place.  Most boats, including us, stopped just before leaving the harbor to purchase live bait.  Some boats catch their own, but it takes time from the day.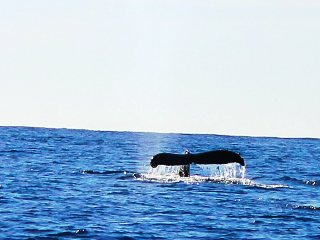 We made an hour boat ride up the Pacific shoreline of Baja.  It's a beautiful ride along remote beaches and protruding rock crops.  These waters are rich and you watch baitfish leap from predators in every direction.  Along with all the fish there are lots of whales this week.  During the drive we saw leaping humpbacks (too far away for a pic), gray whales and fast moving pilots.  It's nice to see so much ocean life in spite of all the gloom and doom we hear about.
The teasers weren't in the water long before our mate Jacobo screamed, "Marlin!"  I saw the thrashing bill and the erected marlin dorsal whizzing behind the boat.  The amazing event causes total havoc.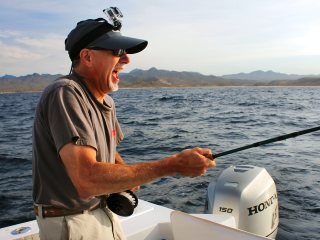 It was Sammy's turn so I got out of the way.  Grant yelled orders frantically to where Jacobo and I ran into each other trying to get the other teaser out.  As all this chaos went on Captain Alex also yelled orders.  At this point few commands made much sense.  Once things sorted out the marlin was in casting range and Grant ripped the live baitfish from the water.  Sammy dropped a cast and in a split second the marlin was hooked up.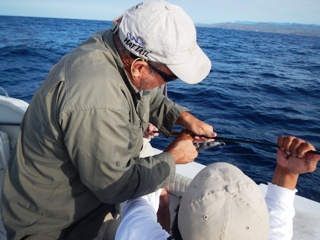 Let's just say that when a 7-foot fish takes off at more than 50 mph things can go wrong.  Somehow, while Sammy clenched his 14-weight with all his might and his reel spun wildly as the marlin skipped across the ocean, the first rod guide was severed.  What remained was a jagged piece of metal that the departing backing was missing by millimeters.  No doubt, if the backing nicked the metal it would break and we'd lose yet another marlin.  As Grant, Jacobo and Alex spewed out words of utter panic in Spanish, they miraculously cut the remaining metal off the rod while Sammy didn't miss a beat of battle.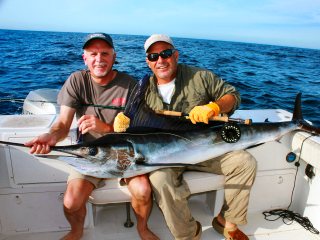 Everything went right from here on.  Sammy let the marlin run then hoisted him back with short steady pumps.  After exactly 20 minutes Grant billed the striped marlin and slipped him gently over the gunnels.  Sammy and Grant posed and I clicked away furiously.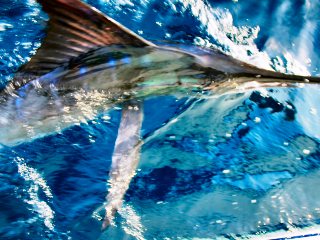 The striped marlin was out of the water less than 30 seconds all together.  Grant slipped the fish gently overboard and resuscitated him by holding the bill as the boat moved slowly forward.  Sammy landed this fish fast so the marlin got its strength back quick.  I clicked a few more shots and then we let her go.
Most large fish in the ocean bring some friends aboard with them.  After we released Sammy's marlin there were a few fish flopping in the bottom of the boat.  They were remoras.  Remoras attach themselves to large fish including marlin.  They're harmless but about as strange looking as any fish you will see.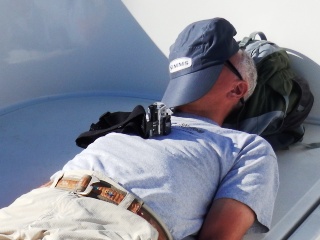 Things were looking good.  One hour, one marlin.  But it was my turn, the man with the marlin curse.  Sammy popped a coke and cheered me on.  After two hours Sammy grabbed a seat and relaxed.  After three hours Sammy was out like a light and not a marlin was to be seen.  We never raised or even saw another marlin all day.  UNBELIEVABLE!
We'll be back at it first thing tomorrow and Sammy said it's my turn till I at least make a cast.