Sorry for the lack of photos but in the tourney it's extremely hard to put down the fly rod to take pics!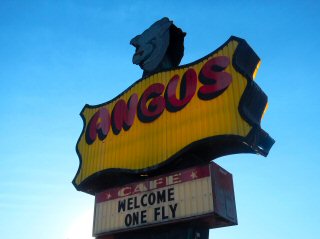 5 AM came early.  Its pitch dark in Idaho at 5 now.  When I stepped out to feel the temperature our local great horned owls were chatting up a storm.  They're about the only creatures enjoying the lengthening darkness.  It wasn't as cold as the last couple mornings.
At 5:30 I headed for Swan Valley and the Angus for breakfast and to meet my South Fork guide, Cole Sutheimer and opponent Barbara Adams.  Today was day one of the Jackson Hole One Fly.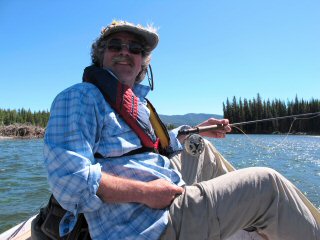 I'm a sponsored member of the Good Times Team, founded by friend Gary Eckman (a frequent angler on this blog).  There are forty-four teams and each One Fly team consist of four anglers that compete with only one fly for two days.  This year our team is made up of Gary, his son Cooper, Scott Sanchez and myself.   Last year our team finished in 5th place and I was the individual champ.  I have two thoughts in mind, help move our team up in the standings and do it by remaining the first place champ.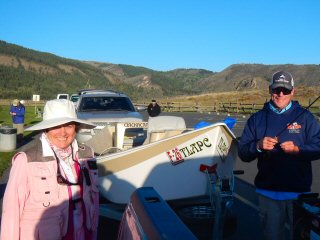 After a heavyweight breakfast Cole, Barbara and I launched at the Conant boat launch on the South Fork.  Even though nymphs have proven to be the most effective way to catch fish on the South Fork of late, I couldn't stare at a bobber all day.  I went with a risky streamer.  I say risky because I practiced with a streamer here twice this week and it was extremely difficult to catch more than a few big trout.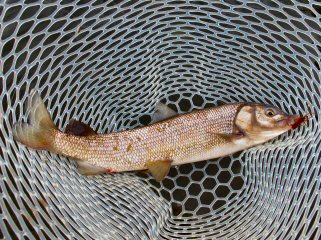 At 8:30 the contest began and before we left sight of the boat ramp I scored four small trout.  Small trout don't score well but catching them told me I had the right streamer.  I picked up a few more little trout while Barbara's nymph got little attention.  At 10 AM I had six small two point trout but no measurable bonus fish and Barbara had only one uncountable whitefish.
At 11:30 AM neither Barbara nor I had a single measurable bonus point fish.  All fish under 12" score as two points only.  You can measure eight fish over 12" and score bonus points (e.g. 13" scores 20 points, 15" scores 40 points and 20" scores 150 points) for the six best.  If you don't get at least six slots filled with bonus fish each day you will do poorly.  We were way behind and running out of time.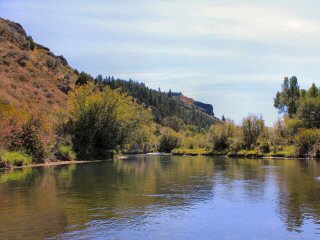 Cole rowed us into a side channel to wade fish and eat lunch.  Barbara nymph fished the main run while I walked upstream with my net.  The water upstream was skinny but each pool had a sliver of deep water.  That's all good trout of the South Fork need to be happy.  I made a short cast in the first pool and landed a 13" cutbow.  I'd rather measure some bigger fish but at nearly noon I took my first measurable.
In the next pool I rolled a huge cutthroat.  He flat out refused my fly.  I cast again but nothing.  I inched my next cast up further and wham!  A much larger cutbow launched himself and ran me downstream.  I yelled for Cole and he ran my way.  My battle was a little chaotic but luckily I netted the fish as Cole arrived.  The slab was 17" for 60 bonus points!
Barbara's nymph finally picked up a small unmeasurable trout but in general continued to catch only the odd whitefish.  I picked up a 16" cutthroat off a bank and we came to another wade place.  None of us had any lunch yet but with time against me I chose to skip it.  I worked my run while Barbara and Cole woofed down a few bites.  As I was unsuccessfully working my run I spotted a huge trout slowly cruising over a sandy spot in some weed beds below me.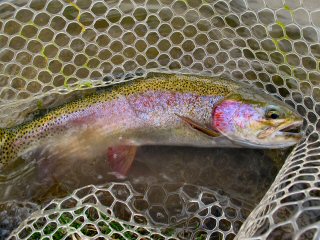 I knew this was a one shot deal.  We had some clouds overhead and the trout was about to blend back in with his surroundings.  I launched a long cast that landed two feet to his right.  The trout spun and followed my streamer.  At first he showed no aggression so I sped up my retrieve.  That was it.  He crushed my fly and this time a wild leaping line stealing rainbow was on.  Minutes later I landed a 19" 125 point trout!
I snuck five more nice trout from this place.  I had my six now and could have filled my card and replace my 13" but chose to leave two spots open in case I caught a giant.  The rule goes that once your card is full you no longer can measure trout.  If the card was full and I landed a 23" giant, he would count for a measly 2 points.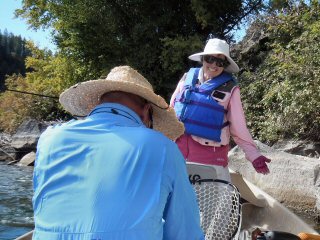 Barbara's fly continued to do awful.  I was shocked because I knew the nymphs were hot all week.  At last at 3:30 she landed and measured her one and only fish, a 13" cutbow.  Her lack of fish was by no means a reflection of her angling.  Barbara never missed a cast, a spot and quite honestly fished as hard as anyone of my friends.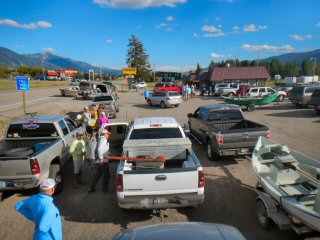 My last trout was another 15" and I used him to replace my 13".  I'm not sure how many small ones I caught but my final score for today is 450 points.  All of our team kept their fly all day.  Gary scored 363 on the Snake, Cooper scored 159 on the South Fork and Sanchez scored 173 on the Snake.  Although my score is in good shape, we have a lot of work to do tomorrow as our team is in 18th place.