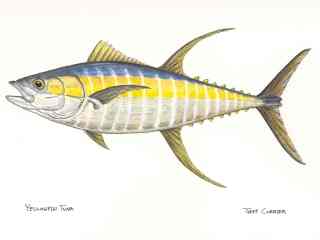 It's been a nice week at home.  Not because I kicked back and relaxed, it was just nice to be home.  I caught up on a bunch of things including painting a halibut and this yellowfin tuna.  There have been a lot of requests for each of these fish on coffee mugs and beer steins the last few months.  Now both can be purchased from my web store on ANY of the products – enjoy!
More exciting than the couple new fish is that I started writing the long awaited book.  I envision a large table top looking book, full of my travel stories and photos, the title – The First 50 Years.  The colorful book will include the full on of the famous tiger story, the Rubik's Cube, the Huchen and every other story I have.  This will be a massive undertaking that I aim to have completed by fall of 2015 when I turn 50.  Don't be surprised if I lose about 20 days of fishing this year because of it, but in the end, it should all be worth it.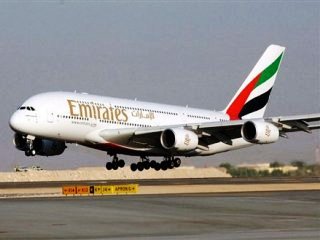 I'll have plenty of time to work on this book the next couple days.  I'm about to head to the Jackson Hole Airport and begin a long journey to the Red Sea of Sudan.  Long because first I have 30 hours of travel to Dubai where I'll spend the weekend.  I've never been to this amazing modern Middle Eastern city so I'll check it out.  And of course, I'll be wetting a line as well.
I've been emailing with Nick Bowles of Ocean Active.  Believe it or not, Ocean Active is a fly shop/guide service in Dubai.  This is who I'll be fishing with.  Nick thinks that we might see some golden trevally and queenfish however the weather is not looking good (imagine that?).
Expect a report from Dubai by Sunday.  I actually arrive in Dubai late Friday night and then fish first thing Saturday morning.  After that I'll check out the town and fill you in.  Hopefully I'll have a nice fish to show along with an incredible skyline!